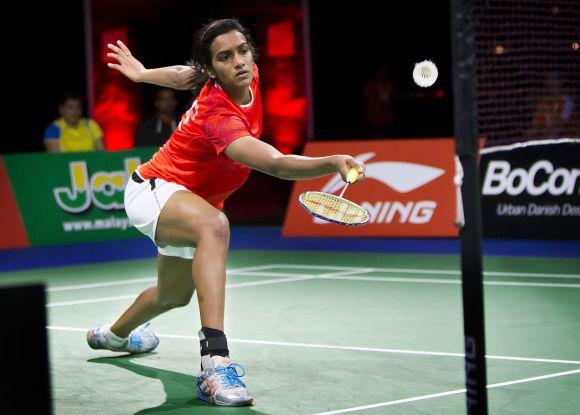 P.V. Sindhu of India plays in her womens' singles quarter-final match at the Badminton World Championships in Copenhagen. Photograph: Nils Meilvang/Scanpix Denmark/Reuters
Indian teen sensation P V Sindhu made sure of a second consecutive bronze medal at the World Badminton Championships, but it was curtains for Saina Nehwal after she was beaten in straight games in the women's singles quarter-finals at the Ballerup Super Arena in Copenhagen on Friday.
The 19-year-old Sindhu, who clinched a bronze at the 2013 World Championships in China, produced another gritty performance to see off All-England champion Shixian Wang of China, winning 19-21, 21-19, 21-15.
Earlier this month, she won a bronze at the Commonwealth Games in Glasgow, Scotland.
Olympic bronze-medallist Saina, seeded seventh, however, struggled against World No.1 Li Xuerui. The Chinese needed just 45 minutes for a 21-15, 21-15 victory.
Sindhu, seeded 11th, showed once again why she is considered one of India's finest shuttlers as she held her nerve at crucial moments during an energy-sapping battle to register her fourth victory over Wang.
She will meet the winner of the match between Chinese Taipei's Tzu Ying Tai and and Spaniard Carolina Marin.
Sindhu stepped up her performance in the second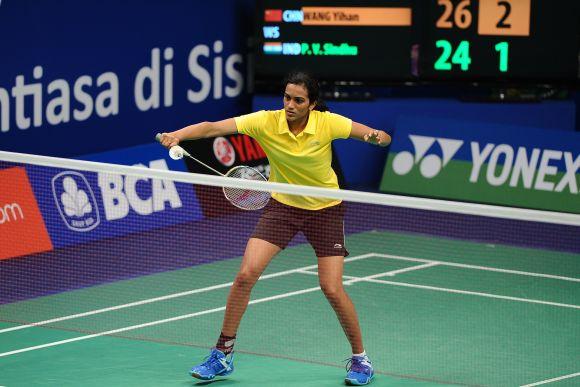 PV Sindhu. Photograph: Robertus Pudyanto/Getty Images
In the quarter-final contest that lasted an hour and 25 minutes, Sindhu and Wang were locked in a battle of attrition and rode on each other's mistakes to gather points.
Sindhu dominated the net early on and used her height and reach well to lead 11-5. However, Wang soon caught up at 15-15 before proceeding to take the game.
Frustrated by the first game loss, Sindhu stepped up her performance in the second and once again opened up a healthy 5-1 lead. Wang, however, drew abreast at 6-6 with some precise net shots to lead 11-9 at the break. A couple of unforced errors helped Sindhu narrow the gap but the Indian faltered at the forecourt, enabling Wang to keep the lead.
Sindhu kept fighting and used her smashes and better judgment of the shuttle to draw parity at 16-16.
Wang faltered at vital stages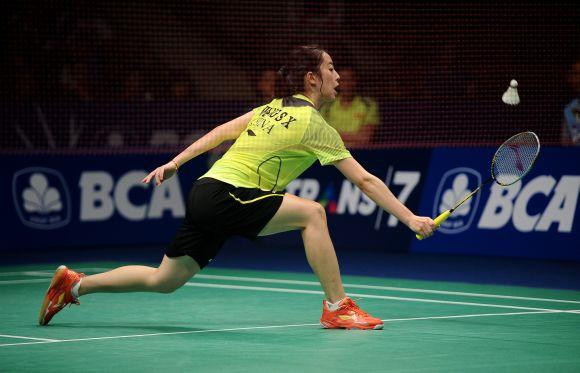 Wang Shixian. Photograph: Robertus Pudyanto/Getty Images
Wang, however, faltered at the net, allowing Sindhu a 19-16 lead and then hit another miscued shot to give the Indian four-game points.
The Chinese saved three with a couple of brilliant shots from the back of the court but Sindhu finally sent one away from the outstretched right hand of Wang to level the match score.
The decider started with a long rally which Sindhu grabbed after Wang hit wide. The Chinese kept hitting wide and long and found the net allowing the Indian to lead 5-2. But Wang once again caught up at 5-5.
Both players committed too many unforced errors as the Indian managed to hang on to a fragile one-point lead at the breather with a smash that kissed the net and fell over.
Saina succumbed to her eighth defeat to Olympic champion Li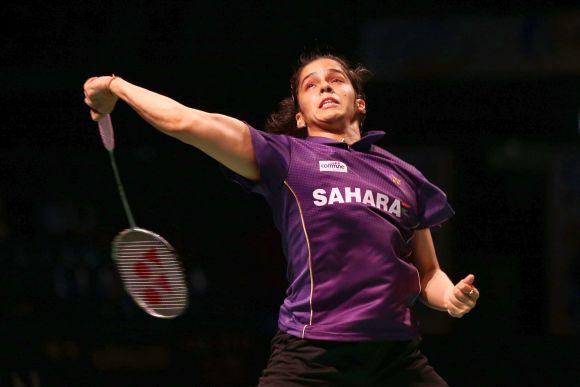 Saina Nehwal. Photograph: Matt King/Getty Images
However, a medal at the prestigious tournament continued to elude Saina once again as she succumbed to her eighth defeat to Olympic champion and top seed Li.
The 2010 Commonwealth Games gold medallist, who had to fight her way back from a game down to register a 14-21, 21-18, 21-12 win over Sayaka Takahashi of Japan in the previous round, looked rusty from the start and trailed Li in the first game.
Li took advantage of Saina's erratic play and raced to a 9-4 lead before the Indian brought the gap down to 10-8. But just when it seemed Saina was getting her act together, the Chinese recomposed herself and increased her lead to 18-11 before closing down the first game.
Li raised her game considerably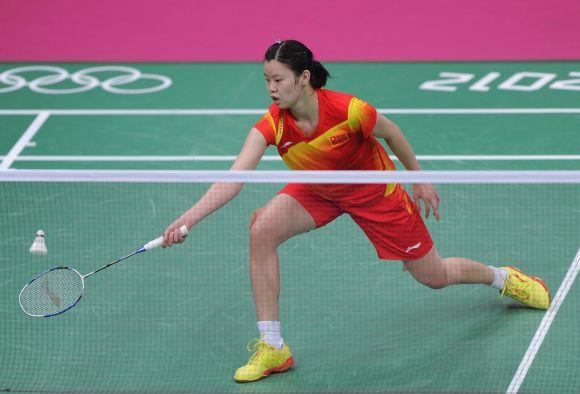 Xuerui Li. Photograph: Michael Regan/Getty Images
The second was competitive till the first five points before the Indian pocketed four consecutive points to lead 9-5.
Saina maintained her four point lead till 12-8 before the Chinese shuttler earned four straight points to draw level at 12-12. However, she ran out of steam thereafter as she struggled to match her opponent, who raised her game considerably.
From 13-13, Li again won four consecutive points to take the lead for the first time in the game and then sealed the match.
Li will play 16th seed Minatsu Mitani of Japan in the semi-finals.