Rediff.com's Day 4 guide to Moscow World Athletic championships.
There are gold medals to be won in seven categories:
Women's 20km race walk, 11:05 (IST)
Men's discus, 20:30;
Women's pole vault, 21:05;
Heptathlon,22:10;
Men's 800m, 22:40;
Women's 3,000m steeplechase, 22:55
Men's 400m, 23:20.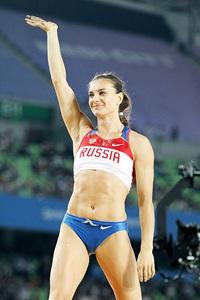 Russian pole vault queen Yelena Isinbayeva will eye yet another World Championship medal.
But in-form Olympic gold and silver medallists Jenn Suhr and Yarisley Silva stand in the way of Isinbayeva's happy ending as this might be Isinbayeva's last competition.
Britain's Mo Farah will be competing in the 5,000m heats and Welshman Dai Greene will be vying for a place in the 400m hurdles final.
Ethiopia's Mohammed Aman will start as favourite to add the 800m outdoor title to his world indoor.
Image: Yelena Isinbayeva
Photographs: Andy Lyons/Getty Images