Usain Bolt of Jamaica celebrates after winning gold in the Men's 100 metres final during day two of the 15th IAAF World Athletics Championships. Photograph: Andy Lyons/Getty Images
Usain Bolt retained his 100 metres title at the IAAF World Championship, in Beijing, on Sunday.
Under huge pressure, and certainly not a favourite coming into the event, Bolt won in 9.79 seconds - besting rival Justin Gatlin (9.80 seconds) In doing so Bolt became the third sprinter - after Americans Carl Lewis and Maurice Greene - to win the world title on three occasions.
Jamaica's Usain Bolt reacts after crossing the finish line in the men's 100 metres final. Photograph: Ian Walton/Getty Images
The final one-two finsihed exactly as it had in Moscow two years back.
Canada's Andre De Grasse and American Trayvon Bromell tied for the bronze, the former with a personal best timing (9.92 seconds).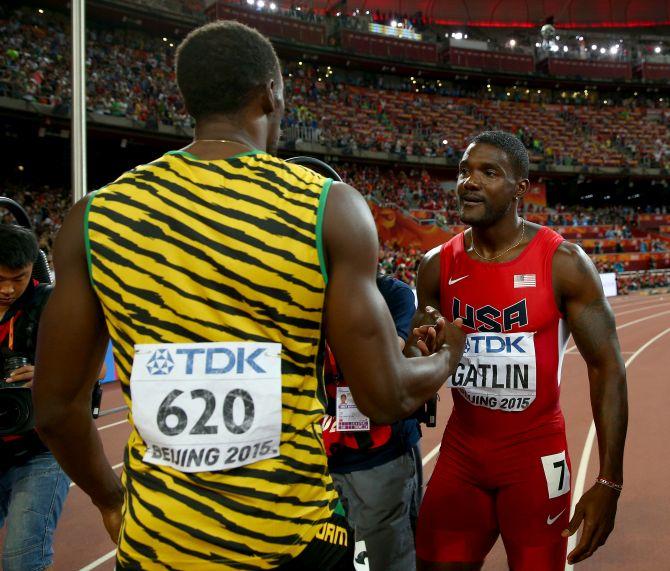 Usain Bolt of Jamaica is congratulated by Justin Gatlin of the United States after winning gold. Photograph: Ian Walton/Getty Images
The reigning world and Olympic champion had won the seventh heat in 9.96 despite a slow start, a poor show considering his high standards.
The 100 meters world record (9.58 secs) was set by Bolt in the Berlin edition in 2009. The Jamaican also won the event in Moscow in 2013, while also winning the gold in the same in the last two Olympics.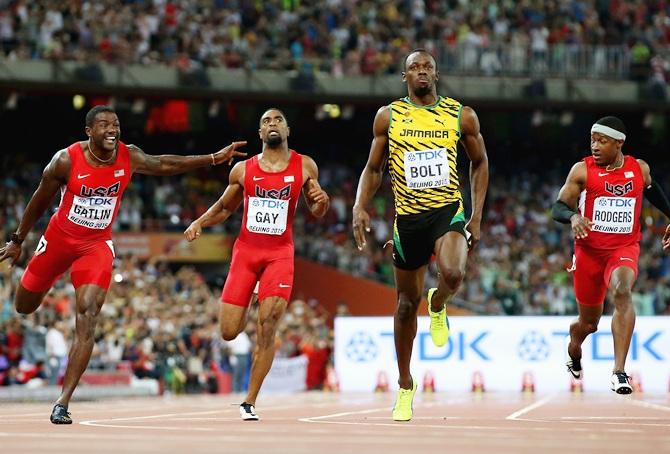 Usain Bolt of Jamaica wins gold in the men's 100 metres final. Photograph: Patrick Smith/Getty Images
He was disqualified from the final in Daegu (2011) for making a false start.
The Jamaican, 29, has been beset by a pelvic injury for much of the season, producing only two sub-10 second 100m performances all summer.
He had stumbled into the final, winning his heat in 9.96 secs, while his rival eased through his heat in 9.77 secs.
Bolt's biggest challenger, Gatlin, was again second best.
The controversial American, who arrived in Beijing on a 27-race unbeaten run stretching back two years, had underlined his status as gold medal favourite with the fastest time in the first round.
Gatlin, who won the world title in Helsinki (2005), eased through his semi-final heat in 9.77 secs.
But Bolt was better when it mattered the most. Yet again.
Spaniard Lopez beats Wang for walk gold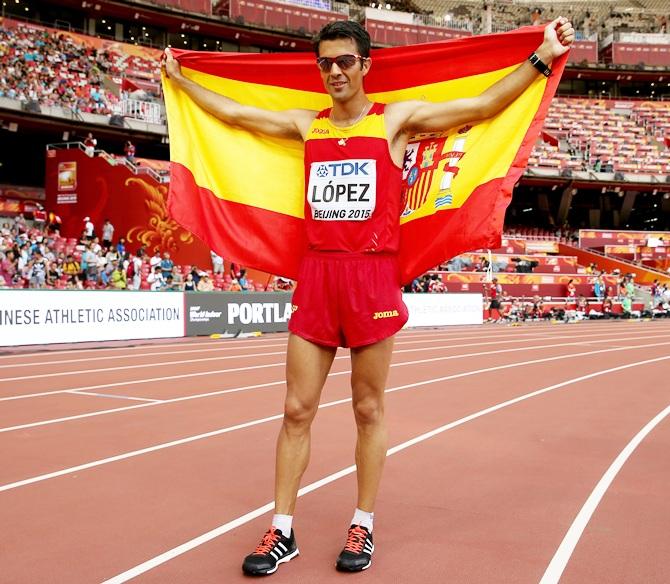 Spain's Miguel Angel Lopez reacts after winning gold in the men's 20km race walk. Photograph: Andy Lyons/Getty Images
Spain's Miguel Angel Lopez hauled in Wang Zhen to win the men's 20 kilometre race walk on Sunday and deny China their first gold medal of their home world athletics championships.
Wang, 23, bronze medallist at the London Olympics three years ago, broke clear of the leading pack at the 13 km mark and opened up a sizeable lead that looked to be enough.
But a steely Lopez closed the gap at the 17km mark before overtaking an exhausted Wang shortly after, powering home to the Bird's Nest Stadium with the Chinese athlete unable to match the pace.
Lopez pumped his fist in delight as he crossed the line in a personal best time of one hour 19 minutes 14 seconds, with Wang 15 seconds back.
Ben Thorne of Canada was a distant third in 1.19:57.
Olympic champion Ding Chen had joined Wang in an early Chinese pace-setting group but had to settle for ninth.
World record holder Yusuke Suzuki of Japan quit just after halfway through in ever-increasing heat in the Chinese capital.
Germany's Schwanitz wins women's shot put world title
Germany's Christina Schwanitz competes in the women's shot put final. Photograph: Cameron Spencer/Getty Images
German Christina Schwanitz confirmed her status as the form shot-putter of 2015 by winning her first world championship gold medal with a throw of 20.37 metres on Saturday.
The 29-year-old disappointed the home crowd at the Bird's Nest stadium by edging Gong Lijiao into second place with her third throw, leaving the Chinese to take silver on the back of her opening effort of 20.30m.
American Michelle Carter threw 19.76m to beat Anita Marton, who bettered Hungary's national record with her best attempt of 19.48m, and take the bronze medal.
New Zealander Valerie Adams, who won gold at the last four world championships, elected to skip the meeting so she could undergo shoulder and elbow surgeries with an eye on her Olympic title defence in Rio de Janeiro next year.
"I must be one of the happiest people in the stadium," a laughing Schwanitz said, the German flag draped over her shoulders.
"The feeling is indescribable. It's unreal. I couldn't really see how I would do it."
Asked how she managed to surpass Gong's throw by seven centimetres, Schwanitz quipped: "Seven centimetres, that's hard core!
"I really concentrated, really focussed. I knew I wasn't as nervous as she was and I know that in the world championships nothing is impossible.
"I was in a more relaxed position than I had ever been in before.
"I'll probably have a few beers with my trainer tonight."