Asian Games gold medallist Sudha Singh failed to qualify for the women's 3000m steeplechase final round as she finished a disappointing 12th in the heats in the 14th IAAF World Athletics Championships in Moscow on Saturday.
- World Athletics: Complete coverage
Sudha clocked 9:51.05, well outside her personal best and national record timing of 9:45.60, which she recorded in June in Chennai.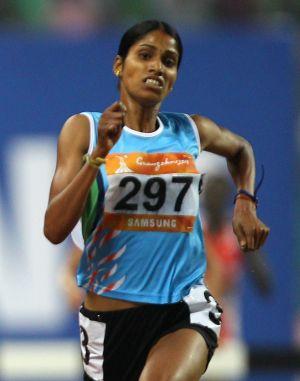 Interestingly, Sudha was the lone Asian participating in the event and she finished 12th in the 14-athlete field Heat One. Top five in each of the two heats and the next five fastest advanced to the final round.
Etenesh Diro of Ethiopia was the best timer among those who advanced to the final round in 9:24.02.
Sudha would not have qualified for the final round even if she had touched her national mark. She finished 23rd overall among 27 athletes who took part in the event.
Sudha was the lone Indian in the fray on the opening day today and three Indians -- all in men's 20km Race Walk – will take the field on Sunday. K T Irfan, Chandan Singh and Gurmeet Singh will slug it out in the men's 20km Race Walk.
India are being represented by 15 athletes in the Championships.
Image: Sudha Singh
Photograph: Mark Dadswell/Getty Images