American Ashton Eaton cemented his position as the world's greatest athlete when he won the world decathlon title on Sunday, completing a spectacular hat-trick having won Olympic gold and broken the world record last year.
Eaton led from the first event on Saturday morning when he laid down a marker with a 10.35-seconds 100 meters, completing the first day with the fastest 400m ever run in a decathlon world championships having been given a dressing down by his coach after "lacking motivation."

He poured on the pressure on Sunday with impressive performances in the pole vault and javelin opened a virtually unassailable lead and he made no mistake in the 1,500m finale to triumph with 8,809 points,

Germany's Michael Schrader took silver with 8,670 while Canadian Damian Warner of Canada got bronze with 8,512 - both personal best tallies.

"I needed that third javelin throw to secure a solid victory I think," Eaton said after he had been heavily pressured by Schrader in the penultimate event.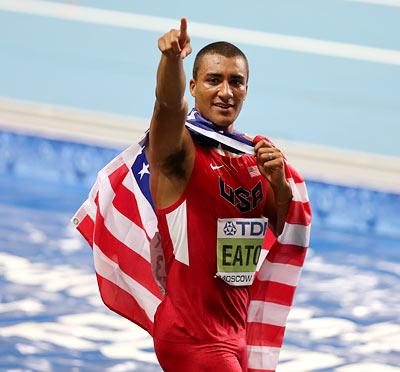 "They're all great competitors and when you come across that finish line it's nothing but friends and accomplishments.

"I can just relax now, there's certainly no thought of retirement, maybe I can just keep trying to improve and maybe score 9,000 points again."

The second day's action began in a surreal atmosphere with just a few hundred fans dotted around the vast 81,000-capacity stadium.

MENTAL WANDERINGS

After his mental wanderings on Saturday, Eaton's focus was spot on, however. Starting the day with a nine-point lead over 20-year-old compatriot Gunnar Nixon, who faded right back to finish 13th, he immediately extended it in the 110m hurdles where he recovered from clattering the second barrier to run 13.72.

The discus, along with the javelin, is Eaton's weakest discipline and though his 45-metre throw on his third attempt was towards the back end of the field, it was good by his own standards.

Schrader claimed a personal best of 46.44 to climb to second place with compatriot Rico Freimuth briefly moving into the podium positions with a best-of-the-day throw of 48.74.

Eaton then maintained his concentration during the long, hot pole vault competition and virtually secured gold with a 5.20 meter clearance, marginally shy of his personal best, that extended his lead after Schrader had to settle for 5.00.

That 181-point cushion gave him a safety net for his weak javelin, which he looked liked needed as Schrader closed right in with another pb of 65.67 meters.

Eaton, however, showed his big-event temperament to hit 64.83 with his final throw, earning an overall lead of 168 points, equivalent to around 20 seconds over 1,500 meters.

On a humid night Eaton tucked in safely behind the German to finish in 4:29.80 before just about mustering the energy to wave to the mercifully fuller evening crowd.
Photograph: Christian Petersen/Getty Images