Watson pips Hudson-Smith to take 400m gold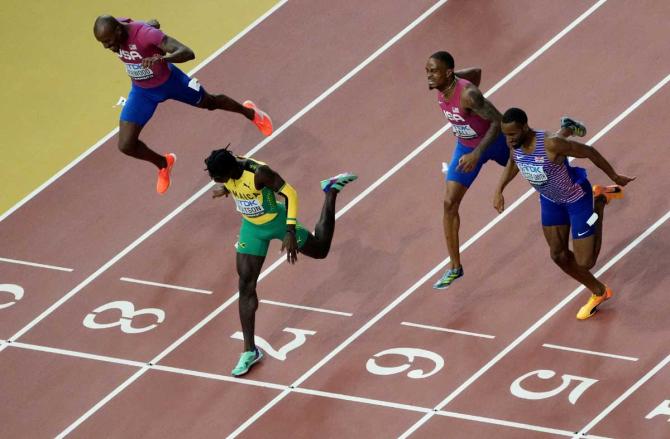 Antonio Watson won a thrilling World Championship 400 metres gold on Thursday as the 21-year-old Jamaican overhauled fading Briton Matthew Hudson-Smith on the line.

Hudson-Smith, who set a European record of 44.26 in winning his heat this week, went out hard and was well clear coming off the final bend but that effort took its toll as he began to tie up, allowing Watson to drive through and win in 44.22 seconds.
Hudson-Smith, bronze medallist last year, took silver in 44.31, with American Quincy Hall also finishing strongly for bronze in a personal best 44.37 having been overtaken by Hudson-Smith within the first 80 metres.

Jamaica's first gold in the event since Bert Cameron won at the inaugural World Championships 40 years ago came minutes after Danielle Williams had taken the country's first gold in Budapest in the women's 100m hurdles.

"I was a good race although I did not execute it as coach (Glen) Mills planned," said Watson. "In the last 50 I didn't look at other athletes, I was focusing on myself only.

"This is an amazing season for me. After winning the world youth title in 2017 it is amazing to win the gold medal at my first senior worlds."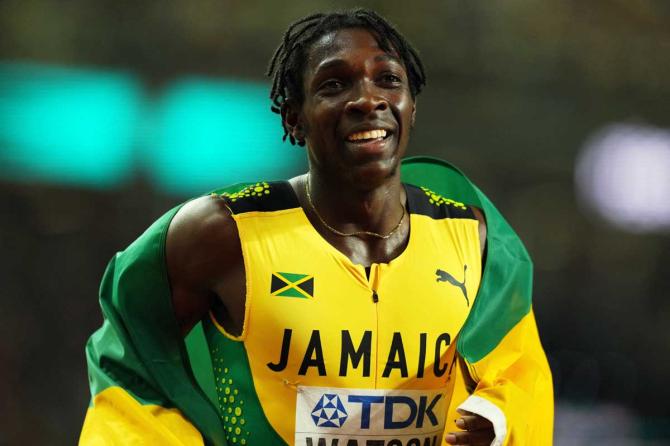 After coming so close to Britain's first gold in the event, Hudson-Smith revealed he had been struggling with injury for much of the season.

"Under the circumstances I wasn't even supposed to be here. I've had really bad Achilles tendonitis," he said.

"Sometimes I can't walk, sometimes I can. I've been saying all year I just have to be perfect for three days.

"I got a bronze last year, I got a silver this year so next time gold."

Olympic champion and world leader Steven Gardiner of the Bahamas was not involved in the final having pulled up with a hamstring injury in the semis.

Rogers secures double gold for Canada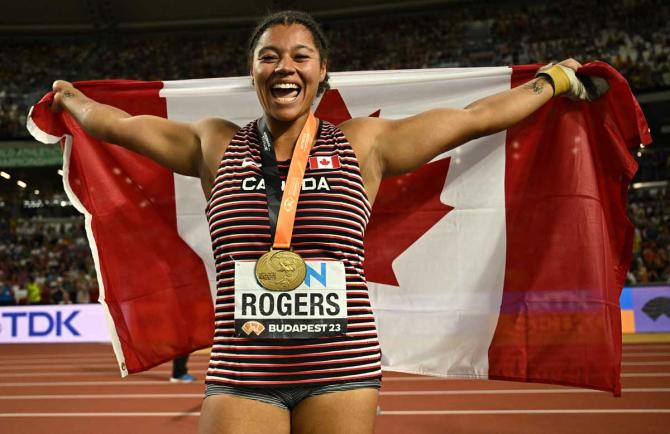 Camryn Rogers won the women's hammer throw on Thursday to secure a double gold for Canada after Ethan Katzberg had claimed a surprise title in the men's event at the weekend.

Rogers, who took silver last year in Eugene, went one better on a hot and humid night with a throw of 77.22 metres.

"Ethan really set the stage out there. I feel Canada is making its presence known all across the world," Rogers said of her team mate's stunning victory on Sunday.

"Being able to win this medal for Canada means the world to me. I am so proud to represent my country on the world's stage."

Americans won silver and bronze with Janee Kassanavoid throwing 76.36 and DeAnna Price 75.41.

Price said it had been a "long journey" back from suffering a fractured ankle and torn ligaments a week before the Tokyo Olympics in 2021.

"I went to the Games basically on one leg. I got eighth place and when I got home I had a complete ankle reconstruction," Price said.

"Every moment I was fighting to be able to get back. I thought I was going to have to retire but I'm here with a medal on my neck and these flag colours on my shoulders. This is unbelievable. This bronze feels like gold."

The 24-year-old Rogers, who won the Commonwealth Games title last year for her first major international triumph, secured victory with her opening throw.

"You never know what can happen on the day of the final," she said. "Everything is possible and that is what makes championships so exciting. On the day you need to be ready to throw your best.

"I am excited about what next year will bring. (The Olympics in) Paris will be huge."

Dutchwoman Bol wins long-awaited gold in 400m hurdles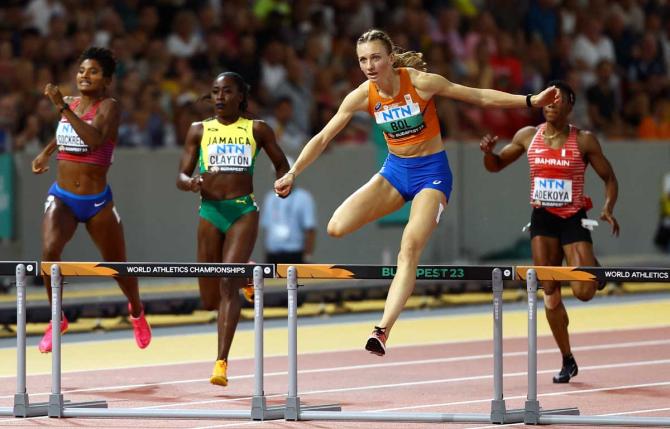 Femke Bol of the Netherlands stormed to her first World Championships gold in the women's 400 metres hurdles on Thursday to put last week's crushing relay heartbreak behind her.

The 23-year-old, second at last year's worlds and third at the 2020 Tokyo Olympics, was level with American Shamier Little until just before the home straight but pulled away emphatically to cross the line well clear in 51.70 seconds.

It was a hugely satisfying win for Bol, who was in tears after falling metres from the line when racing for gold in the 4x400m mixed relay on the opening night of the championships.

"It wasn't easy to forget what happened in the final metres of the relay but my team was around me and they put me at my ease," said Bol, who covered her eyes in disbelief after crossing the line on Thursday.

"I took the first few hurdles fast and then I could run my rhythm," Bol said of her strategy. "I think I have just had the best first 200 metres ever. Then I just needed to finish the race which I could do easily."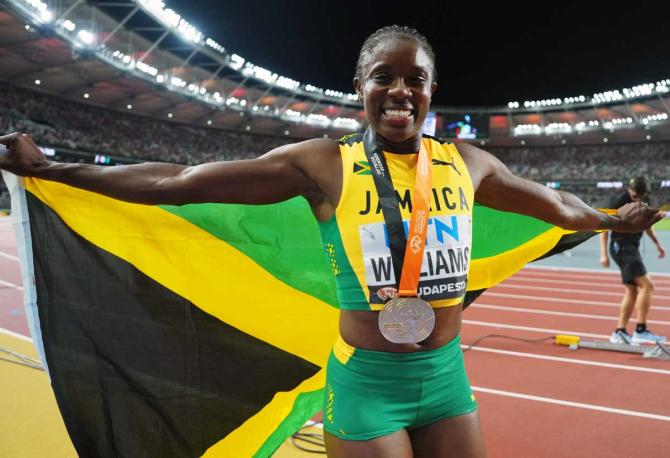 Little came second in 52.80, just holding off Jamaica's Rushell Clayton who took the bronze in 52.81.

"I feel as if the hard work has paid off. I'm thankful and happy," Little said.

"I've been working on controlling my nerves a lot. So to come here in this noise and not let it faze me, and not let the heat get to me, that was an achievement. I really am just proud."

Bol had been a second faster than anyone this season, clocking a personal best of 51.45, and had won 28 of 30 races coming into the championships.

"I knew that 400 metres hurdles would be a chance to show up and I was confident," she said. "Altogether I can say that this was a very good season."'

Jamaican Williams claims second world hurdles title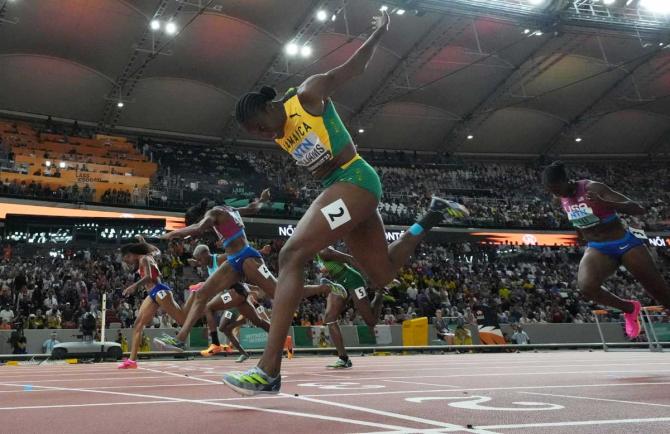 Jamaica's Danielle Williams finally raced to world gold in the 100 metres hurdles once again, winning by the narrowest margin eight years after first climbing the global medal podium.

The 30-year-old, who won gold in 2015 and bronze in 2019, edged Olympic champion Jasmine Camacho-Quinn of Puerto Rico by one hundredth of a second to win in 12.43 on Thursday.

"I knew it was going to be tough," Williams said. "I came out here knowing that I could win but I would have to give everything I had.

"I still don't believe I won against such a stellar field. I've been racing these ladies all year and they have been kicking me left, right and centre. But I had such confidence in my training and my abilities that I never stopped believing."

Camacho-Quinn had to settle for silver in 12.44.

"I'm not upset at all," Camacho-Quinn said. "I can be grateful with that silver. After I won a bronze at the last world championships now I have a silver.

"If I add my Olympic gold medal I have the whole collection to be proud of. This final was packed with talents... so I don't have any bitter feelings."

American Kendra Harrison, who posted a world-leading time of 12.24 in the heats, took bronze in 12.46, keeping Devynne Charlton of the Bahamas, who was fourth in 12.52, off the podium.

Less than a tenth of a second separated the top four hurdlers, and it was difficult to discern even from the photo finish any difference between Williams, who ran out of lane two, and Camacho-Quinn, who was in lane seven.

The two peered up at the scoreboard hopefully before Williams erupted with joy.

"The finish is usually my problem but I spoke to my sister (on Wednesday) and she said I need to make sure to race over all the hurdles because I wasn't going flat out through all of them," Williams said. "Today I was determined to take it all the way.

"When I won in 2015 (in Beijing) it was unbelievable. But this took a lot of hard work, a lot of years of toil and injuries and losing my confidence and battling to get back to this stage. It's awesome, Jamaica is a proud country and we love to win. I love to win."

Nigeria's world record holder Tobi Amusan, who arrived in Budapest amid controversy, was sixth.

The 26-year-old, who set the world record of 12.12 in the semi-finals last year and then won gold, had a provisional anti-doping suspension lifted two days before the worlds began.

The Athletics Integrity Unit (AIU) provisionally suspended Amusan last month due to three whereabouts failures within a 12-month period, but the decision was overturned by the AIU's independent disciplinary tribunal panel.

The AIU can still appeal to the Court of Arbitration for Sport (CAS).

Tentoglou wins long jump gold after late drama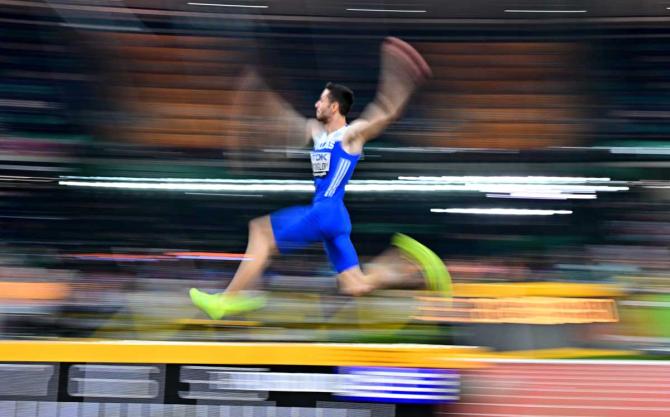 Olympic champion Miltiadis Tentoglou of Greece was involved in yet another last-round drama as he won long jump gold at the World Championships when his final leap of 8.52 metres edged him ahead of Jamaica's Wayne Pinnock by two centimetres on Thursday.

Tentoglou is no stranger to such things, having won Olympic gold with his final jump in Tokyo after being out of the medals after five rounds.

It went the other way in Eugene last year when he was leading after five, only for Wang Jianan of China to come from nowhere, take gold and demote the Greek to silver.

Tentoglou got Thursday's final off to a flier as he produced a huge season's best 8.50 with his opening jump, only for Pinnock to match it in the second round.

That put Pinnock, who flew to a world-leading 8.54 metres on his opening jump in Wednesday's qualifying and a personal best by 17cm, in the lead on the back of having the best second jump by one centimetre.

In the final round, though, Tentoglou hit the board perfectly to soar ahead and Pinnock was unable to improve on his final attempt.

"This competition may have been the toughest I have taken part in," Tentoglou said. "Last year it was a bad competition for me but this year I had no excuses.

"But I was not comfortable. After my third jump I started to feel my legs cramping. That's why it took so long to get the big jump. I had to test my legs to see that I was fine and then I went for it in the final jump after having felt no pain.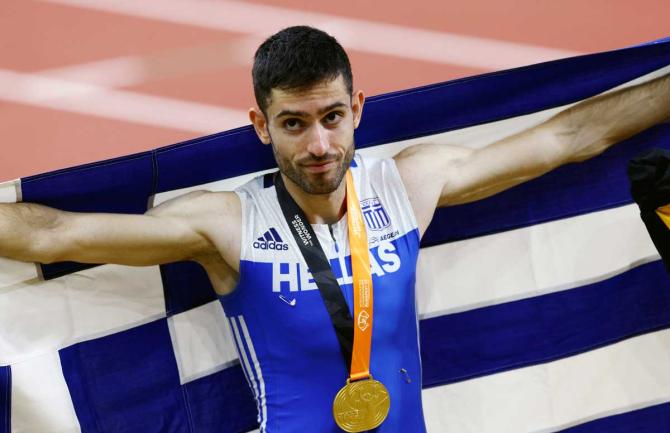 Pinnock was stunned by the turnaround but soon found the positives after a week he will never forget.

"When he pulled that off I couldn't believe it but then I could, of course, I know what he's capable of," he said.

"I just knew he had it but I just didn't know he would do it, that he would pull it off at that moment.

"But this is still a silver medal. It's really a dream come true. Watching people like Tentoglou gave me the motivation as a youngster to reach the top. And now I'm there, nearly there."

Jamaica's Tajay Gayle snatched bronze with his final leap of 8.27, matching compatriot Carey McLeod but edging him on countback.

McLeod was lucky to escape injury after slipping on takeoff on his third jump, spiralling spectacularly into the air and landing face-first in the pit.