Olympic and world champion Olga Kaniskina was in a class of her own when she raced to a 20km walk gold medal at the world athletics championships Sunday.
The petite 24-year-old Russian surged ahead after only six kilometres, staging a sparkling one-woman show, with a time of 1:28:10, that left the competition scrambling for the other medals.
Ireland's Olive Loughnane bravely held on for silver 49 seconds later, just ahead of China's Liu Hong.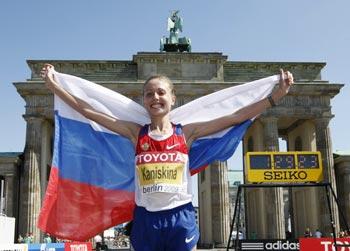 Kaniskina's win means Russian women have won the last five 20km walk golds at the world championships.
Russia enjoyed double success in the category in Berlin after Olympic champion Valeriy Borchin took the men's gold on Saturday.
On a hot and humid day, the walkers started at the iconic Brandenburg Gate, racing down a tree-lined loop along the Unter den Linden boulevard.
Kaniskina upped the pace after 5km, moving top of the pack that was briefly led by Germany's Sabine Krantz who was later disqualified.
Joined by fellow Russian Anisya Kirdyapkina and Olympic silver medallist Kjersti Plaetzer, the trio soon broke away, looking to divide the three medals among themselves.
But Kaniskina was in no mood to hang around and moved away to remain unchallenged for the rest of the race.
With tens of thousands of fans cheering her on in downtown Berlin, the Russian finished at the Brandenburg Gate, a big smile of relief on her face.
JEPKOSGEI OUT
Britain's Jessica Ennis remains on course for gold in the heptathlon after the long jump, the fifth of the seven disciplines, despite having her overnight lead of 307 points trimmed to 269.
Ennis won three of the four events Saturday and managed a personal best in the other, the shot but was only ninth in the long jump.
Olympic champion Nataliya Dobrynska and Germany's Jennifer Oeser both finished ahead of her and are both on 4,795 points to Ennis's 5,064.
"That gold medal keeps creeping into my head but I want to focus on each event," Ennis said ahead of Sunday's night's concluding javelin and 800 metres.
Kenyan Janeth Jepkosgei's defence of her 800m title ended in the first heat when she tripped on the final bend and failed to qualify for the semi-finals.
Jepkosgei was leading and looking comfortable when she was caught by Caster Semenya of South Africa, the fastest in the world this year, who stayed on her feet to win the heat but hurt her ankle in the process and could also be forced to withdraw.
Jepkosgei's compatriot, Olympic champion Pamela Jelimo, had no trouble as she went through safely in 2:03.50.
World and Olympic champion Valerie Vili of New Zealand led the qualifying for Sunday night's women's shot final with a throw of 19.70 metres.