Tiger Woods, his game imploding with every wayward shot, missed the cut for only the sixth time as a professional on Friday after a woeful second round of 79 at the Quail Hollow championship.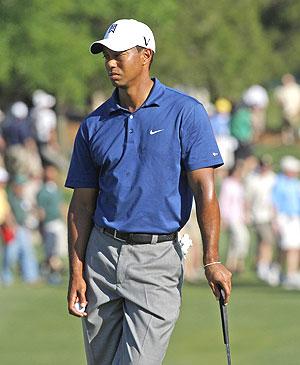 The World No 1 cast a forlorn figure as he trudged off the course after limping to the halfway stage at nine-over-par, eight shots off the cut-off line following his opening round of 74.
Woods, competing in only his second tournament after a self-imposed break following revelations about his private life, finished with a nine-over total of 153, his worst 36-hole score of his career.
The inept performance prompted questions about whether distractions in his private life were taking their toll, but Woods insisted they were not to blame.
"Does it test you? Yes, of course it does," he said.
"Is that any excuse? No, because I'm out there and I have the same opportunity as everybody else here in this field to shoot a good number, and I didn't do that."
As Woods struggled, many of his main rivals, including US Masters champion Phil Mickelson, ripped up the course on a perfect spring day.
But it was Billy Mayfair who quietly took the lead, carving out a second successive four-under 68 in front of a handful of spectators on the other side of the course away from Woods's drama.
"I played real well today," the American said after posting an eight-under total of 136 to finish a stroke ahead of Argentine Angel Cabrera.
"I'm rolling the rock pretty good and I love being in contention. I made a lot of good putts, drove the ball well."
Last year's Masters champion Cabrera, partnered with Woods, shot a sparkling 67 to finish a stroke above a foursome including Mickelson.
"I was very happy with the way I drove the ball and was able to make some key putts," he said.
"I know I'm working hard and I'm real close to being at the top of my game."
However, his performance was overshadowed by the almost-unimaginable showing by Woods, whose missed cut was his first since last year's British Open and his first on home soil since the 2006 US Open.
Woods at times looked like a weekend hacker as his game unravelled on the back nine.
There were already some worrying signs as he went through the first nine holes in even par with three birdies cancelled out by three bogeys but few could have expected what was to unfold.
He bogeyed the 10th, 11th and 12th holes to suddenly drop back to five-over-par. He stopped the bleeding with a par at the 13th before making a double-bogey at the 14th when he pitched over the green and into the water.
"At that point it was pretty much out of reach and I was just trying to stay out of Angel's way," Woods said.
"He's the one leading the golf tournament, and that's kind of what you're supposed to do."
Worse was to come at the next hole when he four-putted for another double bogey. He closed with three pars to avoid shooting an embarrassing 80 but that failed to save him from an early exit.
"I chipped poorly, putted poorly, but for the most part I didn't really hit the ball that poorly until the end," Woods added.
"It does bother me, no doubt (missing the cut). But at least I get the weekend to watch and see how it's done, how real players play golf and hopefully I can piece it together for next week and be ready to go."
Mickelson, who was ill from food poisoning and faded late in his opening round, looked a picture of health as he shot a four-under-par 68 to be suddenly feeling upbeat about his chances.
"I should be 100 percent for the weekend," he declared.
"I thought I was going to get a few more on the front. But four under? I would say I'm in good position for the weekend."