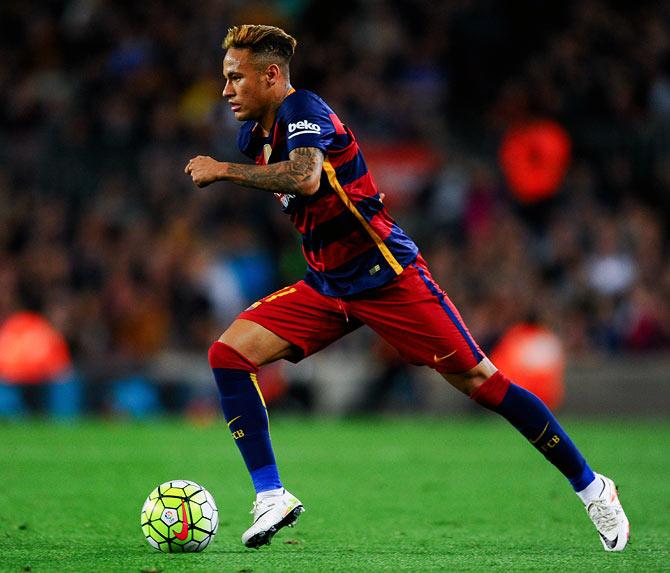 Barcelona star striker Neymar has said that although winning the Ballon d'Or award is one of his goals, he will not 'die' even if he never lifts the coveted individual prize in his career.
When asked if he was disappointed not to be named as one of three finalists for the prize this year, the 24-year-old insisted: "If I don't win the Ballon d'Or, it's okay. I don't play football to win the Ballon d'Or, I play football to be happy because I love it, because I want to play football. Unfortunately only one person can win it," Sport24 quoted Neymar, as saying.
"Of course it is one of my goals winning the Ballon d'Or but I won't die if I don't," said Neymar, who won two league titles, two domestic cups, the Spanish Super Cup, the Champions League and the Club World Cup since moving to Barcelona from Brazilian side Santos in 2013.
The football's top individual award is passed back and forth between Real Madrid's Portuguese star striker Cristiano Ronaldo and Argentina striker Lionel Messi for the last nine years since Brazilian Kaka won the award in 2007.
In 2015, Neymar became a finalist for the prize for the first time before eventually losing it out to Messi who won the accolade for the fifth time.
Ronaldo lifted the 2016 Ballon d'Or earlier this month for the fourth time after inspiring Zinedine Zidane's side to the Champions League glory and Portugal to the European Championship 2016 trophy.
IMAGE: Barcelona striker Neymar
Photograph: David Ramos/Getty Images