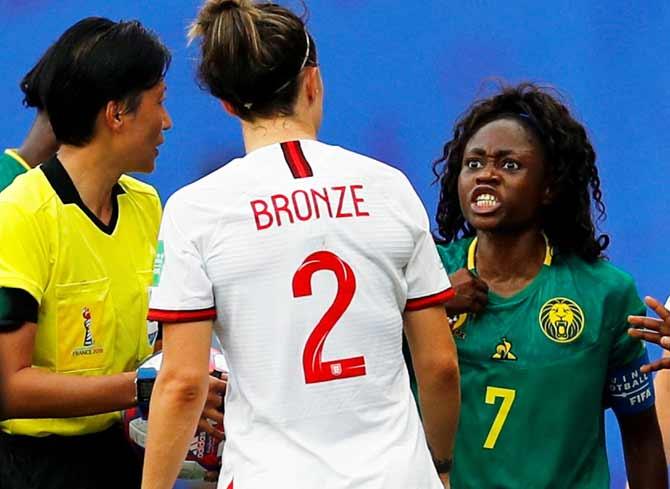 England beat Cameroon 3-0 to advance to the women's World Cup quarter-finals in a match marked by remarkable scenes as the African side twice reacted furiously to video assistant referee (VAR) decisions that went against them.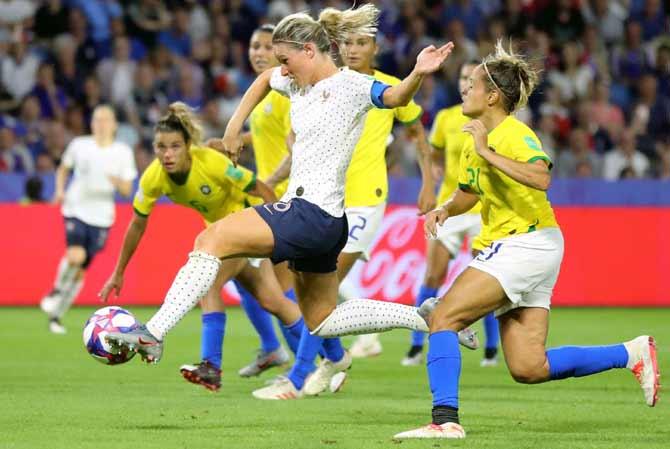 France captain Amandine Henry came to the rescue as the hosts scraped into the women's World Cup quarter-finals with a 2-1 win against Brazil after extra time on Sunday, setting up a likely clash with holders the United States.
Henry found the back of the net in the 107th minute of a tense game at the Stade Oceane after Thaisa had cancelled out Valerie Gauvin's second-half opener.

Les Bleues struggled to make their early domination count due to the lack of a killer instinct that prevented them wrapping up victory inside 90 minutes.

The US take on Spain in Reims on Monday.

With Brazil's veteran Formiga returning to the starting lineup, the South Americans appeared to suffer physically as France stamped their authority on a foul-ridden match.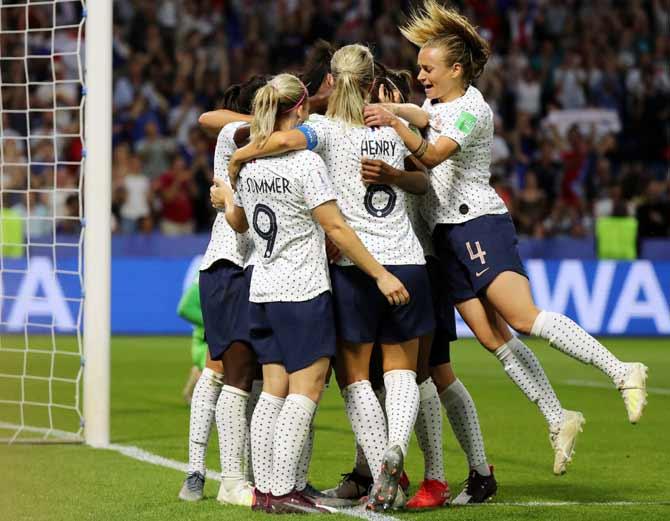 Les Bleues, however, lacked sharpness up front until the 26th minute when Gauvin fired home from Kadidiatou Diani's cross, but the goal was disallowed after a VAR review ruled the striker headed the ball out of goalkeeper Barbara's hands.

The decision deflated France and Diacre's players were less aggressive, allowing Brazil to grow into the game.

The French were back in business after the break though and the Diani-Gauvin duo struck again, the Montpellier forward latching onto a cross from the winger to open the scoring in the 52nd minute.

Brazil came close to an equaliser four minutes later when France keeper Sarah Bouhaddi tipped a Cristiane header onto the bar.

But the leveller came in the 63rd when Thaisa beat Bouhaddi with a low cross-shot, the goal being allowed following a VAR review after first being ruled out by referee Marie-Soleil Beaudoin.

Brazil had the upper hand but France, who still threatened through Diani, held on to force extra time.

Les Bleues now looked fresher but at the end of a quick counter-attack by Brazil, Debihna's shot beat Bouhaddi, only for Griedge Mbock to clear the ball away from the line.

Shortly after the restart in the extra period, Diani won a free kick on the left flank which was whipped into the box by Amel Majri and diverted into the net by Henry for the winner.

England through amid VAR mayhem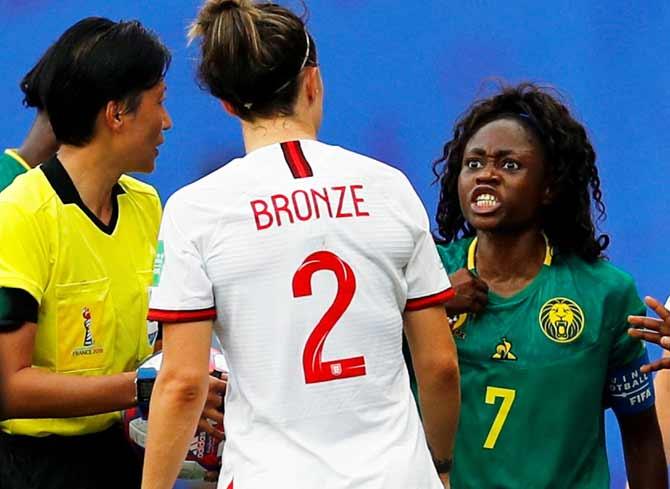 England beat Cameroon 3-0 to advance to the women's World Cup quarter-finals on Sunday in a match marked by remarkable scenes as the African side twice reacted furiously to video assistant referee (VAR) decisions that went against them, initially refusing to restart the game.

After England's second goal by Ellen White at the end of the first half was initially ruled out for offside then, rightly, allowed via VAR, several Cameroon players remonstrated with the referee, furiously pointed to the screen in stadium which showed the replay and for a long time refused to restart the match.

VAR replays are not shown on big screens inside the stadium though "normal" replays were, some of which clearly seemed to indicate to the Cameroon players that they were being treated unjustly.

At halftime they refused to go off and join their coach, instead staying in the centre circle in a huddle.

They thought they had pulled a goal back early in the second half, only for VAR to again rule against them for a marginal offside - sparking more chaotic scenes. Players were shouting at the referee, pointing again to the big screens, substitutes were berating the fourth official and one player stood alone on the pitch jumping up and down in a furious rage.

Instead of taking firm action to force the players to restart, Chinese referee Qin Liang took an age, speaking gently to them before their coach persuaded them to kick off.

The game then turned ugly with strong challenges, elbowing, an accusation of spitting and, in the final act, an horrific tackle on England's Steph Houghton that, belatedly and again via VAR, earned Alexandra Takounda a yellow card when it looked a clear red card offence.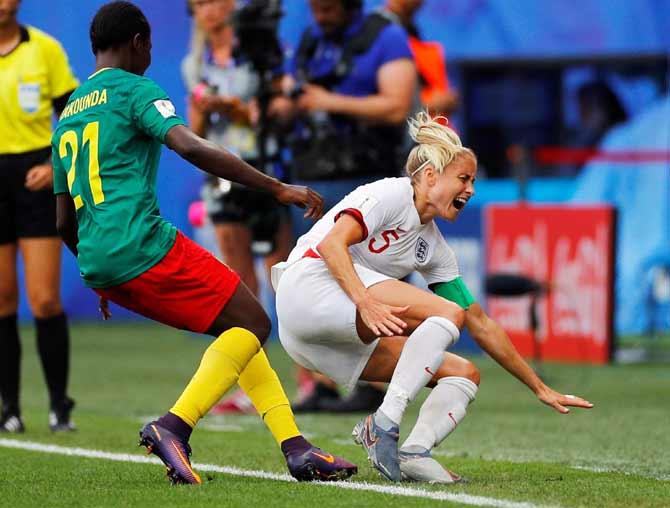 Furious England coach Phil Neville said what he had seen was "not football. I came to this World Cup to be successful and to play a part in making women's football globally more visible. We wanted to put on a show," he said. "I sat through 90 minutes of football there and felt ashamed. I was proud of performances, under circumstances I've never seen before. And I am completely and utterly ashamed of the opposition.

"All the young boys and girls watching... and we've had five, six and seven million people watching back at home... with that kind of behaviour. That's pretty sad. At times, we probably didn't know whether the game would continue. My daughter wants to be a footballer and if she watches that she will think: 'No, I want to play netball'."

Former United States goalkeeper-turned pundit Hope Solo tried to give some balance when she suggested that the Cameroon team's lack of resources and coaching expertise put them at a disadvantage. "We have to try and understand that," she told BBC Radio 5-Live. "Perhaps they weren't even told about the rules, the laws of the game and the evolution of the game, so your heart has to go out a little bit to them."

Their coach Alan Djeumfam, who was remarkably restrained through the mayhem and tried hard to calm his players, said that every decision went against his side and that they suffered a "miscarriage of justice."

England will need to quickly get over the less savoury aspect of the match and turn their attention to what will be a far stiffer test when they face Norway in Le Havre in the last-eight. The Scandinavians beat Australia on penalties on Saturday.