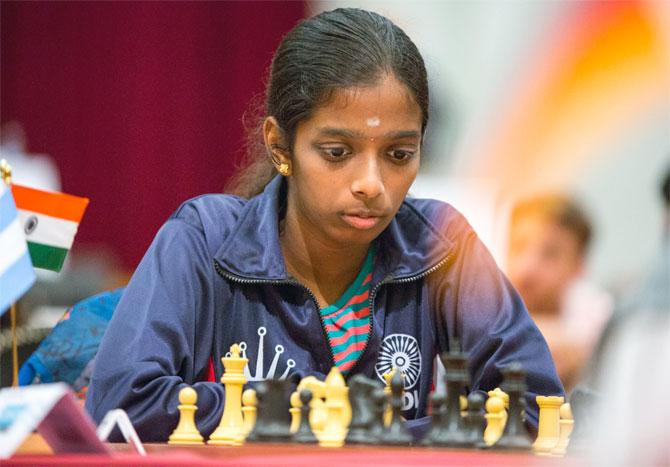 Young Indian Grandmaster R Vaishali went down 3-7 to Valentina Gunina in the quarterfinals of the second leg of FIDE chess.com Women Speed Chess Championships on Thursday.
The Chennai-based WGM, who had reached the semifinals of the opening leg, was outclassed by experienced Russian WGM.
Vaishali fell behind early and could not catch up against Gunina, who had finished runner-up in the first leg.
The 19-year old Indian player had beaten Ukraine's world No.7 Anna Muzychuk 6-4 in the first round on Wednesday.
Her compatriot D Harika had crashed out in the opening round, losing 4-7 to Anna Ushenina of Ukraine.
Ukraine's Anna Ushenina, winner of the first leg, pulled off an upset win over world no.1 Hou Yifan in another quarterfinal on Thursday.
The Ukrainian edged out her Chinese rival in a tight contest, which was locked at 4-all. In the bullet segment, however, Ushenina proved to be stronger to advance with a 6.5-4.5 margin.
The Grand Prix consists of four legs, with a total of 21 participants. Each of the 21 players participates in three out of four Grand Prix legs. Each GP is a 16-player knockout event.
In each Grand Prix leg, every player scores cumulative grand prix points according to the position in the final standings.
The two players who score the highest number of cumulative grand prix points in all three Grand Prix legs qualify for the Super Final to be held on July 20.