News of all that's transpired on and off the football field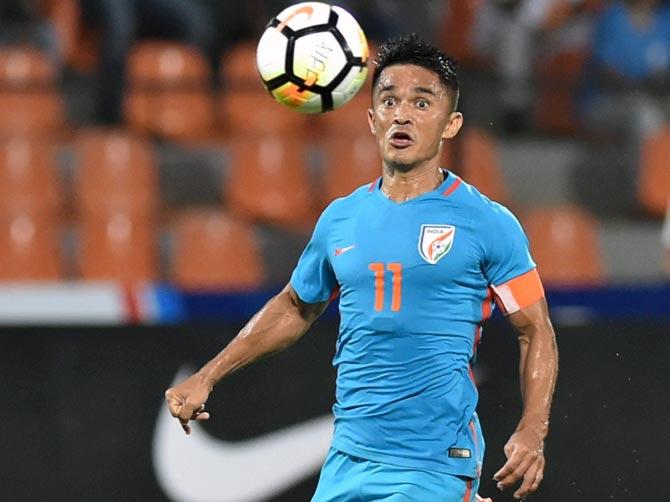 India football captain Sunil Chhetri has conceded that the national women's team is better than the men's side.
The men's team is currently ranked 103rd out of 211 countries. It was in the top-100 last year. The women's side is currently at 62nd out of 152 nations.
Chhetri, the poster boy of Indian football with second most goals among active international players, praised the national women's team for its fifth consecutive SAFF title win.
"Extremely proud of all of you. I have always maintained that the women's team is much better than the men," Chhetri said in a release from the All India Football Federation.
"Go there, and give your best in Myanmar. I have been keeping a track of all of you playing. Keep up the good work," Chhetri said.
The women's team will feature in the Round 2 of the Olympic qualifiers which kick off in Mandalay, Myanmar from April 3. India have been clubbed with hosts Myanmar, Nepal and Indonesia.
All India Football Federation (AIFF) president Praful Patel also congratulated the women's side on its success.
"Congratulations to our women's football team for winning the SAFF Championship. You have once again proved that you are the true champions. Keep up the good work and add many feathers of success to your crown. Best wishes," he said.
Brazil held 1-1 by Panama in lacklustre friendly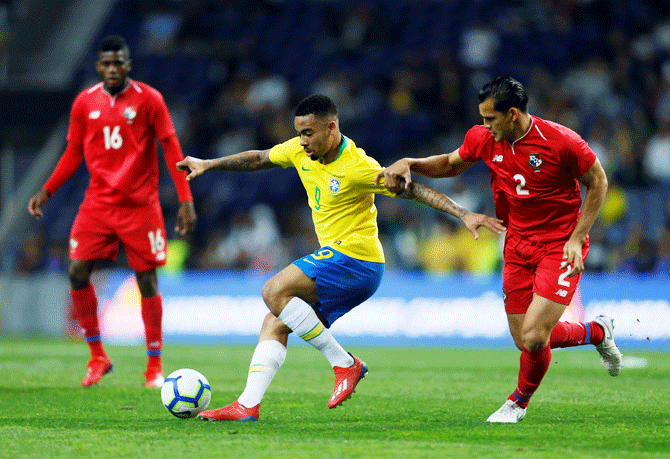 Brazil drew 1-1 with Panama in a friendly on Saturday, one of the poorest results and performances by the five-times world champions since Tite took over as coach in mid-2016.
Panama had never scored against Brazil before, losing all four previous meetings and conceding 16 goals in the process.
Midfielder Lucas Paqueta gave Brazil the lead after 31 minutes, but Adolfo Machado equalised four minutes later with a looping header from what looked like an offside position.
Richarlison and Casemiro hit the woodwork in the second half for Brazil but as the game went on Panama looked happy to hang on for the draw against a side who enjoyed 78 percent possession.
Tite, with one eye on the Copa America on home soil in June, opted to give starts to several young players, with Paqueta winning a third cap, defender Eder Militao his second and Porto left back Alex Telles making his debut.
But without Neymar, who is recovering from a foot injury, they lacked the kind of inspiration the Paris St Germain forward so often provides.
Brazil travel to Prague to play the CzechRepublic on Tuesday.
Referees must not penalise all contact in box, says Maguire
Referees should not penalise players for making contact with their opponents inside the penalty area unless it is a legitimate foul, LeicesterCity defender Harry Maguire has said.
Maguire, 26, believes defenders should be allowed to mark their man closely without the risk of conceding a "soft" penalty.
"It's up to the laws as to what is deemed soft, but I don't think you can outlaw all contact in the box because that's how you defend," Maguire was quoted as saying by The Guardian. "You get tight to your man and try to use your strength.
"I do believe there still has to be some contact in the game because if you are not bumping into your man at a corner you are not getting tight enough.
"A little push or a nudge should not be enough for a penalty, but being silly by grabbing someone round the neck is obviously different."
Maguire, who is currently with the England squad for their European Championship qualifiers, will miss Leicester's next game after he was sent off for fouling Johann Berg Gudmundsson in the fourth minute of their 2-1 win at Burnley last weekend.
Maguire did not complain about the decision as he was the last defender when he fouled the Iceland winger who was through on goal.
"As soon as I heard the whistle I knew it was a red card," Maguire added. "I've heard people saying it was harsh because I didn't mean to touch him but the rules are clear.
"He was going clear on goal and I clipped his heels. The referee got it right."
Grealish must play in EPL for England call-up: Southgate
England manager Gareth Southgate said Aston Villa midfielder Jack Grealish, who plays in the second-tier Championship, needs to prove himself in the Premier League to make his senior national team debut.
Grealish, 23, switched allegiance from Ireland to England in 2015 and played seven times for the England Under-21s. But he has now seen younger players such as Declan Rice, 20, and 18-year-old Callum Hudson-Odoi given England debuts ahead of him.
"Jack worked with us in the Under-21s briefly," Southgate told reporters. "Although we can see the quality, when the evidence of the opponent is a different level, that's where it's hard to directly correlate what that's going to look like at a level above."
"With Callum (Hudson-Odoi), he's playing Europa League, he's playing Premier League, that does make a difference.
"I'm not going to say we won't pick a player from the Championship because that could happen but it's far more difficult to assess his level."
Grealish has been crucial to the sixth-placed Championship side's push for promotion to the top flight, with four goals and five assists this season.
He last played in the Premier League in 2016 when Villa were relegated after finishing bottom of the standings.
"You see certain parts of the game but not others (in the Championship). Not the physicality at times, nor the tactical discipline," Southgate said. "That's another level in the Premier League: the speed, the pace.
"He's a player we know all about, he's a player we track, but that last bit of evidence that could give you confidence to pick him at the moment we won't see. But as an ex-Villa man I hope it's not too long before we do see it."
Grealish made headlines earlier this month, scoring the winner in a heated 1-0 derby win at BirminghamCity when he was attacked by a pitch invader who was later jailed for 14 weeks.