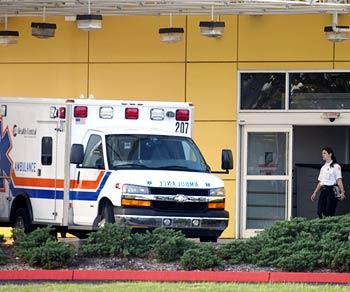 An unidentified woman was taken from golfer Tiger Woods' home in Windermere, Florida, by ambulance to a nearby hospital early on Tuesday, authorities said.
The incident was bound to prompt fresh media speculation about the private life of Woods, the world's No. 1 golfer. He has been under intense media scrutiny since he was injured in a minor car crash in the middle of the night outside his home late last month.
He has since admitted to "transgressions" that apparently addressed allegations of marital infidelity.
"We responded to a medical call. A patient was transported," said Orange County Fire Rescue spokeswoman Genevieve Latham, who said the woman was transported by ambulance.
Latham declined further comment. But WESH-TV, a local station, showed footage of a woman being taken on a stretcher into a hospital in Ococee, Florida, and the station said medics were called to Woods' home at 2:36 a.m. (0736 GMT).
After the woman was taken to the hospital a younger looking blond woman arrived there in a Cadillac Escalade SUV, local media reported.
A witness told WSVN, a local Fox television news affiliate, that the woman in the Escalade, who appeared at Health Central Hospital shortly after the ambulance had arrived, appeared to be Woods' Swedish wife, Elin Nordegren
The golfer's car accident last month triggered widespread speculation about his private life, given the time it happened and his refusal to meet with police to answer questions about it. Media outlets have reported Woods has had extra-marital relationships with up to six women, maybe more.
Companies whose endorsements have helped make Woods perhaps the world's richest athlete, with a fortune estimated at $1 billion, have said they are standing by him.
The top draw on the PGA tour, Woods is chasing Jack Nicklaus' record for victories in major tournaments and the unofficial title of best golfer ever. He has won 71 times on the tour in a glittering career that includes 14 major wins.
Image: An ambulance outside the emergency room of Health Central Hospital in Occoee, Florida where an unidentified woman was brought from the home of Tiger Woods, on Tuesday.
Photograph: Reuters