'The suspicion of doping will hang over numerous men and women players including the elite stars,' says Desh Gaurav Chopra Sekhri.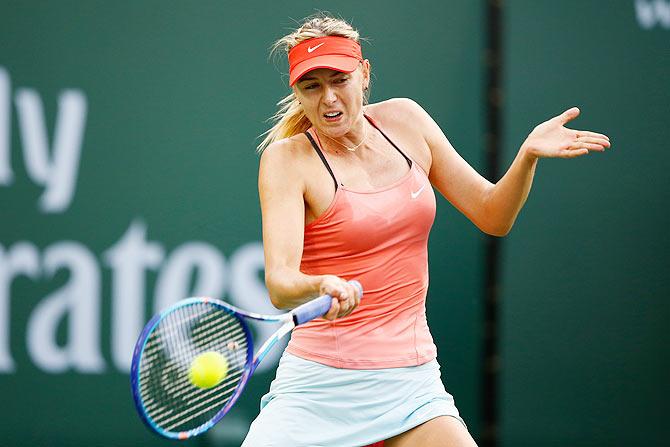 IMAGE: Maria Sharapova at Indian Wells, March 15, 2015. Photograph: Julian Finney/Getty Images
The timing of Russian tennis player Maria Sharapova's admission that she failed a dope test during the Australian Open in January 2016 could not have been worse for world tennis. Sharapova's elite status and marquee brand value makes her the highest profile doping offender in the history of tennis.
Fresh off the heels of a damaging match-fixing controversy, Sharapova's confession has brought unwanted attention to the ethics breakdown in tennis today.
For any sport, a double whammy consisting of integrity breakdowns in the form of match-fixing and doping can prove to be fatal. And, at a time when the golden era of tennis is coming to a close, the wheels are rapidly coming off.
Sharapova faces a potentially career-ending suspension for continuing to consume Meldonium after it was added to the prohibited list by the World Anti-Doping Agency in January 2016.
Meldonium is a drug manufactured in Latvia, is not available in the US where Sharapova lives, and has a proven side benefit of enhancing performance. It is used to treat ischemia -- an ailment in which there is reduced blood supply to the body tissue -- and also to benefit those with diabetes.
Sharapova, during her confessional press conference, mentioned that she had been consuming the drug for over a decade to tackle certain ailments she suffered from. But, over the last few days there have been discoveries which may put her in a more negative light than may have been the case initially.
Firstly, Meldonium's manufacturer has categorically stated that the drug should only be consumed for short durations of approximately four-odd weeks for a maximum of two to three times a year, not long-term.
Secondly, Sharapova mentioned that she failed to see the email from WADA with the updated list of banned drugs, and it was this omission which led to her continuing to consume the drug in 2016.
Besides the obvious flaw that she would have been advised by her battery of support personnel whose job responsibilities would be primarily to ensure that Sharapova is compliant, it also came to light that the International Tennis Federation and WADA had informed her a total of five times that Meldonium had been banned.
What, however, may be the most damaging is that in Russia, Meldonium was commonly used by athletes before it was banned, and already seven Russian athletes have tested positive for using it. Russian sports are in the middle of a massive alleged doping scandal.
Sharapova, by taking matters into her own hands, opted for a trial by public perception, but increasingly it seems as if she may well have played competitive tennis for the last time.
Her confession has also backfired, with her major sponsors severing ties with her quickly -- something quite unusual in sports endorsements where sponsors often ride the wave and give their athletes proper due process.
So, what this could mean is that the benefit of doubt to doping offenders, no matter their brand value, has been eliminated. Also, there is a possibility that tennis' credibility is virtually non-existent, so its participants have been given short shrift.
The Women's Tennis Association faces the massive quandary of whether or not it will give preferential treatment to one of its biggest stars. Sharapova's pre-empting the suspension will likely mean that she will be used for setting an example and moving towards improving tennis' perception with the public.
With Sharapova's admission, multiple cans of worms will open.
Not just that, it is highly likely that the suspicion of doping will hang over numerous men and women players including the elite stars.
Already Rafael Nadal feels the need to speak out about his clean record in terms of doping. So, Sharapova has set the ball rolling, and tennis will suffer.
If her career is over, it may not impact women's tennis all that much -- Serena Williams has dominated tennis for too long and remains the bellwether athlete for the WTA.
But, with her approaching the twilight of her career, and with the rapid decline of Nadal, Roger Federer's inability to win a major, Andy Murray's fruitless quest to solve the Novak Djokovic puzzle, and Stan Wawrinka's inconsistency, the sole responsibility of ensuring world tennis remains elite is on Djokovic's shoulders. It's a burden which even he, despite his rich vein of form, will find hard to overcome.
World tennis is in serious strife, and that is going to be the biggest fallout of the Sharapova incident.
Desh Gaurav Chopra Sekhri heads the sports practice at J Sagar Associates. These views are his own.