…There was more to his win as he made a few variations to his game en route his 16th major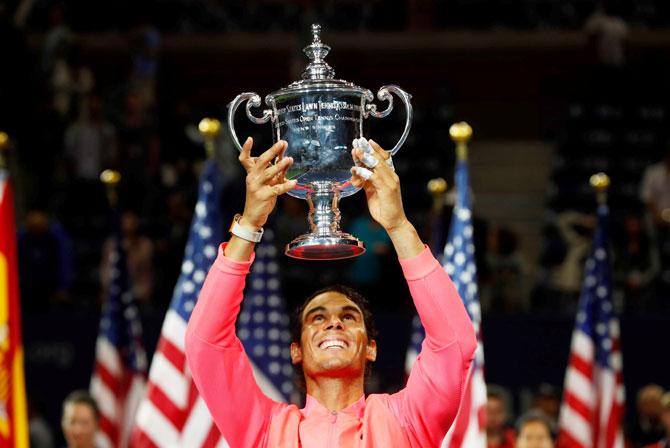 IMAGE: Rafael Nadal holds the trophy aloft after winning the US Open in New York on Sunday. Photograph: Mike Segar/Reuters
With a spate of injuries to players in the top 10, Rafael Nadal had luck on his side as he ran past South African Kevin Anderson to win the US Open title in New York on Sunday.
According to reports, Nadal is the first player in grand slam history to win a major without facing top 25 player en route his triumph.
"It was as easy as winning the French Open for Nadal. These guys are not even close, but he didn't play one player in the top 20," former world number one Mats Wilander, at the US Open as an analyst for Eurosport, said in his daily chat with Reuters on Sunday.
"But somebody's gotta be the best player in the world and Rafa Nadal is the best player in the world. There's nothing you can do to hurt him when they play on slow hard courts.
"Maybe you'd have to go to someone like Novak Djokovic to maybe beat him."
Djokovic, as well as his fellow multiple grand slam champions Stan Wawrinka and Andy Murray, skipped the tournament because of injury.
"Nadal's playing better than he ever has," Wilander, a US Open champion in 1988, added.
"He's made changes to the serve, he's been varying more and he's also taken the backhand much earlier as he doesn't play as far from the baseline when the rally is in play.
"I think the lesson he's that he's always learning and he's always gonna be changing things because he has that hunger to play the perfect tennis match.
"We've never had a hungrier player than Federer and Nadal and I would say that Nadal is probably much hungrier than Federer," the Swede added.