A large number of Indian athletes are in the dark about their participation at the Asian Games as the country's sports officials debate sending only medal hopefuls to Incheon.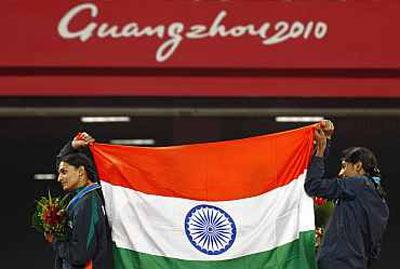 The Indian Olympic Association (IOA) has sent a list of 944 athletes and officials for government approval to travel to the September 19-October 4 Games, but the national sports authority wants it cut back for fear the country might be embarrassed on the world stage.
"The IOA list is huge and we have recommended pruning. We don't want the athletes to cut a sorry figure there," Sports Authority of India (SAI) director general Jiji Thomson told Reuters on Thursday.
"We want to send people with a realistic chance of winning medals since it's the country's pride that is at stake.
"But we are bureaucrats and it's up to the sports minister (Sarbananda Sonowal) to take a final call."
India sent 609 athletes in a delegation of 933 to the Guangzhou Games in China four years back where they participated in 35 disciplines and won 65 medals, including 14 gold.
The SAI has recommended the government approve athletes for only 26 disciplines for the Games in South Korea, though they expect at least 70 medals.
The SAI said last week that India was not likely to compete in baseball, bowling, fencing, karate, modern pentathlon, rugby, soft ball, soft tennis and triathlon in Incheon because of the athletes' poor standards.
The sports minister will meet officials later on Thursday to determine the strength of the delegation, according to Thomson.
The ministry in the past has cleared federations to send athletes so long as they take care of their own expenses.
IOA secretary general Rajeev Mehta said the sports ministry could not stop athletes from travelling to Incheon if their federations paid the bill.
"I can assure you all the athletes we have recommended will travel to Korea for the Asian Games," Mehta told Reuters last week.
"SAI has no authority to decide who will go. It's the prerogative of the federations and the IOA."
However, SAI insisted government clearance was mandatory.
"According to the new Sports Code, the minister's approval is necessary even if the federations fund their trip," Thomson added.