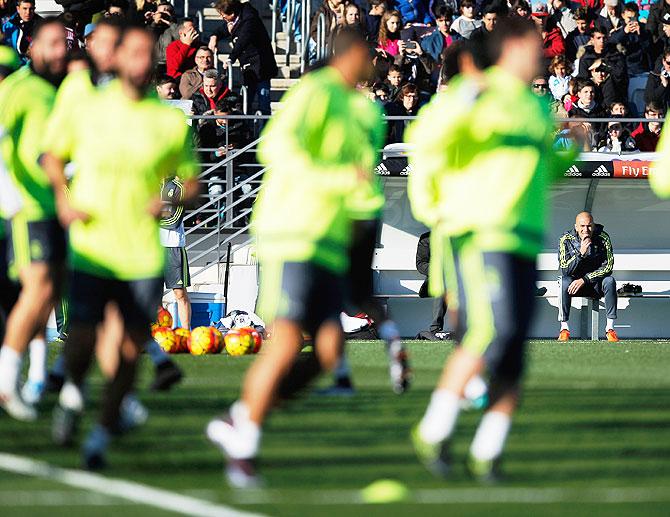 IMAGE: Real Madrid's manager Zinedine Zidane watches his players during a team training session at Valdebebas training ground in Madrid. Photograph: Gonzalo Arroyo Moreno/Getty Images
Real Madrid star striker Cristiano Ronaldo scored thrice to help his side thrash Espanyol 6-0 in a ruthless attacking display in La Liga clash at Santiago Bernabeu on Sunday.
The Zinedine Zidane-led side are now standing at the third spot in La Liga table, with just four points behind leaders Barcelona.
Madrid have now taken 10 points and scored 17 goals in four games since Zidane replaced Rafael Benitez earlier this month, and, Ronaldo has give new coach Zidane credit for the team's improved performance.
Three-time World Player of the Year Ronaldo insisted the turnaround is due to the Frenchman's demands for the squad to get fitter.
"The team is working very hard. In the past three weeks you've seen that with the results on the pitch," Ronaldo told Canal Plus
"We needed to work harder as a team. Now we have a positive mentality. The pre-season wasn't good, there was a lot of travelling. Zizou has arrived with different ideas and we have to continue like this.
"The team is in good shape. Zizou has done a phenomenal job. I feel a lot fitter. We won comfortably and everything went as planned."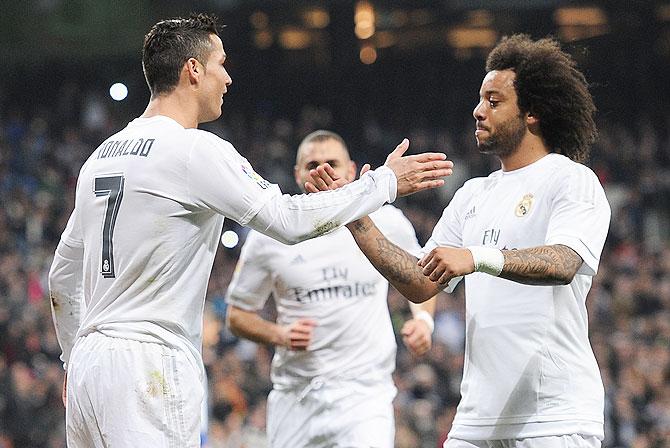 IMAGE: Real Madrid's Cristiano Ronaldo celebrates with teammate Marcelo after scoring during the La Liga match against Espanyol at Estadio Santiago Bernabeu on Sunday. Photograph: Denis Doyle/Getty Images
Zidane has consistently stressed the importance of improving Madrid's fitness since he was appointed three weeks ago. And his task has been helped by Real's early elimination from the Copa del Rey for fielding an ineligible player freeing up their midweeks through January.
"We have had time to work," said Zidane.
"This was the third week and the team is getting better physically, which is the most important thing for me. Our play with the ball doesn't worry me. We need to maintain this level of intensity and concentration.
"When the Champions League starts again we will have games every three days and won't have this time to work. I am happy and the players are happy because they can see the difference."
Victory took Real back to within four points of La Liga leaders Barcelona and one of city rivals Atletico Madrid.
Barca also have a game in hand over both sides from the capital, but both Ronaldo and Zidane insisted Real can still land just their second title in eight seasons.
"We can't think about Barcelona or Atletico, who are playing well. We need to work on ourselves because there is still a long way to go and we are a little behind, but we will see at the end of the season," said Ronaldo.
"My expectations for the league are still high, it is not over. We need to play well but, above all, win. Here winning is all that matters. We know we can't drop any more points," Zidane said.