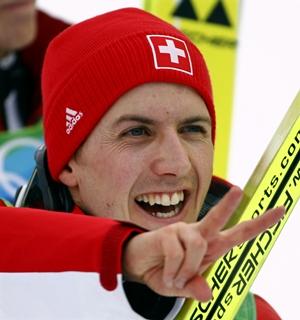 Swiss Simon Ammann won the first gold medal of the Winter Olympics, taking advantage of a poor performance by his Austrian rivals to claim the individual normal hill ski jumping title on Saturday.
It was the third Olympic gold for the diminutive 28-year-old Ammann, dubbed Harry Potter because of his owlish looks, who won both individual titles at the 2002 Games but flopped in 2006.
"I have no words for this. It's crazy. I tried to hard to focus," he told reporters. "It's my third gold medal. It's insane."
Ammann was narrowly ahead after the first round and put in a massive 108-metre jump, the longest of the day, to win with 276.5 points. Poland's Adam Malysz, seeking his first gold at the age of 32, came second with 269.5.
Austrian Gregor Schlierenzauer, tipped to dominate the individual hills, slipped on landing after his first jump. He recovered with a second-round jump of 106.5 metres, the second longest of the day, and came third with 268.0 points.
Amman knew he had won as soon as he made his second landing and clenched his fists while sliding to a halt. When the results were confirmed he embraced his coach and jumped around on the snow, his skis still over his shoulder.
The disappointment of the day was the highly-fancied Austrian team, which has four of the top five jumpers in the world yet could only finish third, eighth, 11th and joint 19th.
Before the Games started there had been talk in jumping circles that Schlierenzauer's performances were slipping and his touch betrayed him on landing.
Schlierenzauer, however, is best known for his ability to glide through the air and should be strong contender in next week's large hill competition.