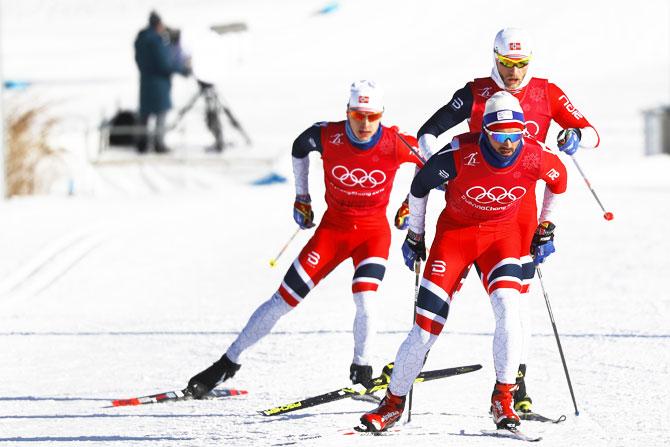 IMAGE: Norway's team trains at the Alpensia Cross-Country Skiing Centre in Pyeongchang on Thursday. Photograph: Kai Pfaffenbach/Reuters
Egg sandwiches. Bacon and eggs. Egg salad. Eggs on toast. Scrambled eggs, or fried. After taking receipt of 15,000 eggs instead of the 1,500 they wanted, Norway's team at this month's Pyeongchang Winter Olympics may have a pretty limited menu.
Norwegian chef de mission Tore Ovrebo struggled to suggest what they will do with the delivery, but did not rule out consuming them. Their registered 121-strong delegation of athletes and officials would get plenty of protein, eating 124 eggs each.
"The eggs was more like a misunderstanding than something that we needed, so it was an extra zero on the order, so 1,500 to 15,000," he said with a rueful laugh.
"They will probably use them I guess and I don't know, maybe the people that supplied us with them will take them back I don't know. It's not a big issue."
Ovrebo said it was important to enjoy the Games as well as scramble for medals.
"The aim is to have fun, and be as good friends when we go back as when we came here. In the meantime we are hoping for 30 medals."
While friendship is the aim, it isn't always possible in the fiercely competitive world of Olympic sports. After all, you can't make an omelette without cracking eggs.
IOC clears Iran, North Korea for gift after Samsung phone row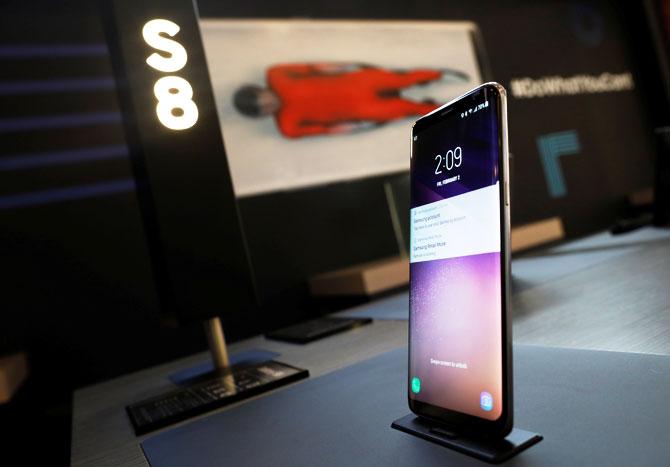 IMAGE: A Samsung Electronics' Galaxy S8 smartphone is seen on display at its booth in Pyeongchang, South Korea. Photograph: Kim Hong-Ji/Reuters
Iranian and North Korean athletes at the Pyeongchang 2018 Olympic Winter Games will receive Samsung mobile phones, organisers said on Thursday, after Iran summoned South Korea's ambassador over reports its athletes would not get the gifts.
News reports said 4,000 of the latest $1,100 Samsung smartphones were being given to athletes attending the Winter Games, but athletes from Iran and North Korea would be excluded because of sanctions against the two countries.
Responding to the furore, the International Olympic Committee (IOC) said athletes from both countries would receive the phones but that the North Koreans would be asked not to take the devices home.
"The IOC will provide mobile phones to all athletes of all countries participating at the Olympic Winter Games Pyeongchang 2018. These phones contain essential logistical and competition information for the athletes," an IOC spokesperson said.
"Regarding Iran, we can confirm that all participants will be able to keep the phones. Regarding North Korea, all participants are requested not to take the phones back to their home country," the spokesperson added.
An Olympics organiser told Reuters last week that South Korea was unsure if North Korean athletes would be eligible to receive the phones because of UN Security Council sanctions.
The official declined to elaborate, but experts say the phone could violate a UN ban on the sale of luxury items and electronics with a potential "dual" commercial and military use.
Samsung said the IOC was responsible for distributing gifts at the Olympics and it had no further comment.