South Koreans learn how to talk to the enemy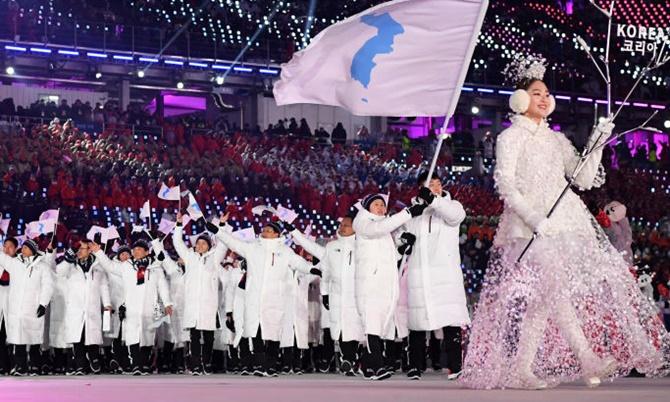 IMAGE: The North Korea and South Korea Olympic teams enter together under the Korean Unification Flag during the Parade of Athletes during the Opening Ceremony of the PyeongChang 2018 Winter Olympic Games. Photograph: Matthias Hangst/Getty Images.
When a hotel on South Korea's east coast was asked at short notice to host nearly 280 North Korean visitors, the problem wasn't finding enough rooms.
It was to learn how not to offend them.
Within days of the request, the roughly 150 staff of the four-star Inje Speedium Hotel & Resort were attending sessions on North Korean words and manners, one of which was taught by a professor who used to teach defectors from the North.
Their guests, who checked in on Wednesday, are North Korean cheerleaders who have come to perform at the winter Games in Pyeongchang, about 80 km (50 miles) from the border, one of the world's most heavily militarised frontiers.
Since the Korean War ended in a truce in 1953, the two sides have grown culturally and linguistically apart, deepening the political gulf that had initially separated the poor, one-party state in the north from the rich, democratic south.
First rule: in the presence of guests, do not refer to their leader, Kim Jong Un, by name, or certainly do not mention his nuclear and missile programmes.
And don't even point at badges depicting the North's former leaders which are pinned to every North Korean visitor's chest. In fact, call them "portraits", not badges.
That is some of the advice Kim Young-soo, a professor at Sogang University in Seoul, gave staff at the hotel.
"The two Koreas may have the same ethnic background, but have gone totally separate ways for such a long time without barely any interaction, so there can be misunderstandings over trivial things," he told Reuters.
A separate one-page cheat sheet provided by Inje Speedium to its staff points out that North Koreans don't use English words like shampoo and conditioner, which are used in the South.
The North also has words for food and everyday necessities that sound completely different to those used in the South.
The sheet included word comparisons for commonly used goods and services, a hotel official said. For example, vegetable is called "chaeso" in the South and "namsae" in the North.
"Our training, which included the lecture as well as our one-page guidelines, was aimed at preventing any potential conflicts that could arise from cultural differences," the official said, speaking on condition of anonymity due to the sensitivity of the issue.
Ahead of the Games, which formally opened on Friday, South Korea's government distributed guidelines to organisers, listing do's and don't's when they meet North Koreans, an official at the Pyeongchang organizing committee told Reuters.
North and South Korea speak the same language based on the Hangeul alphabet, but differences have emerged since the 1950-53 conflict which left the two sides at a technical state of war.
The differences are particularly challenging for women ice hockey players from the two Koreas who were asked just a few weeks ago to compete as one nation, the Canadian head coach of the joint team, Sarah Murray, told a news conference on Sunday.
There are "three" languages in one team, she said, referring to English, South Korean and North Korean. South Koreans frequently used English words not understood by the northerners.
"For our team meetings it is going through to English to South Korean to North Korean. So the meetings take three times as long," Murray said.
The team has compiled its own "dictionary" of different ice hockey terms to better communicate with each other, she said.
Choi Bok-mu, a fitness club manager at the Olympics athletes village in Gangneung, said he had not experienced any problems communicating with North Korean athletes, despite them speaking in a markedly different accent.
"Is it really that different from speaking to someone from another region in South Korea? I don't think so," said Choi, a volunteer who normally works as a fire station official.
Choi and other volunteer helpers at the Games were urged to avoid the topic that another Olympics guest, US Vice President Mike Pence, has been eager to address in his public remarks ahead of the opening ceremony: North Korea's arms programme.
"We've been told not to talk about nukes or missiles before we came here," Choi said.
Joint Korean march gave me goosebumps, says IOC boss
North and South Koreans marching together under a unified peninsula flag gave Thomas Bach goosebumps, the International Olympic Committee president told Reuters on Saturday.
"It was a very emotional moment to get finally there after many years of hard work and many negotiations still taking place here," the German said the morning after the opening ceremony of the Pyeongchang Winter Games.
"Then to see it finally happen, it really did not only give me goosebumps but I think the whole public and I guess the entire world."
The sight of North and South Koreans marching together for the first time in a decade was the culmination of months of work by Seoul. The South Koreans want to use the Olympics to ease tensions spurred by North Korea's pursuit of nuclear weapons.
The spectacle was greeted with apparent joy by South Korean President Moon Jae-in and his guest, Kim Yo Jong, sister of North Korean leader Kim Jong Un. They stood from their seats and, smiling, shook each other by the hand.
Not everybody was so taken by the show of Korean unity, with US Vice President Mike Pence remaining seated as the North and South Koreans entered the stadium.
"I didn't see it there. I was standing and I think the whole team felt very much welcome and this welcome does not depend on who stands and who does not stand," Bach said.
A high-ranking North Korean delegation of Kim, and North Korea's nominal head of state, Kim Yong Nam, had arrived in South Korea earlier in the day aboard Kim Jong Un's private jet.