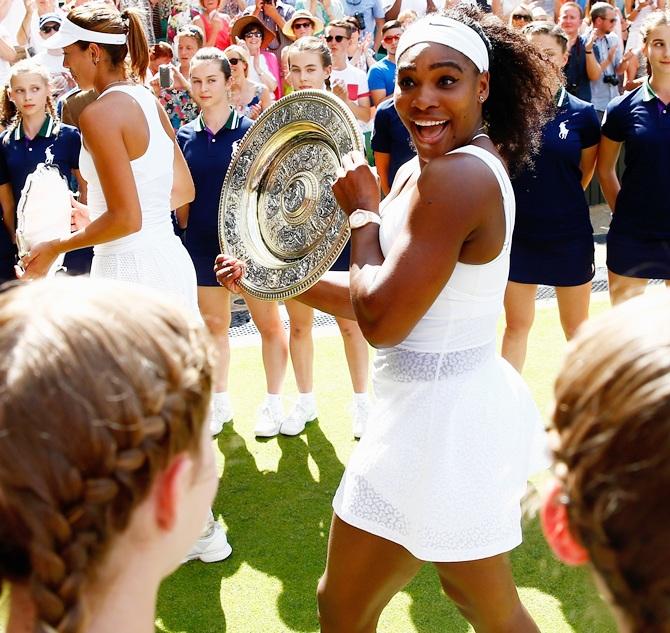 United States's Serena Williams, right, leaves court with the Venus Rosewater Dish after her victory. Photograph: Julian Finney/Getty Images
Having spent the last two weeks saying she would not talk about a possible Grand Slam, Serena Williams allowed herself a few moments to enjoy her sixth Wimbledon title before thoughts turned to New York and the elusive calendar year feat.
Serena holds off battling Muguruza to win sixth Wimbledon title
Muguruza will be a Wimbledon champion soon, says Serena
Williams belongs to an exclusive club of women who have held all four major titles at the same time, and achieved the so-called 'Serena Slam' for the second time with her 6-4, 6-4 victory over Garbine Muguruza in Saturday's Wimbledon final.
But there is an even more prestigious gang who have won Wimbledon, the Australian, French and US Opens in the same calendar year and Williams wants in.
Only Maureen Connolly (1953), Margaret Court (1970) and Steffi Graf (1988) have achieved the Grand Slam, but Williams stands on the brink of joining them and victory at the US Open in September will rubber stamp her membership.
Like all great champions, it was not long after leaving Wimbledon's hallowed turf before the American's mind wandered to the new challenge.
"It took me a little while," she joked. "I think when I did my interview... after the match, I did the whole presentation, I did the whole walk around the court. I was peaceful, feeling really good. Maybe a little after that I started thinking about New York...
"Then I just thought, 'Oh, man, I've won New York three times in a row. I hope this isn't the year that I go down'."
At 33 years and 289 days, Williams is now in her own exclusive club as the oldest player in the professional era to clinch a grand slam title, surpassing Martina Navratilova by 26 days.
What makes her tally of 21 Grand Slam titles so remarkable is that eight have come after she turned 30, with no sign that her ability to pummel much younger opponents is on the wane.
In fact, the secret to her current stranglehold on the women's game, might just be that she has been there, done it and bought the T-shirt.
"I've just been super relaxed," she said. "I've been taking time every match. I didn't have an easy go this tournament, but I still just take it one match at a time...
"I've learned a lot. That I'm able to do anything. Anyone's able to do anything they really set their mind to."