Here is a break-up of how the modern tennis great got to his 8 victories at the hallowed turf of the All England Club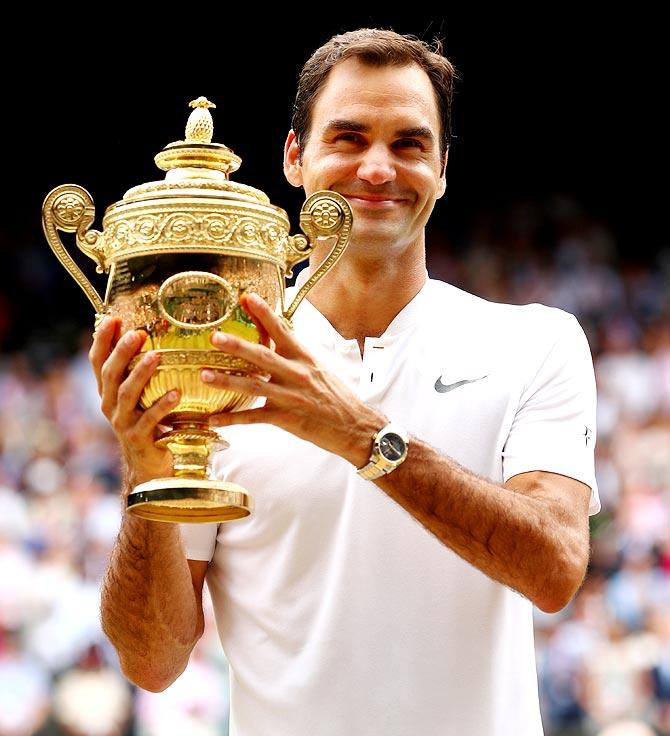 IMAGE: Roger Federer poses with the trophy after winning his 8th Wimbledon title on Sunday. Photograph: Clive Brunskill/Getty Images
Swiss maestro Roger Federer on Sunday showed his master-class as he outplayed Croat Marin Cilic in straight sets to win his eighth Wimbledon's Men's Singles title.
The third-seeded Swiss superstar defeated Cilic 6-3, 6-1, 6-4 in his 11th final at the All England Club that lasted for one hour and 37 minutes on the Centre Court to clinch his 19th Grand Slam title.
It was for the first time that Federer won the Wimbledon title without dropping a set.
"I'll be gone again for the next six months if it keeps working out this fantastic when I come back," said Federer after his historic win.
The 35-year-old's previous Wimbledon win came in 2012. He then lost to Novak Djokovic in both the 2014 and 2015 finals. His first Wimbledon title came in 2003, and he won the next four after that.
It was 16 years ago when Federer famously defeated Sampras at Wimbledon to announce himself as a star in the making.
However, it wasn't until 2003 that he captured his first All England Club title.
Now he has 19 majors, four clear of closest rival Rafael Nadal on the all-time list.
"I didn't think I was going to be this successful after beating Pete here," said Federer who also won a fifth Australian Open in January.
"I hoped to have a chance maybe one day to be in a Wimbledon final and have a chance to win the tournament.
"Winning eight is not something you can ever aim for. If you do, you must have so much talent and parents and the coaches that push you from the age of three on, who think you're like a project. I was not that kid."
Here is a break-up of how the modern tennis great got to his 8 victories at the hallowed turf of the All England Club at Wimbledon