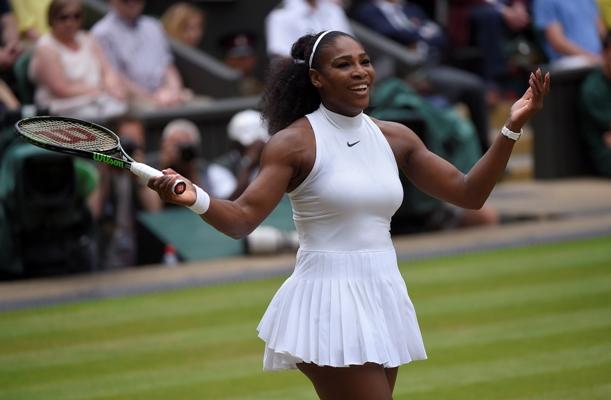 IMAGE: Serena Williams during the women's singles final against Germany's Angelique Kerber at Wimbledon. Photograph: Toby Melville/Reuters.
If Serena Williams' rivals were hoping that the American would take some time out to savour drawing level with Steffi Graf's professional-era record of 22 grand slam titles, her coach Patrick Mouratoglou fired off an immediate warning.
"Now that she has 22, Serena is not someone who equals records. She is someone who beats records," the Frenchman said after watching Williams at Wimbledon finally crack that magic number following three failed attempts over the past 10 months.
"What makes her the champion she is, is this ability to immediately forget what she has achieved and focus on something else. That's what makes Serena."
Since winning her 21st singles major at Wimbledon last July, Williams admitted she experienced many "sleepless nights" as she had been haunted by the spectre of "number 22".
She stumbled at last year's U.S. Open semi-final, faltered in January's Australian Open final and yelled out in frustration after falling in last month's French Open final.
But that Roland Garros loss to Spain's Garbine Muguruza finally snapped her out of the brain fog that had plagued her since last September when her pursuit of the calendar Grand Slam ended with a shock Flushing Meadows defeat by Roberta Vinci.
IMAGE: Serena Williams waves to the crowd after winning her seventh Wimbledon title. Photograph: Reuters.
It was no surprise, therefore, that Mouratoglou was mightily relieved with Saturday's triumph because had she lost, it would have been the first time since 2011 that Williams would not have held at least one grand slam title.
"We were in a situation in the last eight months that was not comfortable. I was not feeling Serena being herself and this is what I was looking for to find back the real Serena," Mouratoglou said after Williams hoisted the Venus Rosewater Dish for a seventh time.
"The most important thing is that we got Serena back."
"Finding Serena" is nothing new for Mouratoglou, though.
Before Williams hired him, following a first round loss at the 2012 French Open, she had been going through a lean spell having drawn a blank at the majors for almost two years.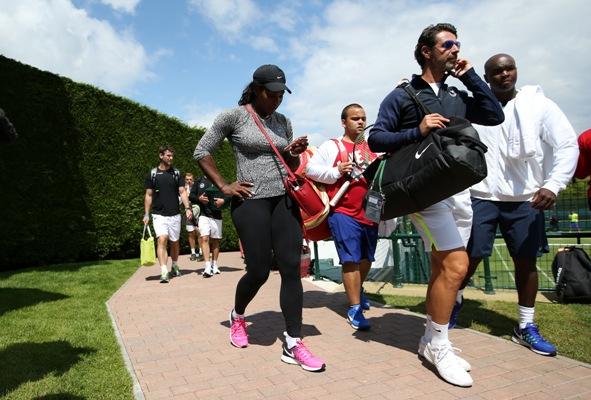 IMAGE: Serena Williams arrives for practice with her coach Patrick Mouratoglou. Photograph: Paul Childs Livepic/Reuters.
Mouratoglou wasted little time in giving her the confidence boost she needed to return to the winners' circle.
Once again armed with the belief that made her such a destructible force on court, she has gone on to win nine grand slam titles under Mouratoglou's guidance -- which is no mean feat considering she is now aged 34.
"Serena is like no other player, she is an unbelievable champion for many reasons," said the coach.
"But one of her characteristics is her ability to raise her level on the key moments. When she is threatened on her serve she hits aces, and when she gets the break points she plays the best tennis of her life and that's what she did today.
"This ability to win the big matches, that's what champions are made for and she showed that she was back."