Rafa Nadal's coach's mood changed when he found out the World No 1 was scheduled to play on uncovered Court One for his quarter-final against Mardy Fish on Wednesday.
"Court One? That's the worst thing possible for us. If I could choose it would be more logical to play on Centre," Toni Nadal told reporters after his nephew came through a hitting session following a scan on his foot injury.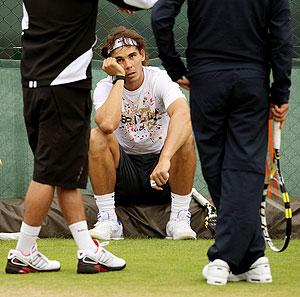 That the defending champion can play at all is a relief to tennis fans after the images of a distressed Nadal during his fourth-round duel with Juan Martin Del Potro and the Spaniard will have to be on peak form against the sharp-serving Fish.
Opening up on Centre Court will be six-times winner Roger Federer against the dangerous Jo-Wilfried Tsonga of France before home hope Andy Murray takes on serve-volleyer Feliciano Lopez, the Spaniard with the Hollywood looks.
First up on Court One are hitting partners Novak Djokovic and Australian qualifier Bernard Tomic, the youngest men's quarter-finalist since 1986 who has captured the world's attention with his broad repertoire of shots.
Tomic has won the opening sets in his last two matches in 17 and 21 minutes and Djokovic will have to start well if he wants to end the world number 158's dream run.
"When you're in the quarter-finals and the pressure's on you, strange things happen," 1987 champion Pat Cash said.