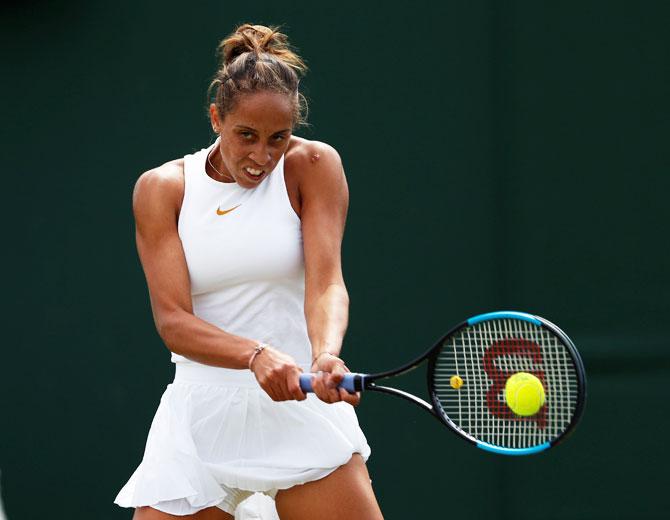 Madison Keys finds big-serving men racking up the points as they belt down one ace after another boring, the American admitted at Wimbledon on Wednesday.
Tenth-seeded Keys, who reached the third round with a 6-4, 6-3 victory over Luksika Kumkhum of Thailand, is one of the biggest servers on the women's circuit.
Her compatriots Sam Querrey and John Isner are among the biggest servers in the men's game but Keys was not too complimentary of their ability to pound their way past opponents.
"I'm going to be totally honest with you. I find it kind of boring," the 23-year-old told reporters.
"Sorry, but just because it seems like they just hit like 312 aces a match."
Isner holds the ATP's recognised record for the fastest serve at 157.2 miles per hour (253 kph), set at a Davis Cup match in 2016.
Canadian Milos Raonic, Wimbledon finalist two years ago and whose fastest was 250 mph in 2012, recorded 147 during his 7-6(4), 7-6(4), 7-6(4) win over Australian John Millman on Wednesday.
Keys said the main adjustment she has to make playing on grass is receiving the ball lower than on the surfaces.
"I think the biggest thing is the ball bounce is just completely different," she said.
"You go from it being on clay where it usually is bouncing higher, and then all of a sudden the ball doesn't come up at all and you have to be a lot lower.
"It makes my legs a lot more sore. And I usually have my coach in my ear telling me to get lower a lot more pretty much after every ball.
"That's pretty much the only difference for me, though... I feel good about it. I mean, I always do well on grass, so I feel like I have managed to figure it out."