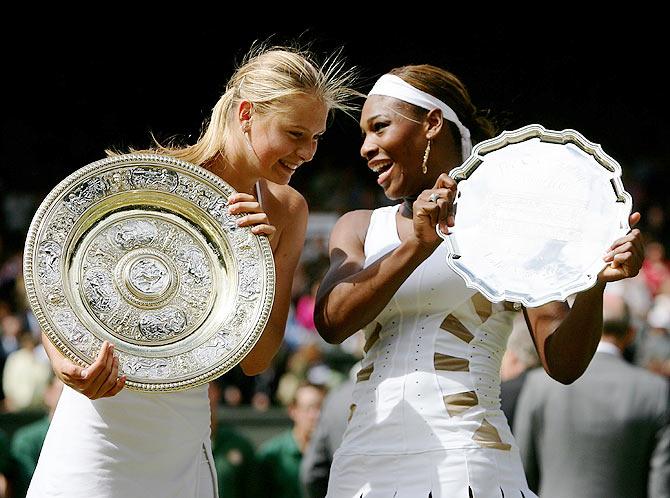 Russia's Maria Sharapova poses with her trophy after beating USA's Serena Williams in the Wimbledon final on July 3, 2004 at the All England Lawn Tennis and Croquet Club in London. Photograph: Mike Hewitt/Getty Images
Maria Sharapova and world No 1 Serena Williams haven't played each other at the Wimbledon Championships since their Round of 16 clash in 2010.
Sharapova beat unseeded American Coco Vandeweghe 6-3, 6-7(3), 6-2 to set up another crack at Williams who she has lost to 16 times in a row since 2004 -- the year she beat the American to win her only Wimbledon title.
- Wimbledon: Sharapova, Serena set up mouth-watering semis clash
- Wimbledon: Sharapova accused of unsporting behaviour
Sharapova had beaten Serena 6-1 6-4 in that match, but Serena enjoys a 17-2 head-to-head advantage overall.
And, acknowledging the magnitude of their impending semi-final, the Russian star says she is eagerly awaiting the mouth-watering duel.
"I haven't played Serena here in 11 years," fourth seed Sharapova, who famously beat Williams to the title in 2004 as a 17-year-old, told reporters.
"That will be an incredible moment for me to step out on Centre Court against her again."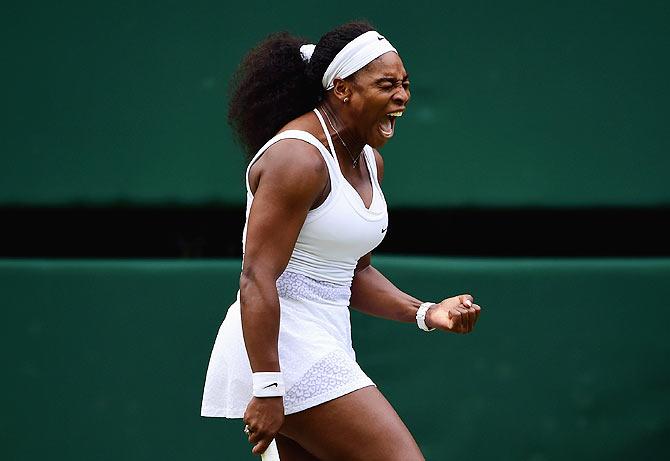 Serena Williams celebrates winning a point in her quarter-final match against Victoria Azarenka. Photograph: Shaun Botterill/Getty Images
Going by the way the World No 1 Williams has reached the semi-final, playing her will be nothing short of trudging a mountain for Sharapova.
The heavy hitting shook the ground and the volume would have raised the Centre Court roof, had it been closed, as Serena and Victoria Azarenka traded blows like a couple of prizefighters at Wimbledon on Tuesday.
Williams eventually won 3-6, 6-2, 6-3 with her best tennis at this year's tournament so far to stay in line for a sixth Wimbledon title and hand her complete the 'Serena Slam', that is holding all four majors concurrently.
"I feel really vulnerable. I feel really vulnerable in a third set," Williams, who looked anything but, told reporters.
"At that point I kind of relax and whatever happens, happens."