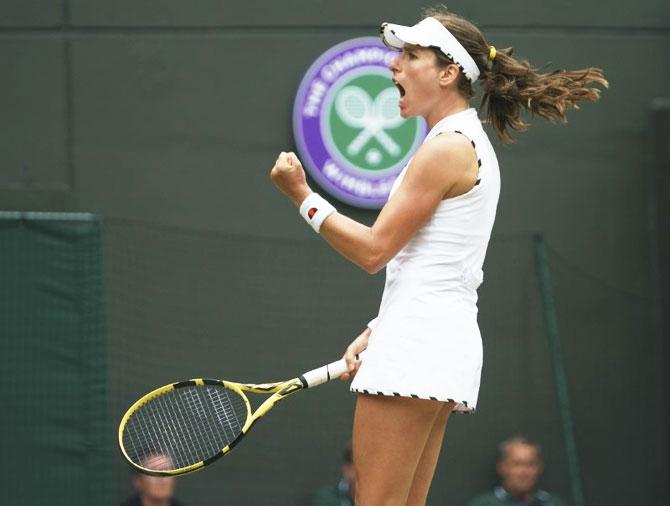 Sloane Stephens will be delighted if she never has to face Johanna Konta again after losing to the Briton for the fourth straight occasion and in the second consecutive Grand Slam at Wimbledon on Saturday.
Since the start of the year, the British and American number ones have crossed paths in Brisbane, Rome, at Roland Garros and now Wimbledon, but the result has always been the same.
Konta seems to have the Indian sign over the American, who had the upper hand for much of their encounter at the All England Club but was still beaten 3-6, 6-4, 6-1.
There is no obvious explanation for Konta's dominance over Stephens, who is nine places above the Briton in the rankings and a Grand Slam winner.
On her day, the American has shown she can beat anybody, but there is something about Konta's game that discomforts her, especially when the Briton gets on top.
Stephens has acknowledged that she has had a "rough year" with Konta, who mauled her 6-1, 6-4 in their French Open quarter-final, but for all of the first set and much of the second on Saturday, she was the better player.
After losing the first set, Konta faced three break points in an epic fifth game of the second when she came under enormous pressure.
"I don't think anyone can go on court against me feeling sure it's a done deal," Konta said, and the remainder of the match showed why.
After saving those break points, she won 10 of the next 13 games to set up a last-16 match against twice champion Petra Kvitova, an experience she believes will stand her in good stead, no matter the result.
"The more opportunities I get to be in the latter stages of Grand Slams, the more experience I gain," she said.
"Experience can only bring good things. It can only help with managing different things, different situations that come up at this point of the tournament."
'Unwell' Tomic to appeal against Wimbledon fine for playing below standards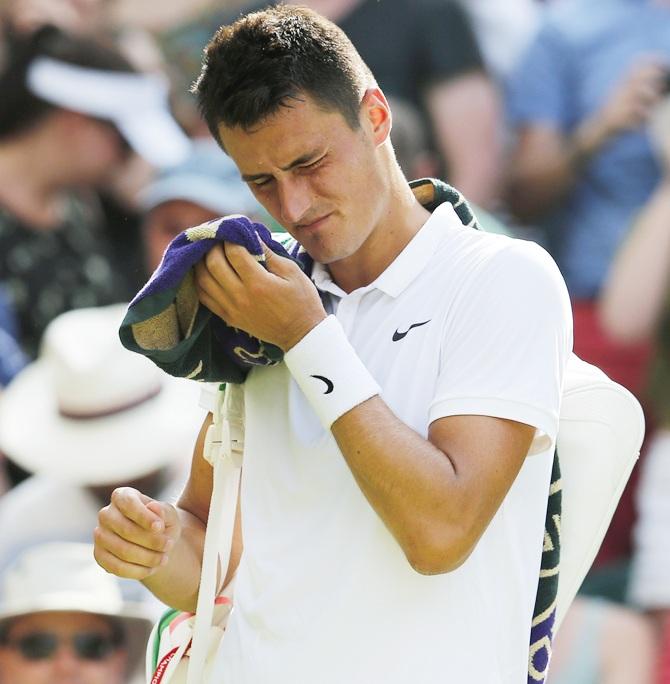 Australian Bernard Tomic said he planned to appeal against his fine for not playing to "required professional standards" during his 58-minute, first-round thrashing by Jo-Wilfried Tsonga at Wimbledon, as he had been unwell at the time.
Tomic lost Tuesday's match 6-2, 6-1, 6-4 in a performance described as "appalling" and "embarrassing" on social media and the 26-year-old was fined 45,000 pounds ($56,349) by tournament organisers.
It was the shortest Wimbledon men's match for 15 years and the second shortest men's singles match at the All England Club since records began in 2002.
"Flying from Turkey and losing in (the) quarter-finals (there), playing few matches in 40C heat and I was run down and became a bit unwell over the weekend," Tomic told News Corp Australia.
"I then competed with one of the top five players on grass, losing 6-2, 6-1, 6-4. I didn't lose 6-0, 6-0, 6-0.
"From the start of the match I knew I had very little chance because I was feeling down but I thought I would go on court to try (because) it's Wimbledon."
Frenchman Tsonga said he felt his victory had been devalued after Tomic was fined and pointed out that the Australian had put up a fight in the third set.
"I had no chance, it was 6-2, 6-1 before I knew it," Tomic added.
"The third set was a little better but still felt quick. At the end of the day, my best efforts were super poor that day but it's all I had.
"My movement normally is pretty bad, it just became super slow motion on court. Tsonga was serving amazing and taking so little time between serves, pushing me to also play.
"Sorry, guys, for feeling unwell."
The 1.96-metre Australian, ranked 96th in the world, has not moved past the first round in any of the three Grand Slams this year, losing in straight sets in all his matches.
It is not the first time Tomic has been in trouble for not trying. He was nicknamed "Tomic the Tank Engine" after accusations that he "tanked" -- or failed to try his best -- in a loss to Andy Roddick at the 2012 US Open.