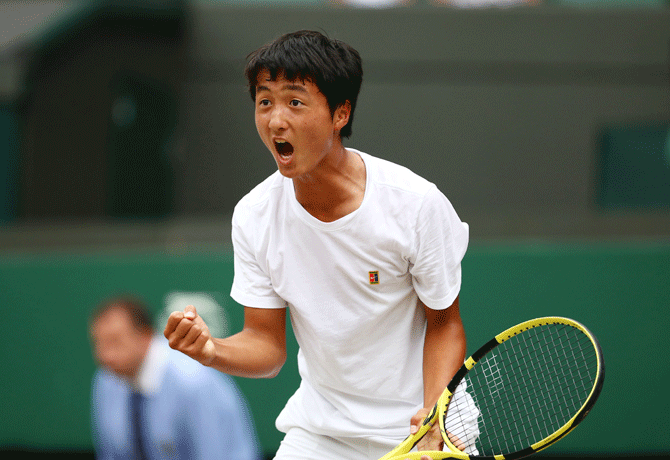 Teenager Shintaro Mochizuki became the first Japanese to win a junior boys' Grand Slam title, beating Spain's Carlos Gimeno Valero 6-3 6-2 in the Wimbledon final on Sunday.
The 16-year-old backed his aggressive backhand throughout the contest and went on to win 17 of his 23 points at the net to seal victory in 61 minutes.
Mochizuki became Japan's only second Grand Slam junior champion, following the footsteps of Kazuko Sawamatsu, who captured the Wimbledon and French Open girls' titles in 1969.
Having began playing tennis at the age of three, Mochizuki has fine-tuned his game under coach Natsuo Yamanaka at IMG's tennis academy in Bradenton, Florida, where Japan's current number one Kei Nishikori also honed his game.
"I like coming into the net, yeah, a lot... My coach taught me, like, I'm good at that," Mochizuki said of his adventurous serve-and-volley approach. "I just practiced a lot and improved with all matches."
While Nishikori and reigning Australian Open and US Open champion Naomi Osaka have changed the landscape of Japanese tennis in recent years, Mochizuki found his role model in Swiss icon Roger Federer.
"I love watching him (Federer) on TV," he added.
"I don't want to copy him, but I love watching him."
On Saturday, 17-year-old Daria Snigur became the second Ukrainian player to win the girls' singles title at Wimbledon with a 6-4, 6-4 win over American Alexa Noel.
Cabal and Farah create men's doubles history for Colombia
Juan Sebastian Cabal and Robert Farah became the first Colombians to win a Grand Slam men's doubles title when they beat France's Nicolas Mahut and Edouard Roger-Vasselin 6-7(5), 7-6(5), 7-6(6), 6-7(5), 6-3 in a near five-hour epic at Wimbledon on Saturday.
Farah punched away a backhand volley winner on match point before promptly collapsing to the ground in triumph.
"I'm speechless. I kept watching the watch through the first and second set. I'm like: 'We finished the second set and it's been two hours and 15 minutes play. This is ridiculous. How long is this?'" said Farah.
"From there on, we just kept battling. Once we lost the fourth set... I put my legs up, I got a rub from my physio.
"We come back to the court, I had a second wind. I felt so good again. I feel like we played unreal that (fifth) set."
Cabal, who will rise to the top of the doubles rankings when the new list is released on Monday, added: "We just won Wimbledon for Colombia. It's huge for our country. The moment we're living right now is just crazy."
The defeat capped a painful evening for Mahut as he rolled around the turf early on in the contest after taking a blow to his eye. For a few minutes, it was uncertain if the Frenchman would be able to continue as he was helped to his courtside chair before medics examined the injury and checked his vision.
He came back on court after taking a medical time-out and did not appear to suffer any lingering after-effects as he was soon up a set.
Mahut, who had won the full complement of Grand Slam men's doubles titles with Pierre-Hugues Herbert before being dumped by his fellow Frenchman earlier this year, looked like he could be walking off with his second Wimbledon crown as he and Roger-Vasselin produced some high-quality winners to level the match at two sets all.
But another brutal body blow in the eighth game of the decider left Mahut writhing in pain on the green turf and Cabal and Farah showed little sympathy as they pounced to break for a 5-3 lead.
Mahut is no stranger to Wimbledon marathons having come off second best in the longest ever Grand Slam singles match, an 11-hour-five-minute first-round tussle won by American John Isner in 2010.
While the Colombians clambered up the stands to celebrate with their nearest and dearest, Mahut consoled Roger-Vasselin who was crying into his towel as he struggled to come to terms with the near miss.
At four hours 57 minutes, it fell just four minutes short of the longest ever men's doubles final won by John McEnroe and Michael Stich in 1992.
Strycova and Hsieh take Wimbledon women's doubles title
Czech Barbora Strycova completed a memorable Wimbledon as she partnered Hsieh Su-wei to the women's doubles title on Sunday, beating Canada/China duo Gabriela Dabrowski and Xu Yifan 6-2, 6-4.
After the spine-tingling drama of the earlier men's singles final -- the longest in the tournament's history -- Strycova and her Taiwanese partner finally got on court to bring the curtain down on the fortnight with a straightforward victory.
"Oh my God, there is no word to describe the feeling," said a beaming Strycova, who lost to Serena Williams in the women's singles semi-finals.
They became the first team to lift the doubles crown at Wimbledon without dropping a set since Serena and Venus Williams in 2009.
"I felt like this tournament, especially Wimbledon, from the first moment we stepped on the court together, we just laughed and we just enjoyed," the Czech said.
"We kept it through the whole tournament. I think that was the biggest key (to the fact) we were playing the way we played.
"We are very different, but both of us handle stress differently.
"She (Hsieh) is really calm person and I'm very emotional. But I keep (trying) to enjoy it with a smile. That helps me also to relax on the court."
Strycova, 33, had also become the oldest Wimbledon singles semi-final debutant when she lost to Serena on Thursday.
It was great day for Taiwanese players with Latisha Chan teaming up with Croatian Ivan Dodig to win the mixed doubles, beating Latvian Jelena Ostapenko and 42-year-old Swede Robert Lindstedt 6-2, 6-3 in the final.