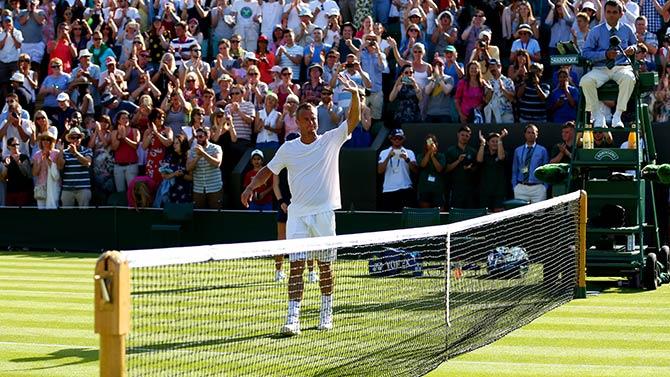 Former champion Lleyton Hewitt of Australia acknowledges the crowd following his defeat to Jarkko Nieminen in his last ever Gentlemen's Singles match at the Wimbledon. Photograph: Clive Brunskill/Getty Images
Fighting tooth and nail as only he knows how old warrior Lleyton Hewitt waved an emotional goodbye to Wimbledon after losing a dramatic five-set match to Finland's Jarkko Nieminen.
Thirteen years after beating Argentina's David Nalbandian to win the title, the 34-year-old, who will retire after next year's Australian Open, went toe to toe with fellow veteran Nieminen but went down 3-6, 6-3, 4-6, 6-0, 11-9.
Cheered by his fans dressed all in gold Hewitt saved two consecutive match points at 4-5 in the fifth set before succumbing in a match spanning four hours.
"I was always going to leave it all out there, everything I had in the tank. I certainly did that," the Australian, who has played 56 five-setters in grand slams during his career, told reporters.
"I didn't leave any stone unturned preparing. In the end, obviously disappointing to lose.
"I would have loved to have played Novak (Djokovic) in the next round. But Jarkko is a tough competitor."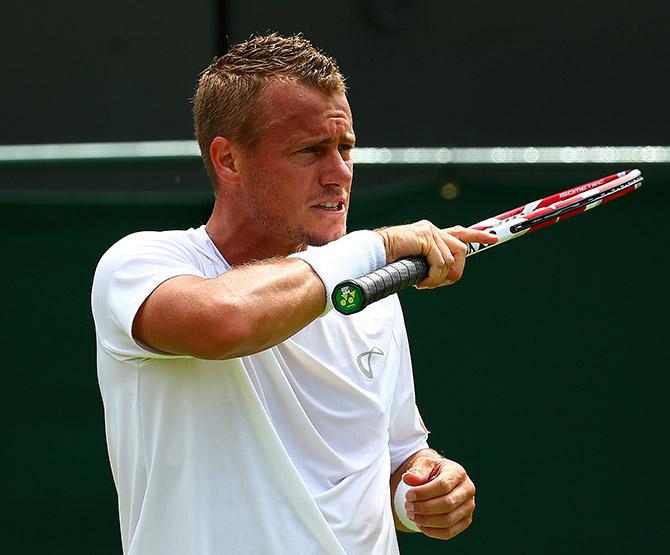 Former champion Lleyton Hewitt of Australia reacts in his defeat to Jarkko Nieminen of Finland at Wimbledon. Photograph: Clive Brunskill/Getty Images
Hewitt had never lost to 33-year-old Nieminen in five previous meetings and victory would have set up a Centre Court showdown with the defending champion.
But it was not to be and Hewitt's final act on a Wimbledon lawn was to acknowledge the sympathetic applause of the Court Two crowd who fully appreciated his never-say-die attitude.
Hewitt said it had taken a while to sink in that he had played his last shot in anger at Wimbledon.
"You try and suck it in as much as possible at the end of the match and that," he said.
"I was always serving to stay in the match. It never entered my mind that this could be the last time you serve or play a game in the Championships."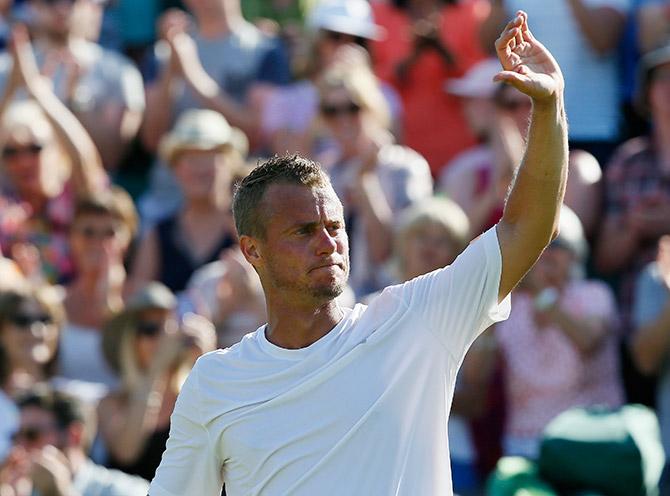 Lleyton Hewitt of Australia gestures to the crowd after losing his match against Jarkko Nieminen of Finland at the Wimbledon. Photograph: Stefan Wermuth/Reuters
So it's kind of a strange feeling in a lot of ways."
Hewitt, who also won the 2001 U.S. Open when he reigned supreme as world number one, may have been denied a final bow on Centre Court but he sneaked into the famous old arena on the eve of the tournament to reflect on the greatest day of his career.
"It's the home of tennis. I don't get the same feeling walking into any other grounds in the world, no other tennis court, no other complex, than I do here. I do get goosebumps walking into this place," he said.
"One of the greatest things about winning this Championship is becoming a member of it. For me to be able to go in the member's locker room four weeks before Wimbledon, in there with some of the older members, sit down and have a cup of tea and a chat, it's a lot of fun."