'Sometimes, we forget that the most important thing is to smile.'
Laxmi Negi/Rediff.com meets with Wimbledom 2013 champ Marion Bartoli to find out how life has changed after retirement.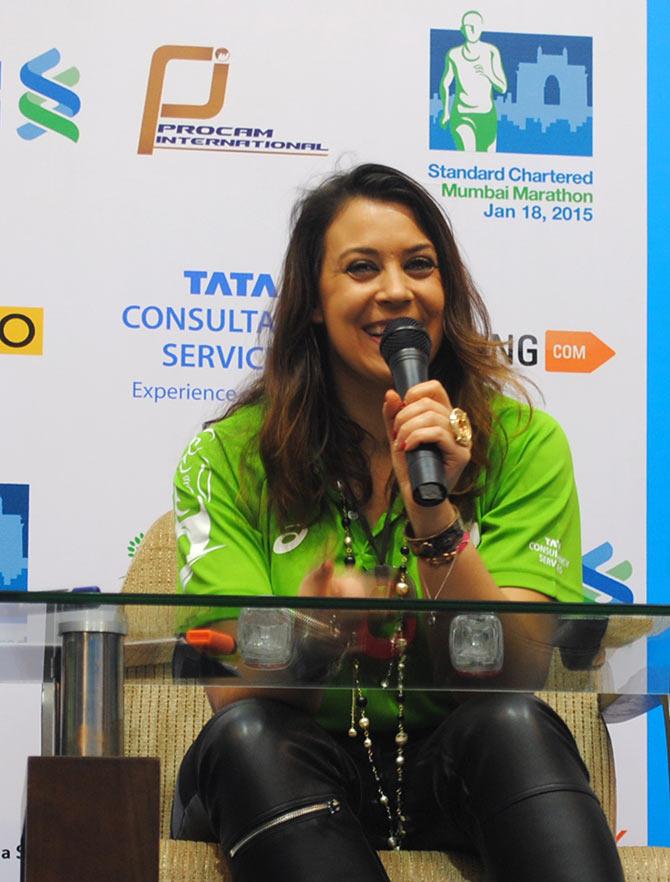 Image: Marion Bartoli at a media interaction for the Standard Chartered Mumbai Marathon. Photograph: Reuben NV/Rediff.com
The tennis world was surprised when Marion Bartoli won the singles title at Wimbledon in 2013.
A month later, they were in a state of shock when she announced a tearful retirement at the age of 28, saying she had fulfilled her wildest tennis dream.
Almost a year-and-a-half later, the French star is in Mumbai as ambassador for the Standard Chartered Mumbai Marathon.
Bartoli burst into prominence when she reached the 2007 Wimbledon final, which she lost to Venus Williams. Six years later she made sure he name would be etched in tennis history by beating Sabine Lisicki in the 2013 final.
"My name will always be engraved on the winner's trophy," she declares on the sidelines of an event for the Mumbai Marathon, adding she could have gone on for another year or so, but excruciating shoulder pain forced her into retirement.
These days, when playing tennis at a leisurely pace, she participates and promotes marathons for charity.
Is this your first time in India?
I have been absolutely here. I came here to play tournaments. I have been to Delhi, Kolkata, Hyderabad and Bangalore. My last visit was back in 2007. So I am coming back to India after seven years.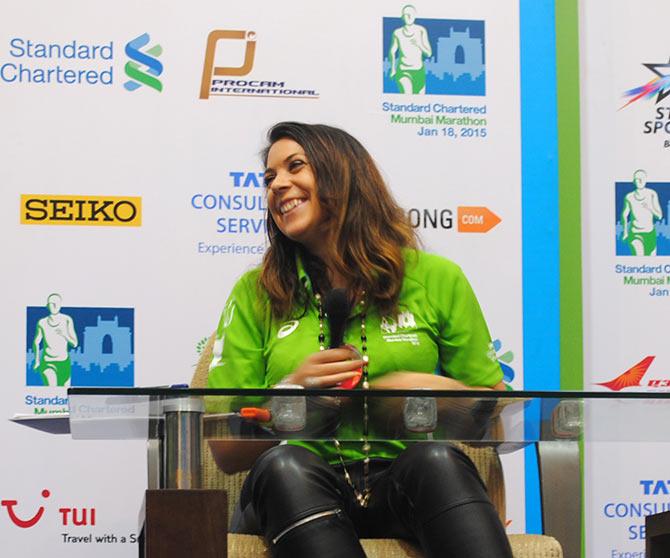 Image: Marion Bartoli is in Mumbai as ambassador for the Standard Chartered Mumbai Marathon. Photograph: Reuben NV/Rediff.com
When we go for tournaments we reach a little earlier. So I have played four tournaments here in India. You can say I have stayed here around 40 days. In a career of 15 years, 40 days is not enough.
I am only a 30 year old and my boyfriend is half Indian, so I will definitely be coming here a lot more.
I have always liked playing in India because the fans here are so enthusiastic and all the people are smiling.
Sometimes, we forget that the most important thing is to smile.
Do you eat a lot of curries?
I don't take spice very well. I am used to eating everything in olive oil, which is quite bland. But slowly he (boyfriend) tries to make me taste whatever curries he cooks.
His mother takes me to Indian restaurants in London. I am sure in time I will be able to take the spices.
Why did you retire so young?
Tennis is a very rigorous sport. We start a little younger than other sportspersons. I was 16 when I started touring the circuit. I have been on the move for the last 13 years.
So after a certain time, my body could not take more training, especially my shoulder.
For me, it was always that I give me best even during training. What was more important in my life was winning a Grand Slam which I had already done.
Now I have a lot of time to explore some more challenges in life.

You had a unique relationship with pain.
When you do sports for eight hours you cannot be pain free. I cannot remember even one day when I went pain free. Such days do not exist.
We can take such pain, but when it exceeds so much that even simple daily tasks become extremely difficult such a situation is worrying.
When you are doing eight hours same movement from 10, 11 years of age, after a decade your body is going to become tired. But when you retire you do not physically exert so much.
When you take a larger picture the benefits of sports are much greater.

Most players would carry on after winning Wimbledon, but you just stopped.
I felt my body was not keeping up with the amount of training required at the top level. Every morning when I used to get up, my right shoulder was sore.
It was difficult for me to even brush my teeth.
My physiotherapist used to work on my shoulder for an hour every morning. When you are physically fit you want to take on the rest of the world, but I feel it was my destiny.
I never bothered about money. I cannot tell you how much prize money I won, but I can definitely tell you how many matches I won and which matches I lost, but I could have won.

You had unorthodox elements in your game. You had a double-handed forehand and backhand, which is rare. You have unusual wrist movements. You were a very aggressive receiver of serve and yet you managed to win Wimbledon.
Do you ever realise that if you had some orthodox elements you could have prolonged your career?
Obviously, it is a long shot. But when you put everything in perspective, the French federation was always discouraging me. They said I should stop playing because I was so short.
he only person who believed in me was my father. My father is a doctor and not a tennis coach. He wanted to give me mental skills to focus on. As long as the ball lands inside, it doesn't matter how you do it. That is what matters.
My body got attached to the style of playing.

What if you had coaches at a young age?

I was waiting to do whatever it takes. I don't blame anyone in saving myself to reach the goals. It's like saving me from winning a Grand Slam.
Every single day I feel a success. It took me 15 years, but I reached my goal.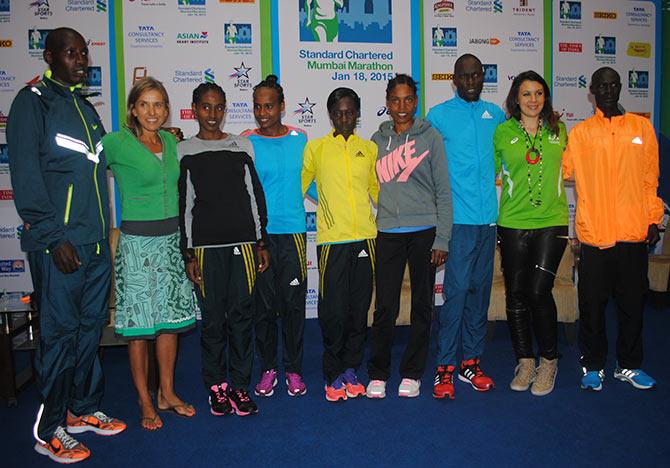 Image: Marion Bartoli, second from right, with the Elite runners. Photograph: Reuben NV/Rediff.com
How is life after retirement?
I live in London most of the time as my boyfriend is based in London. I design jewelry, some shoes and clothes. There is a lot of work regarding my charity.
I am also commentating for some English and French television channels. On Monday I travel to Melbourne for the Australian Open. I will play in the tennis legends tournament. Every day I am challenging myself to do something new.
What keeps players going on in their career? Like Roger Federer or Serena Williams?
If I had four more years of tennis in me I would have played though I had already won a Grand Slam. But all players have different bodies.
As long as you are fit to play, you forget what you have done before. We want to play more; we forget we had won 17 Grand Slams or more.
What matters is the present and wanting to win again. That helps us to go from one day to another.