Adam Scott's caddy Steve Williams has escaped official punishment for his racist remark about former employer Tiger Woods after a high-level meeting of golf officials in China on Sunday.
During the final round of the WGC-HSBC Champions event, talks over the derogatory comments Williams made during a caddy awards evening were held between European Tour chief George O'Grady and U.S. PGA Tour commissioner Tim Finchem.
Afterwards the pair issued a joint-statement on behalf of the International Federation of PGA Tours concerning the incident.
"The International Federation of PGA Tours feels strongly there is no place for any form of racism in ours or any other sport," the statement said.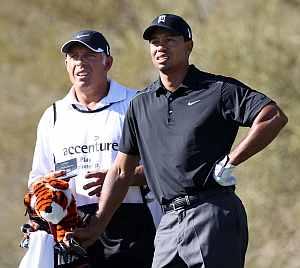 "We consider the remarks of Steve Williams, as reported, entirely unacceptable in whatever context.
"We are aware that he has apologised fully and we trust we will not hear such remarks again. Based on this, we consider the matter closed, and we will have no further comment."
The statement was shown to Australian Scott, for whom the New Zealander has caddied since August, and he responded
"I hope now that everybody has said their piece the matter is now closed and we hope we can move forward."