The 32-year-old Swiss will try and stop Rafael Nadal becoming the first player in the professional era to win the same Grand Slam 10 times.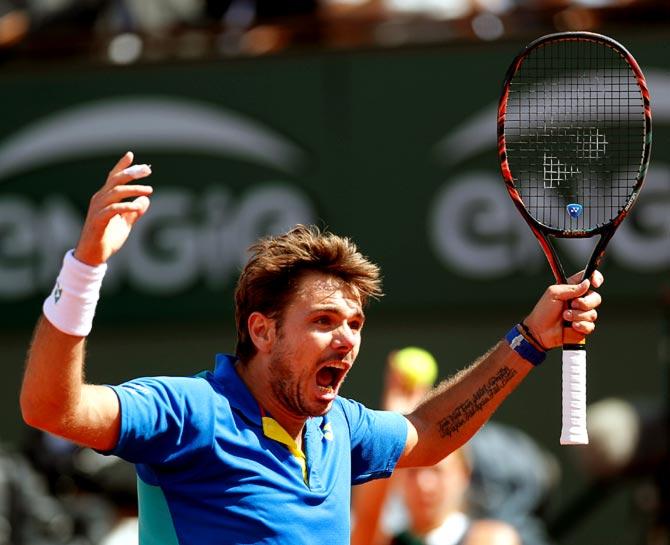 IMAGE: Stan Wawrinka celebrates during his semi-final match against Andy Murray. Photograph: Gonzalo Fuentes/Reuters
Having thrown the kitchen sink, the cooker, the fridge and anything else he could lay his hands on at Andy Murray, only to find himself behind, Stan Wawrinka could have been excused if he had thrown in the towel on Friday.

The burly Swiss is not nicknamed "Stanimal" for no reason, however, and he eventually overpowered the world number one 6-7(6), 6-3, 5-7, 7-6(3), 6-1 to reach his second French Open final in three years -- this time against Rafael Nadal.

In truth, the third seed, who flung down 87 winners throughout a captivating four hour 34 minute duel, could have made things far easier for himself.

He faltered when serving at 5-3 in the first set and wasted a set point in the tiebreak before Murray conjured some magic to snatch the opener. He then led 3-0 and 4-2 in the third set before again being ambushed by a Murray counter-attack.

Wawrinka, who produced a spellbinding display to beat Novak Djokovic in the 2015 final but lost to Murray in last year's semis, never lost belief though and after winning the a tense fourth-set tiebreak with a rasping forehand winner he surged through the decider against a broken opponent.

There is a telling statistic about 32-year-old Wawrinka -- the oldest French Open finalist since Niki Pilic in 1973.

Before his 28th birthday his record against top 10 opposition in Grand Slams was a dismal 3-15.

Since then it is 13-6.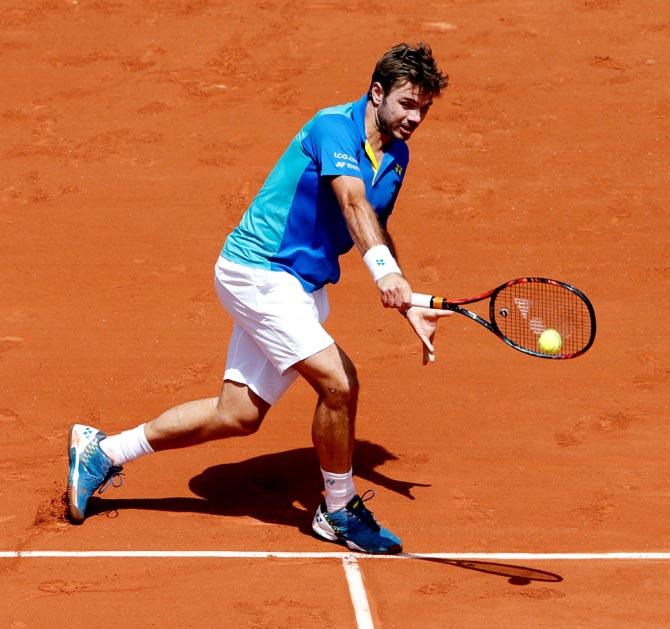 IMAGE: Stan Wawrinka in action. Photograph: Gonzalo Fuentes/Reuters
Even when he slipped two sets to one behind on Friday, Wawrinka did not panic -- playing with controlled aggression to first soften up Murray, then crush him into the dust.

"I think it was a mentally tough battle today, especially in five sets against Andy," Wawrinka told reporters.

"But I'm happy with what I did on court, the way I was fighting, even if I was down. The way I was trying to keep my line, trying to keep being aggressive, keep going even if I lost a lot of points by some incredible defence from him.

"When you play in a semi you have to accept it. You just need to keep fighting and keep going for it.

"We had some crazy points with some good rallies."

Wawrinka faces a slightly different challenge in the final where he will try and stop Nadal becoming the first player in the professional era to win the same Grand Slam 10 times.

He said it is a daunting task but there will be no sense of inferiority when he walks on court against the man he beat to claim the Australian Open title - his first major - in 2014.

"To play Rafa on clay in the French Open in a final is probably the biggest challenge you can have in tennis," Wawrinka said.

"He's the best player ever on clay. He's going for his 10th Roland Garros, so it's something really impressive, something tough. But the pressure is on both players.

"We both want to win the title, and we both going to give it all on the court."