Pakistan's star forward Mohammad Rizwan Sr. is a big fan of Indian captain Sardar Singh and wants to pick up a few nuances of the game from him when the two play together for the Delhi Waveriders in the upcoming Hockey India League.
Rizwan has been bought by Delhi Waveriders franchise for $ 26,000 for the event to be held from January 14 to February 10 and star midfielder Sardar is the marquee player for the team.
Considered one of the best players in the world, Sardar was nominated for the FIH player of the year award in 2012.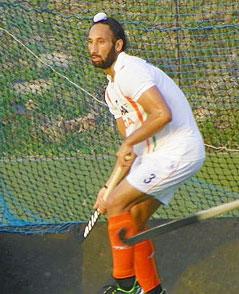 "The biggest advantage of this league will be that we will get a chance to play with the best players in the world. Sardar is one of them and I am fortunate to be in his team. I will try to learn from him," Rizwan said.
Having played against Sardar, Rizwan is in awe of the Indian's command over the game.
"In cricket, people remember those who make runs while in hockey, they salute the goal scorers but the role of playmakers is most important. Sardar is a true playmaker and has played the role of anchor perfectly. His vision and command over the game is brilliant," said the 24-year-old, who was a part of Pakistan's Olympic team in London.
All the nine Pakistani players, who are a part of various franchises in HIL, will arrive on Wednesday.
Rizwan plays in the Dutch league for Orange Zawart club which was third this season. He feels that HIL will be a blessing for Asian Hockey.
"While playing Dutch league, we got to know that how much this kind of league can benefit the host nation. The standard of Dutch league is very high and we see competitive Hockey throughout. Obviously, the Europeans teams are getting the maximum benefits and they are ahead of us today," he said.
"HIL is a good initiative for Asian Hockey and India will earn maximum benefits from it. Players are also earning handsomely so it's good for them as well."
He has played the Junior Asia Cup in Hyderabad in 2009 and is eager to play in India again.
© Copyright 2021 PTI. All rights reserved. Republication or redistribution of PTI content, including by framing or similar means, is expressly prohibited without the prior written consent.