Rathore will add value to growth of sports: NRAI president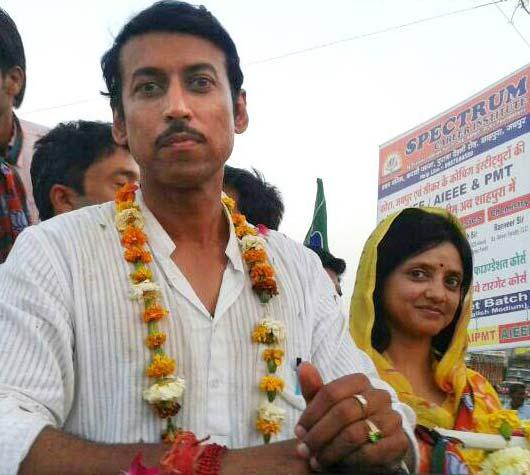 IMAGE: Rajyavardhan Rathore with his wife Gayithri Photographs: Rajyavardhan Rathore/Facebook
The National Rifle Association of India on Sunday welcomed the appointment of Rajyavardhan Singh Rathore as sports minister, saying the Olympics silver medallist would "add immense value to the development and growth of sports".
The 2004 Athens Games medallist Rathore was appointed the new sports minister in place of Vijay Goel.
"I want to lead the federation and the entire shooting fraternity in congratulating Shri Rathore on his appointment. He has been one of the most distinguished members of the shooting family for years and his stellar achievements speak for themselves," NRAI president Raninder Singh said in a statement.
Rathore first stepped in a shooting range in the mid 1990s and some years later, he became India's first ever individual silver medal winner at the Olympic Games. He stood on the podium after finishing second in the men's double trap at the 2004 Athens Games.
Lavishing praise on Rathore, Raninder said, "His work in the Union Council of Ministers had already come in for a lot of praise and we strongly believe that knowing first-hand the challenges faced by sports and sportspersons in this country, he would add immense value to the development and growth of sports. We wish him all the very best in his new responsibility."
A year before he created Olympic history, Rathore had won a silver medal at the 2003 World Championships in Sydney.
After taking premature retirement from the Indian army, Rathore joined the Bharatiya Janata Party in 2013 and was sworn in as minister of state for information & broadcasting when the Narendra Modi government came to power in May 2014.
Sports fraternity welcomes Rathore's appointment
The country's sports fraternity welcomed the appointment of Olympics silver medallist shooter Rajyavardhan Singh Rathore as the new sports minister and wished him the best for his new stint.
Rathore, who won a silver in double trap event in 2004 Athens Olympics, today replaced Vijay Goel as the sports minister. He was earlier the minister of state in the Information and Broadcasting Ministry.
Fellow shooter and India's lone individual Olympics gold medallist Abhinav Bindra was delighted at Rathore being made the sports minister.
"Delighted to see @Ra_THORe is the new sports minister. All the very very best!," said Bindra, who won a gold in 10m air rifle at the 2008 Beijing Games, in a tweet.
Another fellow shooter and London Olympic bronze medallist Gagan Narang also expressed happiness at Rathore's appointment.
"@Ra_THORe your elevation raises hope because you have been there, done that & know what an athlete is made of. Heartiest Congratulations," Narang wrote on his Twitter handle.
London Olympics bronze medallist boxer Mary Kom congratulated Rathore and wished him success in his new role.
"I wish to congratulate @Ra_THORe on your new new role and I wish you every success in your new duties," Mary Kom, also a Rajya Sabha member, wrote on her Twitter page.
Rajiv Khel Ratna awardee paralympian Devendra Jhajharia tweeted, "Thank you @VijayGoelBJP ji for all your support. Many congratulations to @Ra_THORe ji. Look forward to achieving sporting excellence."
Star gymnast Dipa Karmakar wrote, "Many congratulations on the new role @Ra_THORe sir! All the very best!"
Former sports minister Ajay Maken also congratulated Rathore and said he was the right man for the ministry.
"Congrats Rajyavardhan Rathore for getting the charge of Sports Ministry! Can't say the same about others-But @Ra_THORe is a good choice!"
Former Indian hockey captain Viren Rasquinha described Rathore's appointment as a good development for Indian sports.
"An inspirational Olympic medal winner as our new Sports Minister. Good times ahead for Indian sport. Congratulations @Ra_THORe," tweeted Rasquinha.
Olympian shooter Joydeep Karmakar said: "extremely delighted to have one of 'us' leading the Sports Ministry. Looking forward..@Ra_THORe."