Russians are competing as neutrals at the Games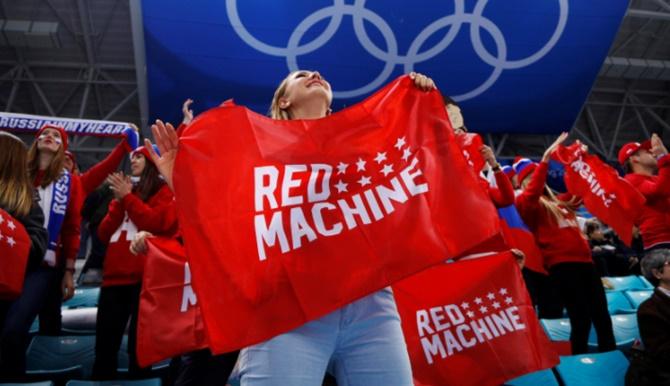 IMAGE: Fans of Olympic Athletes from Russia react. Photograph: Brian Synde/Reuters
Russia has appealed to Olympic authorities to restore its Olympic status and allow its athletes to march with the national flag on Sunday at the Winter Games closing ceremony, but it could be waiting until the last minute for a decision.
Russia's Olympic delegation chief and its figure skating silver medallist, Evgenia Medvedeva, made the appeal on Saturday to the International Olympic Committee (IOC) at Pyeongchang in a last-ditch bid to have Russia's Olympic status restored.
Russians are competing as neutrals at the Games because of allegations the country ran a systematic drug-cheating program at the 2014 Sochi Games. They have been unable to wear national uniforms or have the Russian anthem played at medal ceremonies.
"We firmly believe that we have completely fulfilled the conditions ...," delegation chief Stanislav Pozdnyakov told reporters after he and Medvedeva put their case to the IOC.
Pozdnyakov said he had told the IOC executive board that his athletes had fully complied with a code of conduct that the IOC had set as a condition of restoring Russia's Olympic status, despite two Russian athletes failing doping tests at the Games.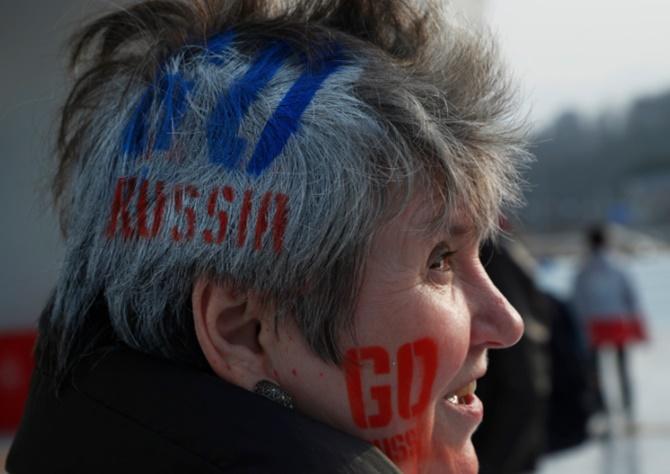 IMAGE: A fan of Olympic Athletes from Russia, with hair sprayed in Russia's national colours, looks on. Photograph: Brian Synde/Reuters
After the presentation, the board deliberated for hours, finally agreeing to resume talks on Sunday morning.
The resumed board meeting will be followed on Sunday by a full IOC session set to start at 9 a.m. (2400 GMT). The closing ceremony starts at 8 p.m. (1100 GMT).
The inconclusive talks suggest the board remains undecided, meaning Russia could be waiting right up until the start of the ceremony before it knows whether it can unpack its flag and dress its athletes in national uniform.
The two Russian doping cases, involving a medal-winning curler and a bobsledder, make it very tough for the IOC to lift the suspension, despite a large body of support within the organisation for ending Russia's Olympic punishment.
Despite Russia's appeal to the IOC, some of its athletes were losing hope of getting their flag back.
"As we've got two doping cases I don't think they will allow us to be at the closing with the flag," alpine skier Anastasia Silanteva told Reuters.
Pozdnyakov said he had apologised to the IOC for the doping cases, calling them isolated incidents of athlete negligence rather than anything systematic.
He said he had told the IOC that Russia had substantially reformed its anti-doping system, though more work lay ahead.
He has previously said Russians are focused on retrieving their flag more than winning medals in Pyeongchang.