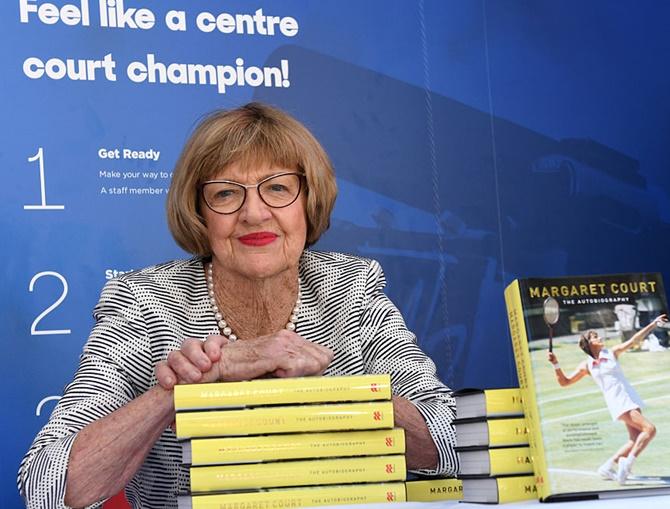 IMAGE: Margaret Court, the former world No.1 and winner of 24 Grand Slam titles poses with her autobiography. Photograph: Vince Caligiuri/Getty Images)
Australia's tennis number one Samantha Stosur has suggested players at the Australian Open could boycott the Melbourne Park stadium named after Margaret Court due to the 24-time Grand Slam champion's opposition to same-sex marriage.
Court, a Christian minister at a Perth church, sparked a media storm in Australia last week after declaring in a letter to a local newspaper that she would no longer fly with Qantas over the national airline's support for gay marriage.
The 74-year-old's comments were condemned by 18-time Grand Slam champion Martina Navratilova, who suggested Court's name should be taken off Melbourne Park's number two show court.
Australia has yet to legalise gay marriage despite growing pressure from activists and opinion polls that have shown majority support for it.
Stosur, a former US Open champion, doubted there would be any name change but said players might decide not to play in the arena at the next Australian Open in January.
"The court's named Margaret Court Arena because of what she did in tennis, and that's why basically," the 33-year-old told Australian media at the French Open.
"So like I said, I think everyone can have their opinion.
"I don't agree with (Court's opinion), but I guess we'll cross that bridge when we all get down to the Australian Open next year and who wants to play on Margaret Court Arena and who doesn't and we'll go from there."
Court's stance offended other Australian players, including former French Open mixed doubles champion Casey Dellacqua.
Dellacqua wrote "enough is enough" on her Twitter account and posted a photo of a 2013 letter Court had written to a local newspaper criticising same-sex parenting after Dellacqua's partner Amanda Judd had given birth to their first child.
Australian world number 142 John Millman, who lost in the first round at Roland Garros, said Court's comments were "a little bit inappropriate" but everyone was entitled to their opinion.
He would not be drawn on whether the stadium's name should be changed.
"That's well above my pay grade," the 27-year-old said in comments published by News Ltd media.
"I'm all for any type of relationships. The more people get along the better and so it's a little bit disappointing."
Tennis Australia said Court's views did not align with the governing body's.
Australia has been criticised by international human rights groups over its slowness to act on same-sex marriage.
A bid to hold a national vote on whether to legalise same-sex marriage was turned down by Australian lawmakers in November, potentially delaying legal unions for years.
Last week, Taiwan's constitutional court declared same-sex couples have the right to legally marry, the first such ruling in Asia.
Other countries, including Canada, Britain, United States, France, New Zealand, Ireland and South Africa, have already amended their marriage laws to recognise same-sex unions.