India's ageless tennis ace is one win from becoming the most successful doubles player in the Davis Cup.
'It's wonderful after 29 years to go for a World record for India. I am happy to be back in the Indian team, but, for me, it's important for the team to win the tie.'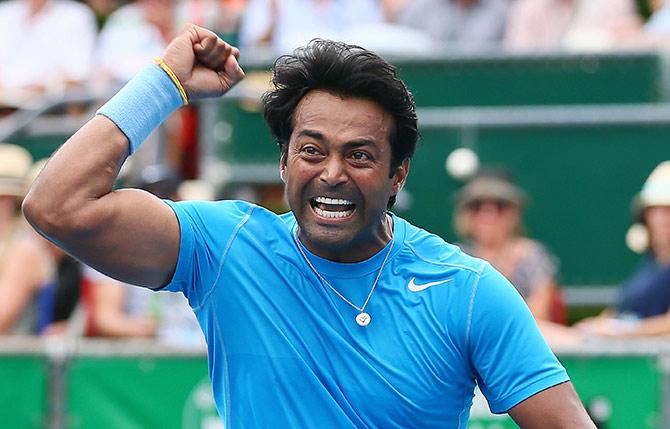 Leander Paes will make yet another attempt to set a Davis Cup record for the most doubles victories when India takes on China in a new two-day format for a place in the World Group Play-offs, in Tianjin, China, on Friday.
The 44-year-old veteran is tied on 42 victories with Italian great Nicola Pietrangeli. One more will make him the most successful doubles player in the history of the Davis Cup.
Paes had a chance to better the record of his own when India hosted New Zealand in Pune in February 2017, but doubles was the only match India lost in that tie.
What followed in Bengaluru against Uzbekistan was an avoidable controversy as captain Mahesh Bhupathi chose to put Paes on bench and field Sriram Balaji with Rohan Bopanna.
Those were two chances when Paes could have got that coveted record in front of home fans, but now, after reclaiming his place in the team on the back of some stellar displays in the last few months, he has to do it thousands of miles away from home in alien conditions.
"Playing China in China will be tough. They have got a junior who won the US Open, plus they have a tough doubles team, which beat a good New Zealand side. It's going to be tough. The Chinese play well together as a team. It's wonderful after 29 years to go for a World record for India. I am happy to be back in the Indian team, but, for me, it's important for the team to win the tie," said Paes, during an interaction.
The build-up to the second round tie in Asia/Oceania Group I had its share of controversy with Bopanna expressing reluctance to be on the same team which had Paes before agreeing to travel to China.
Paes strongly believes that Bopanna's initial reluctance to pair with him will not be a hindrance.
"I have always believed Rohan and me make a very good team. His power, my control; his big serve, my net game… . The match against Serbia (in 2014), we were down by two sets against multiple Grand Slam winners but we still managed to come back and win in five sets. That was one of the great doubles wins of my career. I was happy to do that alongside Rohan."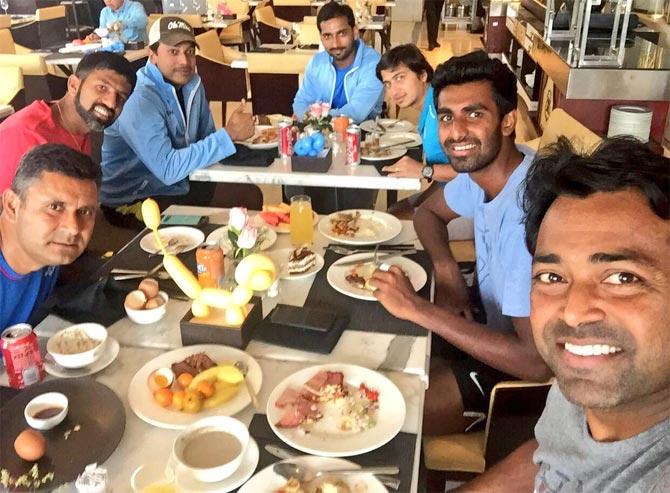 India's top singles player Yuki Bhambri pulled out of the tie due to a minor abdomen injury, handing the gritty Ramkumar Ramanathan responsibility to spearhead the Indian challenge along with young and talented Sumit Nagal.
"Our team will certainly miss Yuki a lot. For me his achievement in last one month, qualifying for Miami masters and beating Lucas Pouille, was fantastic. Yuki is probably playing the best tennis of his career," Paes said.
On paper, India definitely are a strong side, with both Ramkumar (132) and Nagal (213) better-ranked than China's top two singles players -- Ze Zhang (247) and Di Wu (248) -- but the hosts have a very strong weapon in Yibing Wu, who is being hailed as China's superstar in making.
The 18-year-old has a humble ranking of 332 to show but he is the current junior world number one who made the world take note of him by winning the junior US Open last year.
He already has Challenger singles title under his belt with a win over seasoned Yen-Hsun Lu (then world number 62, in September 2017).
It's not a surprise that China's captain Wei Jiang has decided to unleash the young gun in the opening match of the tie against Ramkumar.
However, both Ramkumar and and Nagal have matured as players who can soak in pressure and deliver the goods.
The matches will be best-of-three sets, which could work in India's favour.
"Yuki pulling out has come as a shock but injuries are part of a player's career. We have to work hard to get those three points," coach Zeeshan Ali said.
On Friday, Ramkumar will open India's campaign against Yibing and Nagal will take on Zhang.
On Saturday, Paes and Bopanna will clash with Di Wu and Mao-Xin Gong. The doubles will be followed by reverse singles the same day.