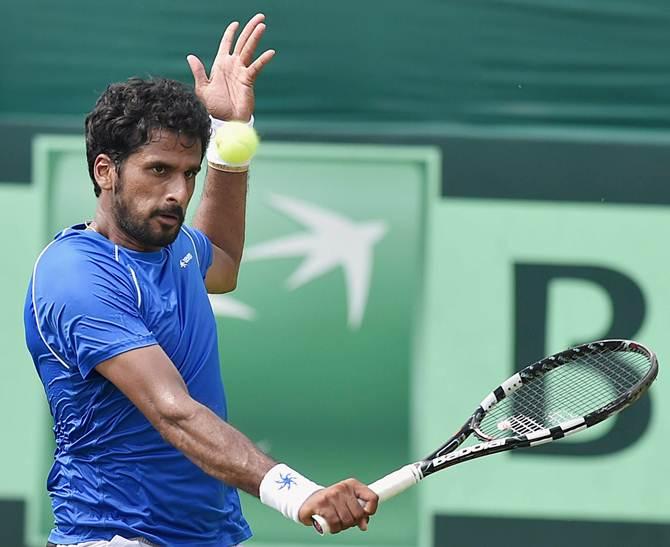 IMAGE: Saketh Myneni. Photograph: PTI
As India gear up to host five-time champions Spain in a Davis Cup World Group Play-off tie, Saketh Myneni knows the enormity of the task at hand.
India face Spain in the tie scheduled from September 16 to September 18, and the Indian Davis Cupper is coming into the tie after a morale-boosting performance at the US Open where he made the singles main draw for the first time in his career.
"For the last 10 years they (Spain) have been fighting for the title. They have been there, done that. We have to be very competitive. We have to challenge them till the last second. That's the key for me and the team," Myneni said after the Indian team's first practice session at DLTA complex.
World No 5 and 14-time Grand Slam champion Rafael Nadal will headline Spain's challenge. They also have World No 13 David Ferrer, and French Open doubles champions Feliciano Lopez (World No.18 in singles) and Mark Lopez (World No.19 in doubles) in the side.
Myneni had a hit for about an hour with fellow singles player Ramkumar Ramanathan and coach, Zeeshan Ali, apart from working on his sore right shoulder.
"Just have to keep it fresh. Looking forward to it (tie)," he said when asked if he had a sore shoulder, which he had taped.
Myneni said he was not surprised that Spain decided to come with a full-strength team.
"Spain is a great team. They have always been like this. Nadal knows the history (attached) with Davis Cup. Feliciano (Lopez) asked me about (duration of) flight to India in the US, so I knew he too would be coming."
The 29-year-old, ranked 143 in singles also did not make an issue about the timing of the tie, which has been criticised by captain Anand Amritraj.
"I don't care. I just do my job. We wanted to play on grass but it was not possible. Whatever the conditions, we need to find a solution," he said.
Since Rohan Bopanna has opted out of the tie due to a knee injury, there is a possibility that Myneni can be fielded with Leander Paes for the doubles rubber.
Is Myneni, who struggles with cramps during intense and long matches, ready to fight it out on all days of the tie?
"If body permits me, I am ready to play all three days," he said even as sweat dripped from his body.
Coach Zeeshan said they have still not decided on the doubles combination and it needs to be worked out.
"We will have Leander play with Sumit Nagal and Saketh in the next three days. We have to see what combination suits us best," he said.