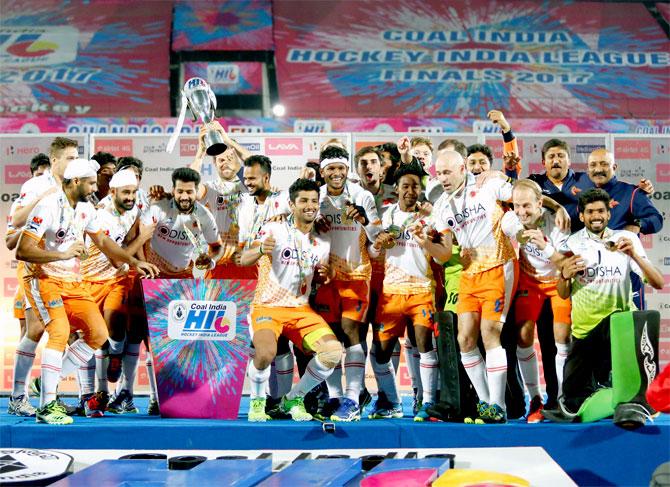 IMAGE: Kalinga Lancers players celebrate winning the HIL title in Februrary. Photograph: Hockey India League
The future of Hockey India League (HIL)is up for deliberation at Hockey India's Annual General Meeting on July 24 but franchises wanting to pull out will lose their bank guarantees.

As per some media reports, Hockey India has informed the International Hockey Federation (FIH) that there will be no HIL in 2018 because of financial concerns related to some franchises.

But a top HI official rubbished the speculations and said that no such communication has been passed on to the world body even though they are contemplating a change in the timing of the franchise-based league.

The source said there isn't even one franchise that has said that it will not be taking part in next year's league.

"No franchise has expressed any serious reservation as of now although some obstacles arise every year. The franchise doesn't have the option of pulling out now as the three-month window for withdrawal after every edition, has expired. If they do it now, their bank guarantee stands forfeited," the top official said on condition of anonymity.

The official said that since FIH's new Hockey Pro League is slated to be held at the start of the year from 2019, HIL organisers are thinking of postponing the dates of the franchise-based event to November-December from 2018.

"Let
me make it clear, I don't know from where this news had spread but there is no such development. 2018 HIL is on course. Yes, before every edition there are some problems which creeps up but we don't have any plans to scrap HIL," he said.
"Yes, we are thinking of shifting the timing of HIL from next year as from 2019 we will have to hold it at a later date because of Hockey Pro League. We are thinking of holding it in November-December instead of existing January-February."
Another HI official, who is the know of the developments, too sounded ignorant about the news and said HIL is part of the agenda of the AGM on July 24.
"I am not at all aware of any such thing because HIL is part of the agenda of July 24 AGM. If something is there we will come to know only on the day of the AGM," he said.
Media reports said that Jaypee owner of the Punjab franchise, is reluctant to continue because of financial problems while the Wave Group, owners of Delhi Waveriders has been given two weeks to clarify its position.
It has also been reported that Sahara India Parivar is not in favour of taking the responsibility of two teams, Uttar Pradesh Wizards and Ranchi Rays, which is co-owned by Mahendra Singh Dhoni.
But a team official too said that they were not aware of any such development and are preparing for the players' auction to be held in September-October later this year.
© Copyright 2022 PTI. All rights reserved. Republication or redistribution of PTI content, including by framing or similar means, is expressly prohibited without the prior written consent.