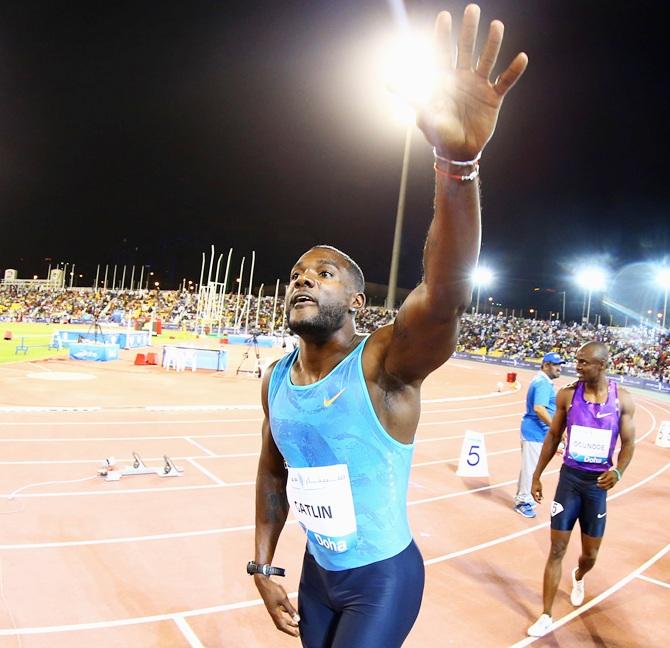 Justin Gatlin of the United States. Photograph: Francois Nel/Getty Images
Controversial and currently the world number one sprinter, Justin Gatlin Justin Gatlin said his relationship with organisers of the Beijing World Challenge meeting was 'great' on Wednesday, less than 24 hours after furiously claiming he had been 'kicked out' of the event.
American sprinter who ran the fastest 100 metres in the world this year with a lifetime best of 9.74 seconds in Doha last week, stormed home on the eve of the meeting on Tuesday after telling organisers about an injury concern.
The 33-year-old's manager Renaldo Nehemiah told Reuters he was 'disappointed and perplexed' at the treatment of his charge, who he said had been instructed to go home despite being the main attraction of the meeting at the Bird's Nest stadium.
Gatlin, however, later took to social media to say he was looking forward to running in the Beijing meeting next year.
"Emotional day. All is fine with Beijing Org & me," he posted on Twitter.
"We have a great relationship and I look forward to being there in Aug for worlds & next year for the meet."
Organisers of the meeting gave no official explanation of the circumstances surrounding Gatlin's departure on Tuesday.
The sport's governing body, the International Association of Athletics Federations (IAAF), said it was not their place to comment on Gatlin's treatment.
"There is no comment from the IAAF as these are invitational meetings and only the meeting organiser can make the decisions about who competes in their meeting," a spokesman said.
Nehemiah said he believed Gatlin, a controversial figure after twice failing drug tests, paid the price for his honesty in telling organisers on his arrival in Beijing on Saturday of his injury worry.
Even though he later improved and felt fit to run, Nehemiah said Gatlin was told by organisers that he should go home.
Nehemiah said he could only assume it was because they were unconvinced by Gatlin's fitness after he cramped up following a flight from Doha.
The sprinter's manager said he felt the organisers may have been influenced by last year's Beijing meeting, when world 110m hurdles champion David Oliver pulled out late with injury.
Gatlin, the 2004 Olympic 100 metres champion, is expected to be the main challenger to Usain Bolt when the Jamaican defends his world title in Beijing on August 23.