'Erica (Stoll, McIlroy's fiancee) actually got pissed off with it. He was texting me in the middle of the night and I was like, 'Tiger is in the gym'.'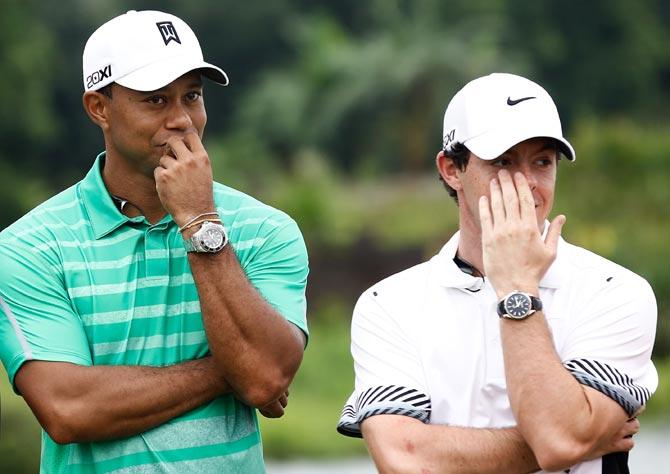 IMAGE: Tiger Woods, left, with Rory McIlroy. Photograph: Lintao Zhang/Getty Images
World number two Rory McIlroy has said he still resents the Olympic Games for forcing him to choose between Britain and Ireland and revealed that Tiger Woods sends him texts in the early hours.

The Northern Irishman, who agonised for years before opting to represent Ireland, ultimately withdrew from last year's Rio de Janeiro Games after citing health fears over the Zika virus.

The four times major winner told Ireland's Independent newspaper in an interview that it was a choice he had never wanted to make.

"When it (golf's return to the Olympics for the first time since 1904) was announced in 2009 or whatever, all of a sudden it put me in a position where I had to question who I am. Who am I? Where am I from? Where do my loyalties lie?," he said.

"Who am I going to play for? Who do I not want to piss off the most? I started to resent it. And I do. I resent the Olympic Games because of the position it put me in..."

McIlroy sent gold medal winner Justin Rose a text after the Briton's success in Rio offering congratulations and saying he was happy for him.

Rose replied by saying the other players wanted to know whether McIlroy felt he had missed out.

"I said: 'Justin, if I had been on the podium (listening) to the Irish national anthem as that flag went up, or the British national anthem as that flag went up, I would have felt uncomfortable either way.'," recalled McIlroy.

"I don't know the words to either anthem; I don't feel a connection to either flag; I don't want it to be about flags; I've tried to stay away from that."

While Northern Ireland is part of the United Kingdom, which takes part in the Olympics as Britain, its athletes are eligible to compete for Ireland.

McIlroy described former world number one Woods, who makes his official comeback after a long injury layoff later this month, as "an intriguing character".

"He's thoughtful. He's smart...he reads stuff and educates himself on everything. But he struggles to sleep, which I think is an effect of overtraining," he said.

"He'd be texting me at four o'clock in the morning: 'Up lifting. What are you doing?'"

"Erica (Stoll, McIlroy's fiancee) actually got pissed off with it. He was texting me in the middle of the night and I was like, 'Tiger is in the gym'."