'I have suffered, I have suffered in each and every round'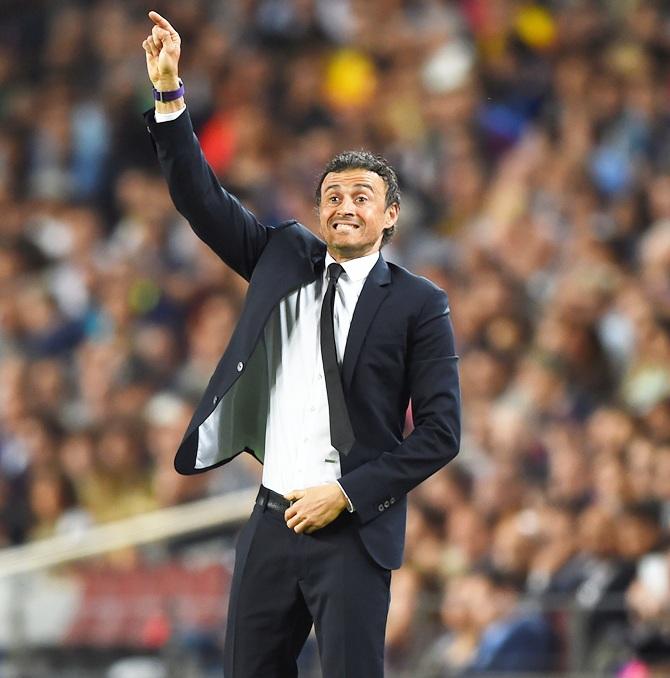 Luis Enrique the head coach of Barcelona directs his players. Photograph: Shaun Botterill/Getty Images
Barcelona coach Luis Enrique saw his team beat Bayern Munich 5-3 on aggregate to reach their eighth European Cup final on Tuesday, but said it had been a nerve-racking experience having to watch their stellar run from the sidelines.
Champions League PHOTOS: Barcelona book their place in final
PHOTOS: Check out the celebration of champions!
The Catalans are in the running for a treble of titles in the coach's first season in charge and Tuesday's 3-2 defeat at Bayern allowed them to advance to the final for the first time since 2011 courtesy of their 3-0 first-leg win.
While their stunning football has been a pleasure to watch for both fans and neutrals this season, the coach confessed it had not been so enjoyable from the dugout.
"I have suffered, I have suffered in each and every round," he said.
Barcelona have encountered little resistance in Europe having eased past Manchester City and Paris St Germain in the previous rounds.
They have found goals easy to come by with their South American trio of Lionel Messi, Luis Suarez and Neymar in sensational form, scoring 25 times between them in the competition.
"We don't need to talk about the trio's qualities. They understand each other very well. They have a solidarity and it is extremely difficult to control them," Luis Enrique said.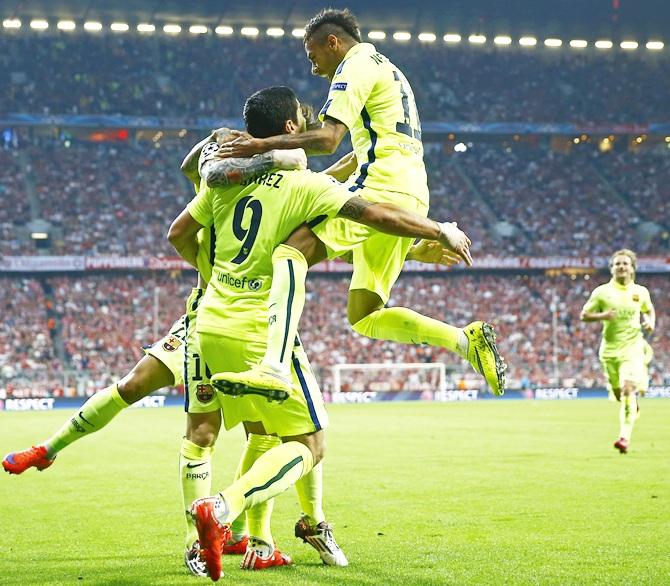 Neymar celebrates with Luis Suarez after scoring the first goal for Barcelona. Photograph: Kai Pfaffenbach/Reuters
Neymar scored twice in Munich to ease some of the coach's suffering as Barca led 2-1 at halftime.
"We brought a good result to Munich but Bayern took the lead and we reacted well after that," the coach added.
"We levelled and we created chances. The team was good and had the lead at halftime. The second half was physical and the Bayern players fought and wanted to turn the game."
Neymar's goals, however, meant Bayern needed to score five more and despite netting twice through Thomas Mueller and Robert Lewandowski, Barca confidently hung on to secure a ticket to the final in Berlin next month.
They are also one win away from clinching the Spanish league title and are through to the Spanish Cup final.
"We have reached a wonderful goal. We forced them to take risks and I am very satisfied with our performance," said the Barca coach.
"We are now just one game away from each of the three titles and it is a great feeling. We now have to reach those goals."