- Sahara India needs to pay back $5.3 billion, raised from millions of small investors through the sale of bonds ruled by the Supreme Court to be illegal, before founder Subrata Roy can be released.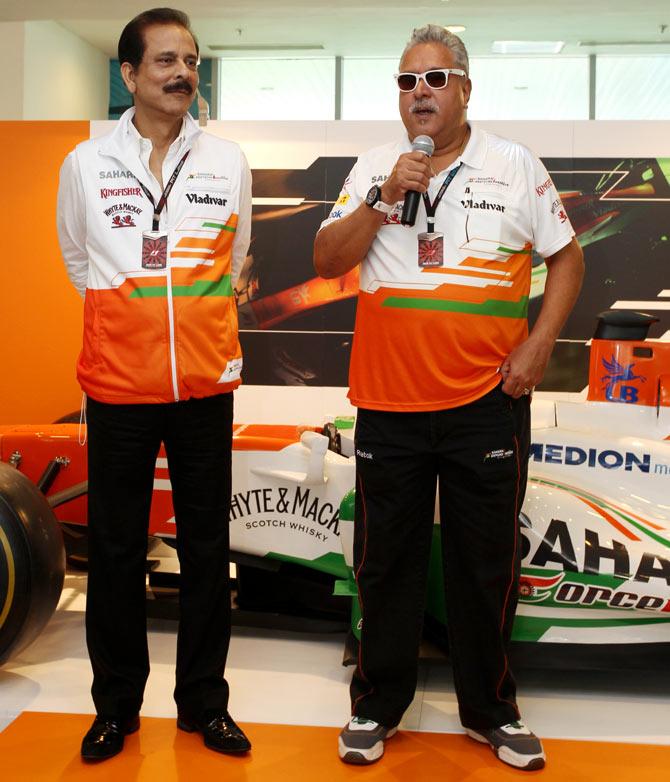 IMAGE: Sahara India Force India F1 team boss Vijay Mallya (right) with co-owner Subrata Roy. Photograph: Sahara Force India
India's embattled Sahara conglomerate said it wants to sell its 42.5 percent stake in the Force India Formula One team to help release founder Subrata Roy from jail, but some motor racing insiders are sceptical about how easy it will be to find a buyer.

Sahara, which paid $100 million for the shareholding in 2011, sought the Indian Supreme Court's permission this month to dispose of Force India and other assets to raise a combined 53 billion Indian rupees ($778.38 million)

However, former Jordan, Jaguar and Red Bull marketing executive Mark Gallagher said such a sale would not be easy.

"I don't think anybody will pay 100 million pounds, euros or dollars for 42.5 percent of a mid-level F1 franchise," Gallagher told Reuters.

Others said it would be easier to dispose of the stake if the whole team - run by beer baron Vijay Mallya who also owns 42.5 percent - are up for sale because a buyer would want outright control.

With Formula One far less popular than cricket in India, and Mallya under pressure from lenders to meet loan repayment obligations linked to his grounded Kingfisher Airlines, the stake on its own could be a hard sell.

Lenders who are owed more than $1 billion by Kingfisher have started putting up for sale some of the carrier's assets. Kingfisher has not flown since 2012 due to a lack of cash.

"Unless you are just doing it for sponsorship, I imagine you would want control. And generally sponsors don't want to be shareholders," Finbarr O'Connell, administrator for the failed Caterham team, told Reuters.

A Sahara spokesman said in an emailed statement that there are "no talks with anybody at the moment" about selling the Formula One team stake.

Force India's Chief Operating Officer Otmar Szafnauer, asked whether Mallya's permission is needed for any potential sale by his co-owners, told Reuters he does not know the details of Sahara's shareholder agreements.

OWNERSHIP CHANGE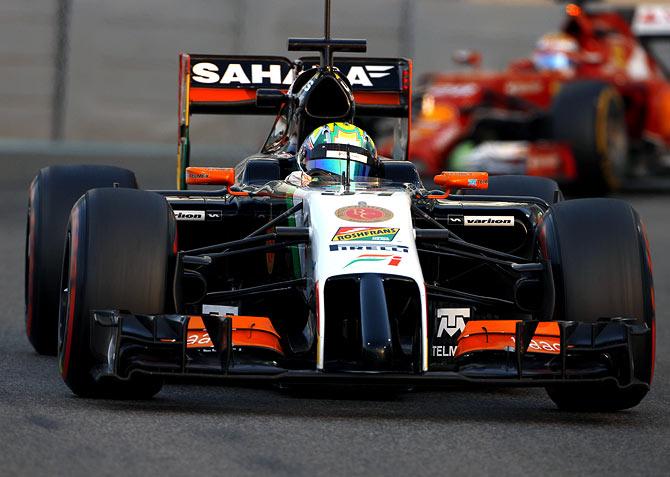 Formula One has only 11 teams and any change of ownership, particularly if it might bring more funding, is of major interest to fans.

Force India, the first and only Indian-registered team, have a loyal following - particularly in Mexico thanks to Mexican driver Sergio Perez.

Mallya, who brought Sahara into the British-based team after buying it in 2007, turned 60 in December and recently told Economic Times it is "time to slow down, semi-retire and enjoy life".

He was not immediately available for comment on Sahara's request and his own F1 intentions.

Bernie Ecclestone, the 85-year-old Formula One supremo who has known Mallya for decades, said he is "quite sure the last thing Vijay wants to do is to quit".

That said, he added, every team has its price.

"There's a lot of teams that if somebody comes along with the right cheque, they would sell," said Ecclestone. "Not because they want to, but because commercially they probably think it would be the right thing to do."

COLLATERAL PACKAGE

Mallya's Force India holding forms part of a package held as collateral by British-based drinks giant Diageo to underpin a $135 million loan to Watson Ltd, one of his affiliated companies, Diageo said in an earnings press release last month.

The package also includes shares in United Breweries Ltd, a unit of Mallya's UB Group and India's largest brewer. Diageo acquired a stake in Mallya's United Spirits company in 2012 and later gained management control.

Dutch entrepreneur Michiel Mol owns the remaining 15 percent of the Force India team, which finished a best-ever fifth last year. The team can expect about $75 million in annual prize money and revenue payments for the next three years, according to informed sources.

Sahara needs to pay back 360 billion rupees ($5.3 billion), raised from millions of small investors through the sale of bonds ruled by the Supreme Court to be illegal, before Roy can be released.

It also needs to show it has a plan to raise the money, giving the group time to seal deals and avert any court-imposed seizure and auctions.

The Indian Supreme Court on February 2 asked markets regulator SEBI to state within two weeks whether it has any opposition to Sahara's proposal, according to court documents seen by Reuters. The case will next be heard in New Delhi on March 29.

Force India's 2015 budget, according to figures published by Britain's Autosport magazine, is about 110 million pounds ($159.59 million).

Cash flow has been a problem in the past and the team were granted an advance on this season's championship money.