Totti complained about a lack of playing time in a television interview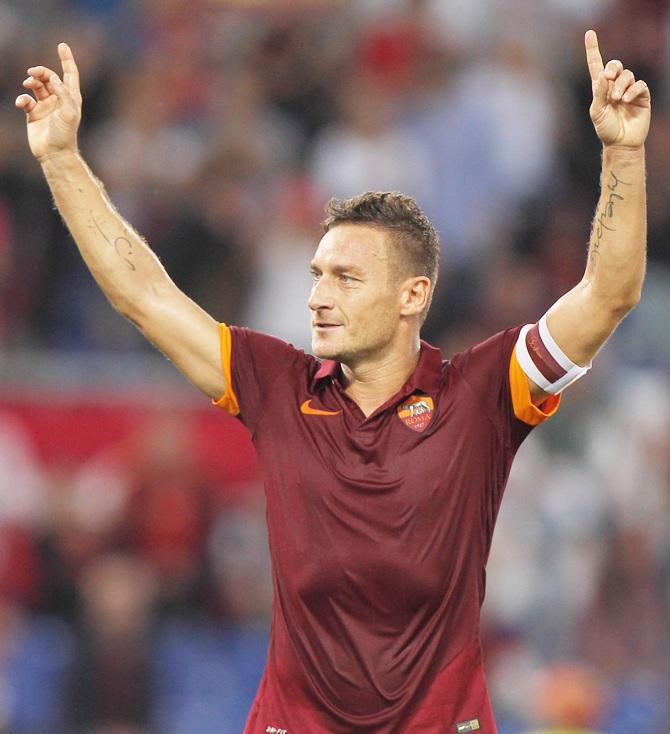 IMAGE: Francesco Totti of AS Roma. Photograph: Paolo Bruno/Getty Images
Francesco Totti was left out of AS Roma's squad for Sunday's Serie A match against Palermo after the talismanic playmaker complained about a lack of playing time in a television interview.
Coach Luciano Spalletti said he had been left with no option but to drop the 39-year-old after his comments on Saturday and Totti was left to watch Roma's 5-0 win, their fifth consecutive league victory, from the stands.
"It was just a moment of anger on his part, but I have to manage a group and maintain order," Spalletti told cable television network Mediaset Premium after the game.
"He's a great champion and deserves respect but so does everyone else, otherwise anyone can say what they want at any time."
Spalletti said the episode would be forgotten and Totti would be back in training from Monday.
"Francesco was with us before the match and will train again tomorrow, it was just a moment of anger and discomfort which is understandable."
Totti has missed three months of the season with a thigh muscle injury but told Rai television on Saturday that he had recovered and was ready to play.
"I want to play," he said. "I'm fit and if I am left out of the team now, it's a technical decision.
"I don't like being on the bench, I understand that I have to play less at my age but to finish my career like this is tough for someone who has given so much to Roma."
Asked about his relationship with Spalletti, who replaced Rudi Garcia in January, Totti replied: "With him, it's good morning and good night and nothing else.
"I had hoped that he would have said to my face the things I've been reading in the newspapers."
Totti scored his 300th competitive goal for them against Sassuolo in September. That was his only goal of the season so far and he made only one further appearance, against Carpi on Sept. 26.