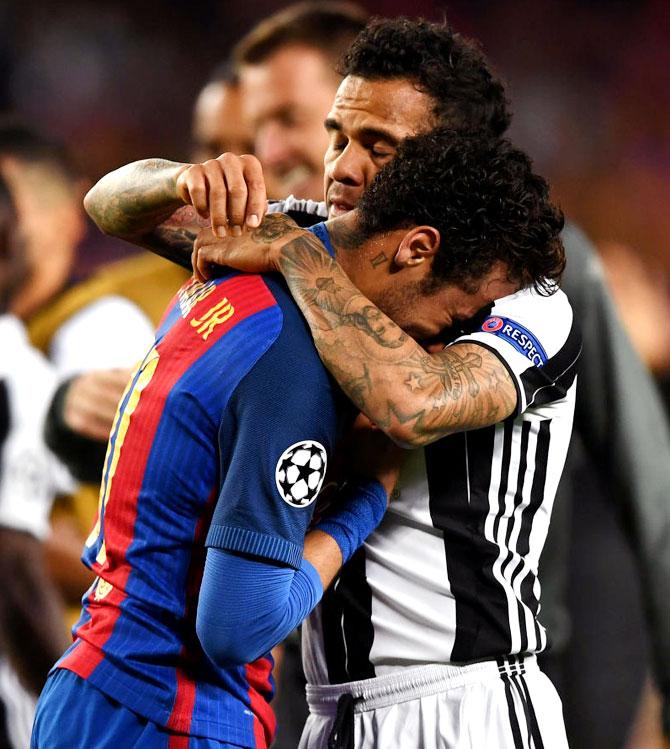 IMAGE: A dejected Neymar is consoled by Dani Alves of Juventus. Photograph: Shaun Botterill/Getty Images
Barcelona's errors in last week's 3-0 defeat by Juventus still weighed heavily on coach Luis Enrique's mind after his side were held to a 0-0 draw in Wednesday's quarter-final second leg which sealed their elimination from the Champions League.

Paulo Dybala's double and a Giorgio Chiellini header in Turin left Barca with a near-impossible task and despite firing plenty of shots at Gianluigi Buffon's goal at the Nou Camp, they rarely looked capable of repeating their heroic comeback in the last 16 against Paris St Germain.

"I will remember what happened in the first half in the Juventus Stadium for a very long time," Luis Enrique told reporters.

"Our participation in this tournament this season has been unforgettable but we had a very poor first half in Turin and that has cost us dear."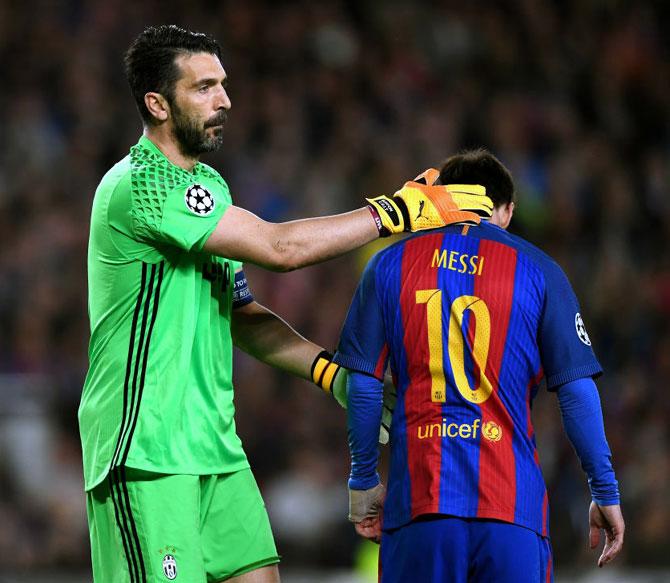 IMAGE: Juventus captain and goalkeeper Gianluigi Buffon pats Lionel Messi of Barcelona on the back. Photograph: Shaun Botterill/Getty Images
Barca rattled up 19 shots at goal
but only managed to test Buffon once as talisman Lionel Messi sent four shots off target. Neymar, Andres Iniesta and Sergi Roberto hurried attempts to beat the experienced Italian goalkeeper which proved futile.
"We needed to be more calm and more lucid. We tried to do everything," added the coach, who will leave the club at the end of the season after three years in charge.
"We had a lot of shots on goal but only had one on target. We had a great attitude and made a huge effort so it's a shame," he added.
"We leave this game feeling sad but we can't blame anyone. We tried everything until the end and kept fighting to create chances but none of them went in. I'm annoyed we couldn't win the game because we tried with all our strength but we couldn't find the path to their goal."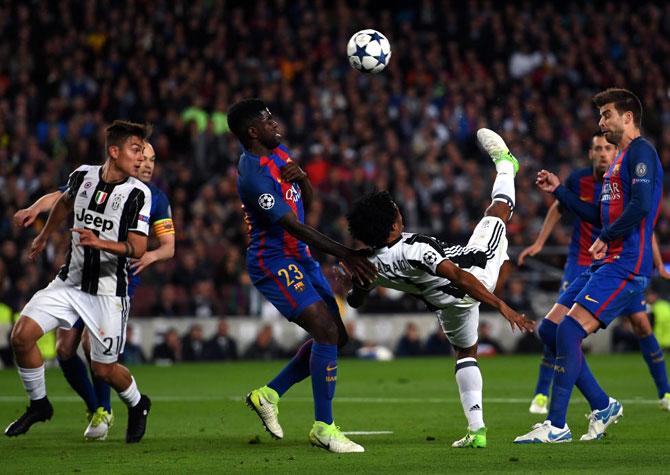 IMAGE: Juan Cuadrado, centre, of Juventus attempts to shoot. Photograph: Shaun Botterill/Getty Images
Barca will have little time to mourn their Champions League exit as they visit arch-rivals Real Madrid on Sunday in a potential title-deciding Clasico.

Barca have won the last two titles but trail Real by three points in the standings having played one game more.

"It's not a good night nor a good moment for Barcelona fans but we'll keep fighting until the end," added the coach, whose side face Alaves in the King's Cup final next month.

"We now have the chance of getting back in the fight for the title. I feel happy to be able to work at a club that always wants to win everything all the time."