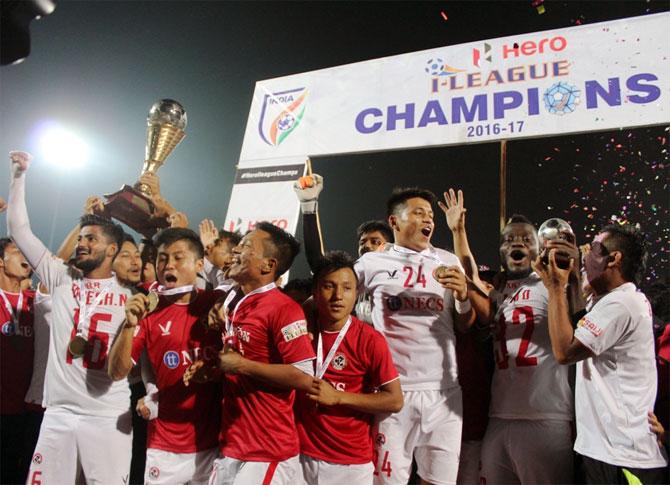 IMAGE: Aizawl FC celebrate winning the I-League title. Photograph: AIFF Media
The All India Football Federation on Thursday said the I-League clubs have agreed to the concurrent running of two leagues this season, a development which will set to rest the uncertainty prevalent in the domestic circuit at least for this year.

The development came after Asian Football Confederation gave official recognition to the cash-rich Indian Super League on Wednesday by granting the next ISL champion an AFC Cup play- off slot.

The winner of the I-league will still participate in the AFC Champions League qualifiers. The two leagues -- the I-League and ISL -- will run concurrently this season.

"Representatives of the I-League clubs met with AIFF officials to discuss the way forward for the I-League for the 2017-18 season till the roadmap for Indian football in the medium and long term is finalised with assistance and guidance from the AFC," the AIFF said in a statement.

"The clubs agreed to the concurrent running of ISL and I-League for 2017-18 but stated that the I-League must be broadcast on Star Sports platform with good quality production and proper marketing and promotion and scheduling of matches. They also recommended that a task force with the I-League clubs be set up to review the I-League on a regular basis," it added.

"They also stated that the travel subsidy needs to be increased and that AIFF should also allocate a budget for the promotion of the I-League for 2017-18
season."
The clubs also sought permission to register eight foreign players, out of which two should be of Asian origin. They also want a maximum of five foreign players to be on the field, out of which one should be a player of Asian origin.
AIFF vice-president and League Committee chairman Subrata Dutta, who chaired the meeting, said all the recommendations of the I-League clubs will be placed before the League Committee whose meeting is scheduled on July 5. The final decision of the Committee will be communicated to the clubs.
The meeting was also attended by AIFF General Secretary Kushal Das and I-League CEO Sunando Dhar.
Meanwhile, the AFC has sent a communication to AIFF expressing happiness that the AIFF Executive Committee has approved the project to determine the medium and long-term road map for top Indian club football. A draft project plan will be sent by AFC soon in this regard.
However, the AFC Secretariat is prepared to accept the concurrent running of the ISL and I league for the season 2017-18 as a temporary short-term "bridging" solution. The special dispensation has been reviewed and agreed by the FIFA.
Das thanked the AFC for their guidance and support.
"The growth of Indian football is our primary objective and we will take every step necessary to ensure positive results. We look forward to working with AFC and other stakeholders to determine the most suitable medium to long-term road map for Indian football," he said.