'I know it's (expectations) there, I can't change it'
'In Rio, our first aim is to make the quarter-finals'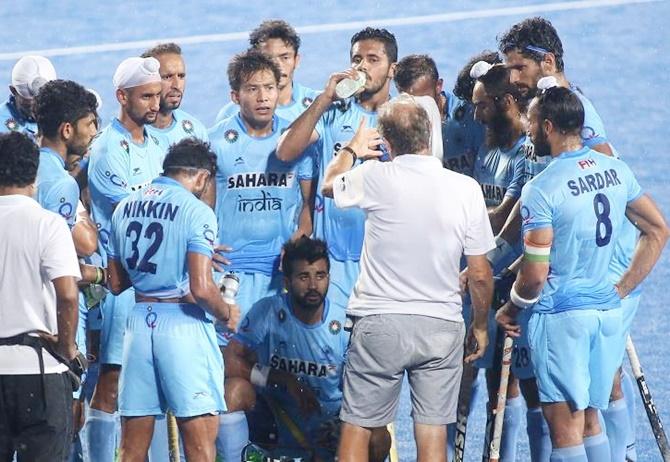 IMAGE: India's hockey coach Roelant Oltmans with players. Photograph: Hockey India
Roelant Oltmans fully understands what a men's hockey medal would mean to India's success-starved fans but the Dutch coach will not burden his players with the pressure of bringing one home from the Rio Games.
Champions Trophy: India target medal finish before Rio Olympics
Once-mighty India are the most decorated nation in the sport's Olympic history but the South Asians collected the last of their eight gold medals way back at the Moscow Games in 1980.
The sport has been in steady decline since that success 36 year ago and its popularity hit a nadir when India failed to qualify for the Beijing Games in 2008.
The team representing a nation of 1.25 billion people did recover to seal at spot at the London Games four years later but finished last among the 12 countries taking part.
"We can only learn from past mistakes," Oltmans, who turns 62 next week, said.
"Now we are going in a different direction and we are working hard to get the bit of glory back for the country and that's what I am here for. We are moving in the right direction."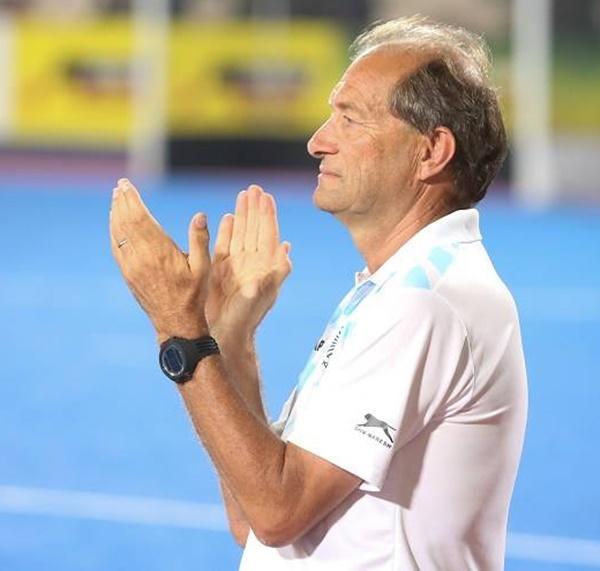 IMAGE: Roelant Oltmans. Photograph: Hockey India
Oltmans, who became India's high performance director in 2013, inherited the coach's job last July following the sacking of compatriot Paul van Ass.
Under Oltmans, a relatively inexperienced team finished second behind Australia at the Sultan Azlan Shah Cup in Malaysia last month, fuelling renewed hope for a first Olympic medal in more than three decades.
"I know it's (expectations) there, I can't change it," he said from the team's training camp in Bengaluru.
"The only thing I can do is take the pressure off the players and encourage them to show the next level of quality.
"I only hope the billion people and more are looking at the players who have worked their hearts out for the last couple of years to get back to that level again.
"I have seen their attitude and how they work every day to make that happen and that's what makes me happy."
The team have spent six-to-eight hours working on all aspects of the game, including sports psychology, for six days a week at the camp.
Oltmans also believes that seventh ranked India are getting closer to the world's top teams.
"We excelled in the last two major tournaments we played -- Champions Trophy and the World Hockey League final. In those tournaments we finished in the semi-finals," he said.
"But I am 100 per cent sure that we need to play better than we did at those tournaments because our opponents will too, and everyone will be at their top level at the Olympics."
India, in Pool B along with Argentina, Canada, Germany, Ireland and the Netherlands in Rio, have often been hamstrung by an inability to stay competitive in the final 15 minutes, something that has been linked to a lack of fitness and stamina.
Oltmans said the team have worked to address that problem.
"We need to perform more consistently than we have done," Oltmans said. "The final quarter is crucial for us, that's one of the things we have worked on... improving our physical fitness.
"We really want to go step-by-step. In Rio, our first aim is to make the quarter-finals. From there on, it's a one-off game every time. But to say we will finish on one or four or six, I don't want to make any predictions on that."