Dhruv Munjal on why Novak Djokovic may yet win that highly contested title.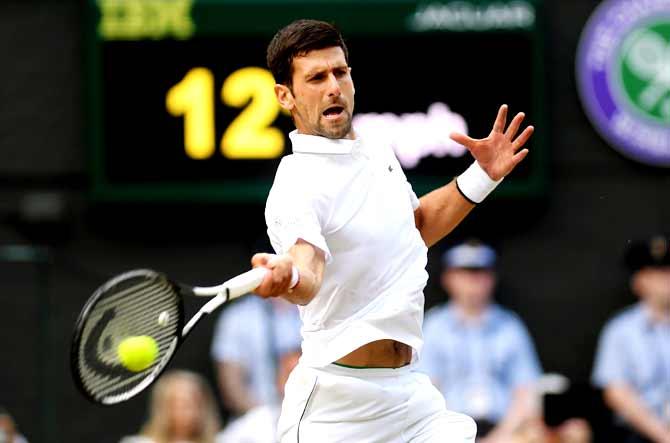 Novak Djokovic ended the Wimbledon final with a somewhat sinister smile, one finger pointing to the sky. It was a strange conclusion to a strange match.
Roger Federer was evidently the far superior player, both from a spectacle standpoint and in terms of stats, yet even when the Swiss great had two match points on his own serve deep, deep into the fifth, you were kind of convinced that, no matter what, Djokovic's Houdini-like penchant for escapology will see him over the line.
In the end, as the gloaming loomed, it was Djokovic and that smile that lit up Centre Court.
The antagonist shtick is kind of a Djokovic patent now. Very few, if any at all, would genuinely have wanted him to prevail that Sunday. People down the years have walked through the gates at SW19 in droves to catch a glimpse of Federer, the modern-day Picasso-with-racquet whose consummate expertise in dealing with grass could so easily allow him entry into a Mexican drug cartel.
Djokovic was supposed to be just the supporting cast, never the protagonist. Yet, thrice in six years, the Serb has found ways to deny Federer in the final, on the latter's favourite court, in front of possibly his favourite crowd.
"You have that kind of electric atmosphere... when the crowd is chanting 'Roger', I hear 'Novak'. It sounds silly but I try to convince myself that it's like that," he said after winning his fifth title at Wimbledon.
That's how it's been for Djokovic. He has spent most of his career pursuing the likes of Federer and Nadal, consistently battling for public affection and appreciation. He's always been a part of the "Big Three", but never quite been able to endear himself to the audience in the way that his two illustrious peers have. Earning that admiration has perhaps been tougher than winning tennis matches itself.
When he first arrived on tour, Djokovic was cocky, his mother often made crass comments in public, and his was a deeply emotional personality -- one that famously saw him rip his shirt apart in celebration after beating Nadal to the Australian Open in 2012. All of which, perhaps, spawned a highly polarised view of him that exists even today, despite him maturing into a fine ambassador for the game -- someone who comes across as funny and awfully nice during interviews.
Ever since, Djokovic has found that competing with Federer and Nadal for fan love can be cruel. The two have long transcended sport, turning into global icons with the most impeccable conduct, moulded as affable, charming, grounded god-like figures who can do no wrong -- two case studies in how nice guys can actually finish first.
But in a pure tennis sense, Djokovic is now closing in on both of them. A win at the US Open, which starts on Monday, will give the 32-year-old his 17th major title, putting him within one of Nadal and three of Federer's all-time record of 20. Victory at Flushing Meadows is not quite a formality, but given Djokovic's historical dominance over Nadal on hard courts and Federer's indifferent recent record in New York, it doesn't seem much less than a certainty. All of which makes a compelling case for Djokovic to be now included in the race for the "Greatest of All Time" (G.O.A.T).
Comparing great players across generations is fatuous -- Rod Laver won two calendar Grand Slams with a wooden Dunlop Maxply Fort that may not have succeeded in swatting a fly; Federer, on the other hand, uses a Wilson Pro Staff made of graphite that can fire aces at 200 kmph.
Yet, in the case of the Big Three, who've played alongside each other in similar conditions for most of their careers, a comparison -- however subjective -- is possible. Federer's claim to G.O.A.T status stems from his sublime style of play, astonishing longevity and the fact that he has won more Slams than anybody else. Some detractors deny him the accolade because of his dismal record against Nadal, the other contender for the crown whose claims are sometimes contested by naysayers arguing that his major haul -- he's won an astounding 12 at Roland Garros -- is too skewed to warrant such a title.
Seen from that perspective, the metrics clearly favour Djokovic. His Grand Slam wins are more evenly distributed than Nadal's and, given his age, he will most likely knock Federer off the top of the Grand Slam tree. He enjoys a positive head-to-head record against all active players who have won a major. His total of 33 ATP Masters 1000 titles -- kind of mini Slams that demand extreme fitness and endurance -- is only second to Nadal's 35. And most staggeringly, he is the only player to have won all nine ATP Masters 1000 events since they were introduced in 1990.
But limiting such an assessment to just numbers would be a travesty -- and that is Djokovic's problem. The human eye perennially yearns for athletes who can transform sport into art, players who are capable of elevating something as uncomplicated as tennis into an experience approaching the mystical. Federer does that through touch, Nadal by force.
Djokovic, in many ways, is a paragon of modern athletic perfection, an all-round monster of a tennis player. Yet, to the untrained eye, he lacks talents that we can continually celebrate. His forehand isn't a thing of ethereal beauty like Federer's, nor does it possess the brutality of Nadal's. But his brilliance lies in his subtlety. The Djokovic return is probably the best ever, arguably better than Andre Agassi's. The double-fisted backhand is one of the great shots in the modern game.
Djokovic is rarely box office in an explosive way, but he is efficient and persistent, a robotic relentlessness that makes him such a force in crunch matches. In 13 of his 16 Grand Slam victories, he has beaten Federer, Nadal or Murray in the final -- a vast improvement on Federer, who has played Djokovic, Nadal and Murray a combined eight times in finals since 2010 and won only three. Worse, he has defeated Djokovic only once -- way back in 2007 -- in their five major final meetings.
And it is perhaps only prudent to note that Federer accumulated a significant portion of his trophy haul -- through no fault of his own, of course -- during a softer period on tour. Djokovic has done it in the unsparing, hyper-competitive era of the Big Three. And unlike the other two, he possesses no obvious weaknesses. You can get at Federer by lobbing the ball high to his backhand; with Nadal, you can look to avoid his forehand and perhaps exploit his second serve. Djokovic just doesn't offer you such luxuries.
How then do you beat this guy? Hard-hitters such as Stan Wawrinka and Juan Martin del Potro have shown you can blow him off court every once in a while. Unfortunately, not everyone can do that, and normally only Djokovic beats Djokovic. Like in the mysterious 2016 season, when he was seemingly willing to swap the racquet for the robe and run off to some commune.
With the mind willing, Djokovic is the most imperious player the sport of tennis has probably ever known. And as was the case at Wimbledon, he often does all of it alone, with the player's box acting as his only source of motivation. Soon, he'll be out on his own again -- this time as the greatest of men's tennis' golden age.