Why football has been unfair to Spain...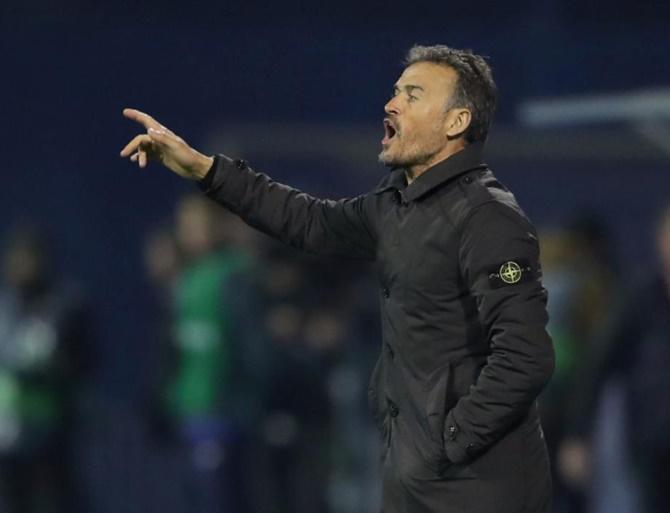 Spain coach Luis Enrique said football had been unfair to his side after Thursday's dramatic 3-2 defeat in Croatia left them in danger of failing to reach the UEFA Nations League finals.
The 2010 World Cup winners had to chase the game twice in the second half, with Dani Ceballos cancelling out Andrej Kramaric's opener and captain Sergio Ramos levelling from the penalty spot after Tin Jedvaj had made it 2-1 to the hosts.
There were left with virtually no time to respond, though, when left back Jedvaj struck again in stoppage-time.
"We created a lot of chances, some of them where it looked impossible that the ball would not go in, we hit the crossbar, and football has been unfair to us," Luis Enrique told a news conference.
"In their first goal we made a mistake, their second came from a set-piece and they were lucky at the end. In the second half we deserved a lot more, we certainly didn't deserve defeat but this is football and we need to accept it."
Spain have experienced a slump since thumping Croatia 6-0 in September and beating England.
Their place in the finals of the new competition now hangs in the balance after losing 3-2 at home to England and defeat in Zagreb.
Spain still top Group 4 with six points after four games but to reach the final round they need England to draw with Croatia in the group finale on Sunday.
Luis Enrique appeared resigned to his side not making it through, turning his attention to the qualifying campaign for Euro 2020.
"I would love to qualify for the final four but our top objective is the European Championships," he said.
"We knew we were in a group with two of the best teams in the world but I'm not worried about my team. I can see areas we need to improve in, but I think today's result is completely unfair."
Croatia had taken one point from their previous two Nations League games after appearing to suffer a hangover from reaching the this year's World Cup final.
But Jedvaj's late winner now means victory at Wembley over England, who they beat 2-1 in the World Cup semi-finals, would put them in the final phase.
"I am sure we have it in us to beat England," Croatia coach Zlatko Dalic said. "The best of this new-look team is yet to come."
England get glimpse of future while saying goodbye to Rooney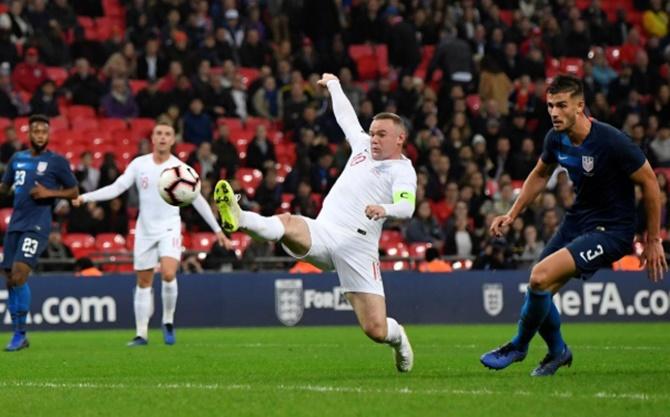 As England fans said farewell to one of their finest, they also got a glimpse of the future as Gareth Southgate's team beat the United States 3-0 in a Wembley friendly that doubled as Wayne Rooney's tribute game.
Critics of the decision to turn the match into a tribute, and 120th and final cap for Rooney, worried that bringing back a 33-year-old went against Southgate's youth policy.
But with the England manager needing to rotate his squad ahead of the much more important Nations League game against Croatia on Sunday, opportunities were handed to several young players.
Jadon Sancho, the 18-year-old Borussia Dortmund winger, impressed with his light-footed and clever work on the right flank and linked up promisingly with Dele Alli and Jesse Lingard.
"I really did enjoy that, playing in front of my family and in front of the England fans," said Sancho, who moved to Germany in search of playing time having emerged from Manchester City's youth system.
"Playing with Wayne Rooney was a dream come true because obviously he is a big legend and a role model to me. I was a bit nervous ahead of the game and he came over to me and told me to just express myself because I had nothing to lose," he added.
It was not just Sancho's words that put paid to the fears that Rooney would upset the balance of Southgate's project -- the manager himself noted how Rooney had been a positive influence in the build-up.
"He spoke to them at the end and they would have noticed his humility. He mucked in with the group, trained the same as everyone else, he worked in the five-a-sides and wanted to win everything he was involved in," Southgate said.
"In the game, he was tracking back and he showed what a top player mentality he has," he added.
Southgate highlighted Sancho's decision-making as an area the "raw" winger had to improve on but his awareness for his perfectly-weighted pass to Trent Alexander-Arnold for England's second goal showed real quality.
Alexander-Arnold is England's third choice right back, behind Kyle Walker and Kieran Trippier, but the 20-year-old marked his first international at Wembley with his debut goal -- a fine low strike past Brad Guzan.
"A dream come true, first game at Wembley and (first goal) for my country. Jadon Sancho did well to see the vision of me making the run," said the Liverpool defender.
"It's been exciting, looking back on Wayne Rooney's career, he was one of the best players for the country and it was good to share the pitch with him. As a local Liverpool lad, it is good to show people in Liverpool that it is possible."