'I had no second thoughts. My wife had the second thoughts and the third thoughts and the fourth thoughts'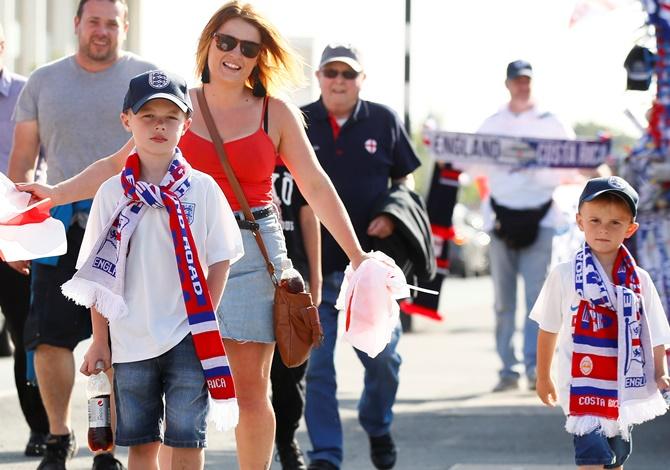 Only a small contingent of diehard English fans have made the journey to see the start of their team's World Cup campaign in Russia, with many others put off by fears of violence and a diplomatic crisis between London and Moscow.
No more than 2,500 England supporters were expected to be in Volgograd for Monday's game against Tunisia, a spokesman for the British embassy in Russia said, a far cry from much bigger turnouts in the group stages of previous tournaments.
Of the English Football Association's ticket allocations for England's three group matches, only the game against Belgium in Kaliningrad, the smallest of the three venues, is sold out, Kevin Miles, chief executive of England's Football Supporters' Federation (FSF), a group representing fans, said.
Tensions between the governments of Britain and Russia after the attempted assassination of a former Russian spy in England in March and fresh memories of clashes between Russian and England supporters at the 2016 European Championship in France, have weighed on many supporters.
Others were simply pessimistic about the chances of Gareth Southgate's squad going far in the competition, Miles said.
But for hardcore English fans arriving in Volgograd, around 900km (560 miles) south of Moscow, there was no flicker of doubt about making the trip.
"I had no second thoughts. My wife had the second thoughts and the third thoughts and the fourth thoughts," said Tom Trueman, a retired taxi firm owner who has attended six other World Cups, including the 1966 tournament when England were crowned champions.
Miles said the total numbers of English fans in Russia will likely be a few thousand, a far cry from the estimated hundreds of thousands who flocked to France for Euro 2016 and plastered stadiums with their flags.
While the numbers in Russia could be similar to the England supporters who attended the two most recent World Cups in Brazil and South Africa, those tournaments took place in distant continents. FIFA figures show that fewer tickets were sold in England than in Peru and Australia for the tournament in Russia.
With England games spread between Volgograd, Nizhny Novgorod and Kaliningrad, fans could spend some 5,000 pounds ($6,640) to watch the group fixtures, according to research carried out by Virgin Media and the FSF.
The silver lining to the low England turnout, British police said, is that big groups of hooligans are unlikely to attend. Britain has also barred nearly 2,000 known troublemakers from travelling.
On Sunday, a few England fans were milling around Volgograd's city centre, alongside children with Russian flags painted on their cheeks and stern-looking security guards. Others took part in sombre tours of memorials to the Battle of Stalingrad, considered a turning point of World War Two.
But retired teacher Pete Courts, taking in the view over the wide Volga river that flows past the city, vowed English fans would find their voice at the Volgograd Arena on Monday.
"There will be 2,000 of us and we'll make as much noise as 50,000!" Courts said.